Grote verrassing op Grammy's: indierockers Arcade Fire gaan lopen met hoofdprijs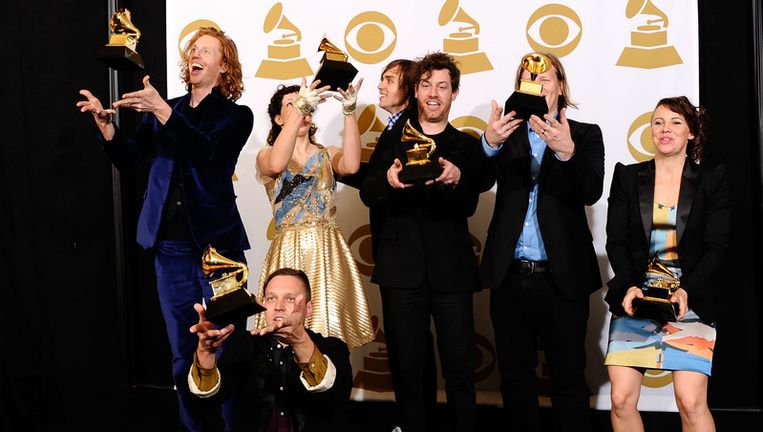 Er worden elk jaar meer dan 100 Grammy's uitgereikt in de gekste categorieën, maar officieus is de meest begeerde die van "Album of the Year". En die ging - en dat was een erg grote verrassing - naar de Canadese indierockers van Arcade Fire voor "The Suburbs".
De Grammy Awards (oorspronkelijk Gramophone Awards genoemd) worden algemeen beschouwd als een van de belangrijkste, zo niet dé belangrijkste muziekprijzen ter wereld, vergelijkbaar met de Oscars voor de filmwereld.
De onderscheidingen worden jaarlijks in de Verenigde Staten door de National Academy of Recording Arts and Sciences uitgereikt om artistieke en technische prestaties in het muziekvak te eren. De jury bestaat uit artiesten en professionele muziektechnici, die een keus maken uit genomineerden: musici, artiesten, arrangeurs, tekstschrijvers, producenten, dirigenten, componisten en muziektechnici in vele categorieën. Het winnen van een Grammy staat doorgaans gelijk met een pak poen, want de artiesten die winnen zien de verkoop spectaculair stijgen.
Grote verrassing
Volgens de bookmakers ging Album of the Year naar Eminem gaan, wereldwijd de tweede best verkopende plaat in 2010 met ongeveer zes miljoen stuks. Ook Lady Gaga stond hoog genoteerd voor "The Fame Monster", voor Lady Antebellums "Need you now" en Katy Perry's "Teenage Dream". Arcade Fire is de enige in dat lijstje die niet bij een groot platenlabel zit. Er zijn wereldwijd ook "maar" 400.000 stuks van The Suburbs verkocht, hoewel we vermoeden dat dat cijfer nu gaat exploderen.
Win Butler en zijn echtgenote Régine Chassagne, Will Butler, Tim Kingsbury, Sarah Neufield, Jeremy Gara en Richard Reed Parry waren zelf blijkbaar ook verrast. De eerste tweet die ze stuurden: "OH MY GOD OH MY GOD OH MY GOD OH MY GOD OH MY GOD OH MY GOD. Thank you EVERYONE."

Golvende post-punk etc
The New York Times omschrijft Arcade Fire als een "golvende post-punk rock intense instrumentatie, gevuld met pijnlijke en af en toe best mooie 'noise'-collages." Volgens Allmusic is de muziek van de band "een combinatie tussen indie rock-spierkracht en iet-verontschuldigende bombast" en creëert Arcade Fire een "eclectisch mengsel tussen bossanova, de Franse chanson en klassiek getinte popmuziek". Alhoewel de band doorgaans gitaar, basgitaar en drums in hun muziek gebruikt, zijn er ook minder vanzelfsprekende instrumenten te horen. Enkele voorbeelden zijn een hoorn, xylofoon, harp, accordeon, pijporgel en draailier. De Arcade Fire-nummers worden geschreven door Win Butler en Cassagne. (mvl/edp/dl)
De volledige lijst van Grammy-winnaars:
Album of the Year: "The Suburbs," Arcade Fire
Record of the Year: "Need You Now," Lady Antebellum
Song of the Year: "Need You Now," Dave Haywood, Josh Kear, Charles Kelley and Hillary Scott, songwriters (Lady Antebellum)
New Arist: Esperanza Spalding
Female Pop Vocal Performance: "Bad Romance," Lady Gaga
Male Pop Vocal Performance: "Just The Way You Are," Bruno Mars
Pop Performance by a Duo or Group: "Hey Soul Sister," Train
Pop Vocal Album: "The Fame Monster," Lady Gaga
Alternative Album: "Brothers," The Black Keys
Traditional Pop Vocal Album: "Crazy Love," Michael Buble
Rock Song: "Angry World," Neil Young
Rock Album: "The Resistance," Muse
Rock Performance: "Tighten Up," The Black Keys
Solo Rock Vocal Performance: "Helter Skelter," Paul McCartney (from Good Evening New York City)
Hard Rock Performance: "New Fang," Them Crooked Vultures
R&B Album: "Wake up!" John Legend & The Roots
Contemporary R&B Album: "Raymond V Raymond," Usher
R&B Song: "Shine," John Legend & The Roots
R&B Performance: "Soldier Of Love," Sade
Traditional R&B Vocal Performance: "Hang On In There," John Legend and The Roots
Urban/Alternative Performance: "(Forget) You," Cee Lo Green
Rap Album: "Recovery," Eminem
Rap Solo Performance: "Not Afraid," Eminem
Rap Performance By A Duo Or Group: "On To The Next One," Jay-Z and Swizz Beatz
Rap Song: "Empire State of Mind," Jay-Z and Alicia Keys
Rap/Sung Collaboration: "Empire State Of Mind," Jay-Z and Alicia Keys
Dance Recording: "Only Girl (In The World)," Rihanna
Electronic Dance Album: "La Roux," La Roux
Musical Show Album: "American Idiot," (Featuring Green Day)
Traditional World Music Album: "Ali And Toumani," Ali Farka Toure and Toumani Diabate
Contemporary World Music Album: "Throw Down Your Heart, Africa Sessions Part 2," Bela Fleck
Latin Pop Album: "Paraiso Express," Alejandro Sanz
Latin Rock, Alternative or Urban Album: "El Existenial," Grupo Fantasma.
Tropical Latin Album: Viva La Tradicion, Spanish Harlem Orchestra.
Norteno Album: "Classic," Intocable.
Banda Album: "Enamorate De Mi," El Guero y su Banda Centenario.
Latin Jazz Album: "Chucho's Steps," Chucho Valdes and The Afro-Cuban Messengers.
Tejano Album: "Recuerdos," Little Joe y La Familia.
Male Country Vocal Performance: "'Til Summer Comes Around," Keith Urban
Female Country Vocal Performance: "The House That Built Me," Miranda Lambert
Country Album: "Need You Now," Lady Antebellum
Country Performance by a Duo or Group: "Need You Now," Lady Antebellum
Country Song: "Need You Now," Dave Haywood, Josh Kear, Charles Kelley & Hillary Scott, songwriters (Lady Antebellum)
Country Collaboration With Vocals: "As She's Walking Away," Zac Brown Band and Alan Jackson
Contemporary Jazz Album: "The Stanley Clarke Band," The Stanley Clarke Band
Jazz Vocal Album: "Eleanora Fagan (1915-1959): To Billie With Love From Dee Dee," Dee Dee Bridgewater
Jazz Instrumental Album: "Moody 4B," James Moody
Improvised Jazz Solo: "A Change is Gonna Come," Herbie Hancock
Large Ensemble Jazz Album: "Mingus Big Band Live at Jazz Standard," Mingus Big Band
Traditional Blues Album: "Joined At The Hip," Pinetop Perkins & Willie 'Big Eyes' Smith
Contemporary Blues Album: "Living Proof," Buddy Guy
Traditional Folk Album: "Genuine Negro Jig," Carolina Chocolate Drops
Contemporary Folk Album: "God Willin' and The Creek Don't Rise," Ray LaMontagne and The Pariah Dogs
Pop Collaboration With Vocals: "Imagine," Herbie Hancock and Larry Klein, arrangers (Herbie Hancock, Pink, Seal, Jeff Beck, India.Arie, Konono No 1 & Oumou Sangare)
Pop Instrumental Album: "Take Your Pick," Larry Carlton and Tak Matsumoto
Pop Instrumental Performance: "Nessun Dorma," Jeff Beck
Rock Instrumental Performance: "Hammerhead," Jeff Beck
Bluegrass Album: "Mountain Soul II," Patty Loveless
Americana Album: "You Are Not Alone," Mavis Staples
Hawaiian Music Album: "Huana Ke Aloha," Tia Carrere
Native American Music Album: "2010 Gathering Of Nations Pow Wow: A Spirit's Dance,"(Various Artists) Derek Mathews, Dr. Lita Mathews & Melonie Mathews, producers (Gathering Of Nations Records)
Zydeco Or Cajun Music Album: "Zydeco Junkie," Chubby Carrier and The Bayou Swamp Band
Reggae Album: "Before The Dawn," Buju Banton
Southern, Country, or Bluegrass Gospel Album: "The Reason," Diamond Rio
New Age Album: "Miho: Journey To The Mountain,"Paul Winter Consort
Metal Performance: "El Dorado," Iron Maiden
Country Instrumental Performance: "Hummingbyrd," Marty Stuart
Musical Album For Children: "Tomorrow's Children," Pete Seeger with The Rivertown Kids and Friends
Spoken Word Album For Children: "Julie Andrews' Collection Of Poems, Songs, And Lullabies," Julie Andrews and Emma Walton Hamilton
Producer of the Year, Non-Classical: Danger Mouse, for Broken Bells
Remixed Recording, Non-Classical: "One Love Club," David Guetta and Afrojack's remix of Madonna's Revolver
Pop/Contemporary Gospel Album: "Love God. Love People," Israel Houghton
Gospel Song: "It's What I Do," Jerry Peters & Kirk Whalum, songwriters
Gospel Performance: "Grace," BeBe and CeCe Winans
Traditional Gospel Album: "Downtown Church," Patty Griffin
Rock Or Rap Gospel Album: "Hello Hurricane," Switchfoot
Contemporary R&B Gospel Album: "Still," BeBe and CeCe Winans
Classical Album: "Verdi: Requiem," Riccardo Muti, conductor; Chicago Symphony Orchestra; Chicago Symphony Chorus
Choral Performance: "Verdi: Requiem" Riccardo Muti, conductor; Chicago Symphony Orchestra; Chicago Symphony Chorus
Classical Contemporary Composition: "Michael Daugherty: Metropolis Symphony / Deus Ex Machina," Giancarlo Guerrero
Classical Producer: David Frost
Orchestral Performance: "Daugherty: Metropolis Symphony; Deus Ex Machina," Giancarlo Guerrero, conductor; Nashville Symphony
Opera Recording: "Saariaho: L'Amour De Loin," Kent Nagano, conductor; Deutsches Symphonie-Orchester Berlin; Rundfunkchor Berlin
Spoken Word Album: "The Daily Show With Jon Stewart Presents Earth (The Audiobook)," Jon Stewart
Comedy Album: "Stark Raving Black," Lewis Black
Compilation Soundtrack Album For Motion Picture, Television Or Other Visual Media: "Crazy Heart," (Various Artists) Stephen Bruton & T Bone Burnett, producers
Score Soundtrack Album For Motion Picture, Television Or Other Visual Media: "Toy Story 3," Randy Newman, composer
Song Written For Motion Picture, Television Or Other Visual Media: The Weary Kind (From Crazy Heart) Ryan Bingham & T Bone Burnett, songwriters
Historical Album: The Beatles (The Original Studio Recordings)
Instrumental Arrangement Accompanying Vocalists: "Baba Yetu," Christopher Tin, arranger; Soweto Gospel Choir and Royal Philharmonic Orchestra