✦
New York Times
Burgemeester New York is nog nooit in de "groene smaragd" van zijn stad geweest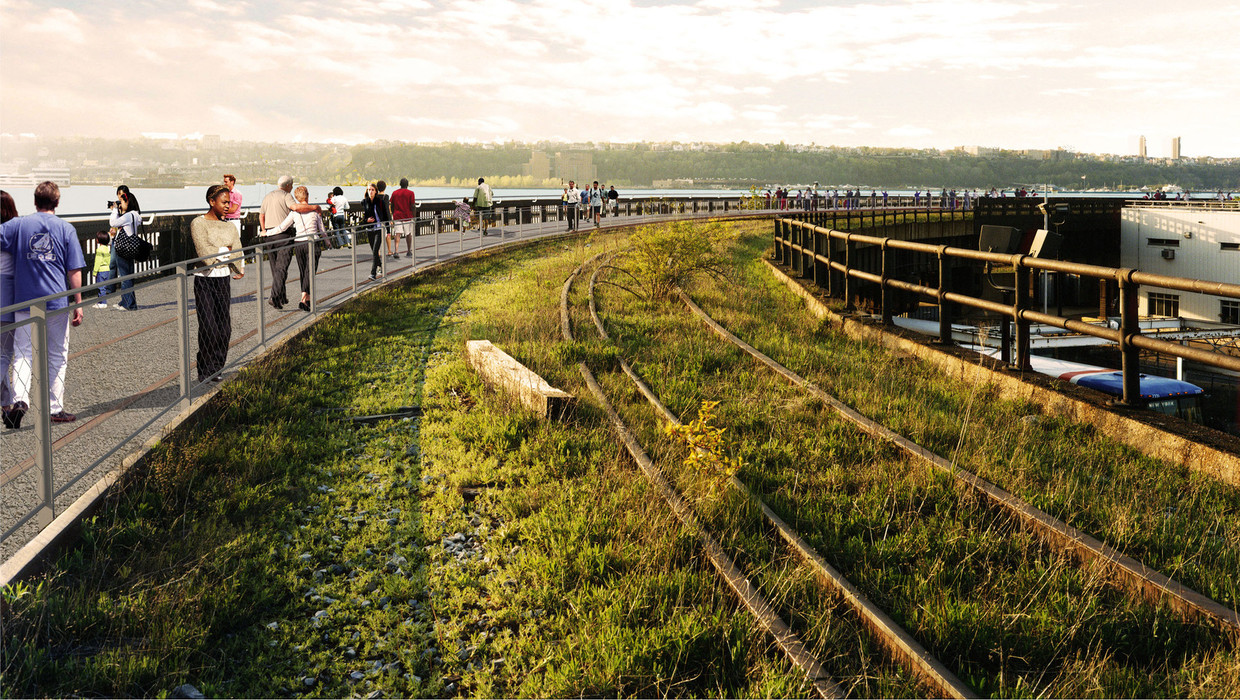 The High Line has been hailed as an emerald jewel of New York City, a worldwide model for urban reclamation, a magnet for civic philanthropy and an aesthetic marvel that has lured natives and tourists alike. With one glaring exception. Mayor Bill de Blasio has never been there.
The mayor, who since taking office has found time to sail around Capri and rally political leaders in England, has yet to set foot in the elevated park, which opened in 2009 and sits a couple of miles north of his City Hall office.

"I have not visited," de Blasio conceded on Wednesday. "I am a fan of it. I think it's done a lot of good for the city, but I haven't visited."

The park's third and final stage, featuring knockout views of the Hudson River and the midtown skyline, opened last month. The mayor said he had no immediate plans to visit, but, he added, "I look forward to it."

In his lack of familiarity with the park, de Blasio contrasts with his predecessor, Michael R. Bloomberg, who donated millions of his own dollars to it and cited its success as a prime example of the city's resurgence during his tenure.

But the High Line, which had 4.8 million visitors last year, is also associated with the themes de Blasio railed against in his campaign for mayor, when he denounced the "almost colonial dynamic" between a gentrifying Manhattan and the city's other boroughs. The park has attracted a string of luxury buildings to the Far West Side and is a cherished cause of wealthy Manhattanites in Bloomberg's circles.

De Blasio, a Brooklynite who prefers the scruffier fields of Prospect Park, is less focused on forging new urban green space than on reviving old ones. He has called for wealthy private conservancies - similar to the one that oversees the High Line - to share financial resources with impoverished parks around the city.

Still, de Blasio's absence at the High Line may be unique among New York's political class. At a formal ceremony last month to open the park's final section, Sen. Charles E. Schumer arrived on a bicycle; he was joined by the City Council speaker, Melissa Mark-Viverito; the city comptroller, Scott M. Stringer; and Rep. Jerrold Nadler, among others.

De Blasio was invited, but he did not attend. The mayor departed New York that afternoon for a daylong jaunt to Pittsburgh, where he took in a baseball game and a Johnny Cash cover band at a local Elks lodge.

The city parks commissioner, Mitchell J. Silver, who was appointed by de Blasio in March, was not at the opening either. (A spokesman for Silver cited a longstanding scheduling conflict.) Top deputies for de Blasio and Silver did go to the event.

Officials at Friends of the High Line, which operates the park, said on Wednesday that they had met with de Blasio's parks commissioner on several occasions.

"We hope the mayor has a chance to visit soon," Josh David, the group's co-founder, said in a statement.

Some New Yorkers opined on Wednesday that de Blasio may not be missing much.

"OK, so now we know he's not a German tourist," Anthony D. Weiner, the former congressman and mayoral candidate, wrote on Twitter, upon learning that de Blasio had never visited the park.

Has Weiner visited the High Line?

"Yep," he wrote on Twitter. "How do you spell 'meh'?"

© 2014 New York Times News Service
New York High Line: een uniek stadspark
De High Line van New York is een uniek stadspark dat boven de grond ligt. Het langgerekte park in Manhatten is gebouwd op het traject van een verhoogde spoorweglijn die niet langer in gebruik is.