NY Times
Where can women make movies? The Middle East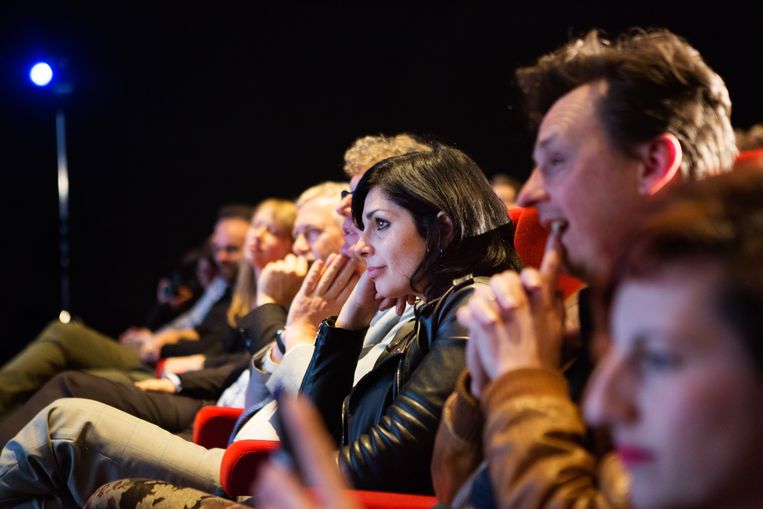 Nana Asfour is an editor in The New York Times Opinion section. Parts of this article are adapted from her essay in the forthcoming "Cinema Made in the Middle East and North Africa," edited by James Neil.
"In Between", the new film by Maysaloun Hamoud, is the latest in a long line of feminist films by female Arab directors. Hailed as a fresh, frank look at the lives of young Palestinian women, Maysaloun Hamoud's debut film, "In Between," follows three female roommates who share an apartment in Tel Aviv. There, they participate, to varying degrees, in the debauchery on offer in Israel's cultural capital: dancing, drinking, smoking, taking drugs.
The movie is being talked about as a milestone. An article on CNN says, "'In Between' depicts alcohol consumption, drug taking, casual sex and homosexuality — topics Hamoud admits are seldom touched on in Arabic-language films." The "split lives" of the protagonists, who have traditional Palestinian families but live away from them, "have rarely been depicted on screen," a review in Variety says.
It's true that Ms. Hamoud deftly portrays the world of modern, urban Palestinian women — the world to which she belongs — and explores how they are affected by constrictive, suffocating traditions. But she is far from alone on that front. Unlike Hollywood, Arab cinema is flush with female directors making films that deal with feminist issues.
In terms of contemporary Arab films, "In Between" is heavily reminiscent of "Caramel" (2007). Both films are about women from different social strata and religions: The female characters in "In Between" include a fierce criminal lawyer, a D.J. and a conservative university student; "Caramel" follows a group of women who work in or frequent a hair and waxing salon in Beirut. Both are about the restrictions the women are forced to abide by, and about love and vying for independence in a society in which marriage is regarded as the most desirable option for a woman. "Caramel" is directed by Nadine Labaki of Lebanon, who went on to make a second feature film in 2011, "Where Do We Go Now?," a comedy about a mixed Christian-Muslim village where the women prevent the men from starting a religious war.
Ms. Hamoud and Ms. Labaki belong to a long line of women in Arab cinema. One of the most surprising things for me when I began to study the history of Arab cinema was how far back women's contributions to the medium goes. Since the early days of cinema in the Middle East, women have been active participants onscreen and behind the scenes. In the 1920s and '30s, women served as studio executives, writers and producers. In the 1970s and '80s, a number of the groundbreaking auteur filmmakers were women. The subjects that Ms. Hamoud and Ms. Labaki are taking on might seem pioneering and progressive, but in fact the previous generation of female directors tackled many of them.
Provocative
Take, for instance, the works of the Lebanese trio Heiny Srour, Randa Chahal Sabbag and Jocelyne Saab. Ms. Srour's first and only feature film, "Leila and the Wolves" (1984), spotlighted women's active participation in the wars in Israel-Palestine and Lebanon, both as facilitators and combatants, all the while touching on hot buttons such as honor killings, abusive marriages, the stigma of divorce and educations curtailed because of forced marriages. Ms. Srour was also the first Arab woman to have a film selected for Cannes (in 1974, for a documentary).
Set and shot amid the Lebanese civil war, Ms. Saab's feature debut, "A Suspended Life" (1984), follows Samar, an independent-minded young girl reveling in the freedom afforded by warfare chaos. She thinks herself — and proclaims herself — "free" and able to "do whatever I want," but the cost of her spirited wandering is a hymen-restoring operation imposed by her family.
Ms. Sabbag, who died in 2008, was equally provocative. Her early films include "Sand Screens" (1991), a drama centering on a woman determined to lead an uninhibited life in a deeply conservative society, and the sarcastically titled "A Civilized People" (1999), which touches on such discomfiting topics as homosexuality, the ill treatment of immigrant house servants and religious acrimony in Lebanese society. (The Lebanese government banned the film.)
Ms. Srour, Ms. Saab and Ms. Sabbag are among the women featured in Rebecca Hillauer's "Encyclopedia of Arab Women Filmmakers." Ms. Hillauer notes in the preface that the book started with an investigation into the question "Arab women filmmakers — do they exist?" By the time she completed her research, she had enough material to expand what she had conceived as a small reference work into a tome of some 400 pages, covering women from Iraq to Egypt to Tunisia.
Arab society
Since the most recent version of Ms. Hillauer's book was released, in 2005, a number of younger Arab women have taken up film. In Morocco, Tunisia and Lebanon, women make up about a quarter of all new directors, and "most focus largely on aspects of women's lives in the Arab world," according to Roy Armes's 2015 book "New Voices in Arab Cinema." Mr. Armes credits the number of female directors to outside influence. "Virtually all the women born in the 1960s and 1970s who have made a fictional feature have lived, worked, and/or trained abroad," he writes. "There is no single pattern of entry to filmmaking, but it is notable that none of them has had the conventional, sheltered upbringing reserved for so many women in the Arab world." (Ms. Labaki, who has spent her life in Lebanon, is, as Mr. Armes points out, an exception.) "This mass of educated and articulate women has changed the way in which a whole array of aspects of Arab society are experienced and depicted."
Ms. Hamoud and Ms. Labaki are entirely deserving of praise. They have made polished films with high production values, which are thoroughly engaging, often caustic and, at times, devastating. But they follow a path blazed by many women before them. Today they have a support system, which their predecessors lacked. The women before them worked away on their own, under much more dangerous conditions (including actual wars) and against much more pushback. But just like these contemporary Arab women directors, their work was acclaimed, welcomed and shown abroad, at leading European film festivals and on international movie screens. The output of the new wave of Arab female filmmakers — and even female writers and artists — should be viewed in the actual context of the history of Arab cinema, literature and art, and not with any misguided idea that these voices are emanating from a vacuum.