The New York Times
What Al Gore's First Debate Against George W. Bush Can Teach Hillary Clinton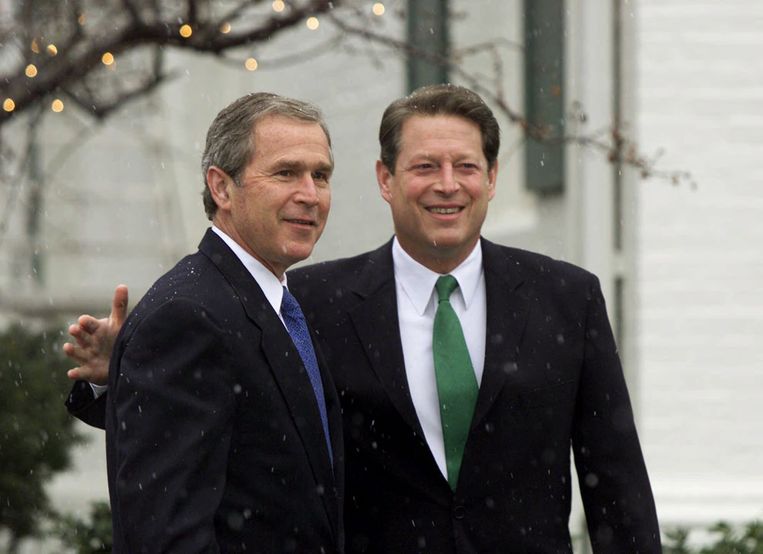 Note to Hillary Clinton: You can be whip-smart in a presidential debate, yet still blow it spectacularly. Just ask Al Gore. The vice president had the advantage going into his first debate against Gov. George W. Bush of Texas on Oct. 3, 2000. Like Clinton, Gore was perceived as knowing far more about domestic issues, foreign affairs and the art of debating than the Republican nominee.
Many Democrats believed Bush would look like a policy lightweight compared with Gore, an assumption that many have made about Donald Trump. But Bush had surprises in store. And Gore was undone by impulses he could not control. No other presidential debate has more resonance — or red flags — for Clinton and Trump, who will face off Monday for the first time. This is the story of that first debate between Bush and Gore, as told to me recently by people who were deeply involved in the event — including some who believe it cost Gore the presidency.
SPRING
Karen Hughes, Bush adviser overseeing his debate preparations: "We faced a major challenge throughout the campaign: The American economy was going well; times were relatively good. We had to give people a reason to vote for change and convince them that George W. Bush could do the job."
Stuart Stevens, Bush media adviser: "The first debate is usually when you reach the most voters. So we started prepping really early — in April 2000. But we did it in secret. Nobody wanted to broadcast that Bush was prepping that early."
Hughes: "Keeping quiet was a way to keep expectations low for Gov. Bush. In debates, you run against expectations almost as much as you run against your opponent."
Stevens: "People thought Bush wasn't smart. He was smart. But being smart isn't enough to win a debate. You have to prepare."
Judd Gregg, former New Hampshire senator and a stand-in for Gore at Bush's mock debates: "The governor understood federal issues only tangentially. He knew he couldn't just walk onto the debate stage and start competing with someone like Gore on substance and policy."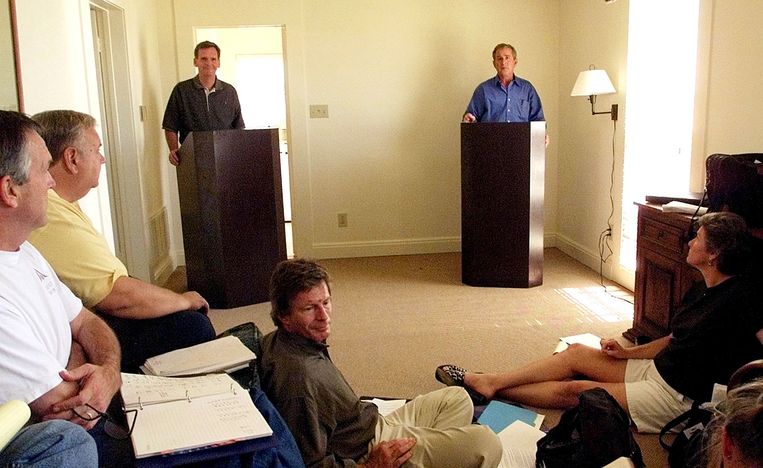 Stevens: "We did about 15 mock debate sessions in all, where he could practice his answers."
Gregg: "I'd spent two months trying to just totally absorb myself in what Gore thought, what his policies were, and how I thought he would react to Bush. Gore and I had served in the House together. Very, very smart, but extremely arrogant. I did my best to be Gore."
Hughes: "It helped to have months to prepare. Cramming at the last minute doesn't work for debates."
SUMMER
Tad Devine, senior adviser to Gore: "Al's poll numbers were up and down that spring. But we felt the first debate would be his moment — that people would see two candidates onstage, but only one president."
Robert Shrum, senior adviser to Gore: "We didn't start preparing until summer. Gore had debated so many times. If you have a candidate who really knows his stuff, then spending time filling his or her head with a million new facts is a big waste. In fact, it's unproductive."
Devine: "What Gore really wanted, in the debate, was to show people that he could deal with the issues at a depth that Bush simply could not."
Carter Eskew, longtime adviser to Gore: "We'd sit there and literally, in Gore's case, take four pages of policy and get it down to an index card and then dive into the index card and say, "What's the point you're trying to make?" Sometimes he could frame the issue into a memorable moment, but I wouldn't say it was natural."
Shrum: "Sometimes we over-framed an issue. In one practice session, we talked about using the metaphor of a "lockbox" to protect Social Security and Medicare. I was one of the authors of the metaphor, and thought it was fine to say two times in a debate, maybe three times."
Eskew: "We only had one real surprise during our debate prep — a significant disruption, really."
Devine: "Just a few weeks before the debate."
Eskew: "Former Congressman Tom Downey was playing Bush for us in our mock sessions. Then he got a package containing a videotape and papers related to Bush's debate prep. He turned them in and recused himself from our debate prep. That was big. Downey had played Gore's opponents in debate prep in 1996 and for the 2000 primaries. He had looked at every single piece of tape on Bush. Read everything. He could sit down and say to Gore, "Here are the things that I see, here's what you can and can't do against Bush."
Shrum: "We quickly found a new Bush — Paul Begala, who knew Gore from Bill Clinton's 1992 campaign."
Eskew: "Paul prepped quickly and did a great job, but he was more of a caricature of Bush, whereas Downey might have actually been the character of Bush. Few things matter more in mock debates than the person playing your opponent."
ONE WEEK OUT
Paul Begala, Democratic strategist and a stand-in for Bush at Gore's mock debates: "Right away I picked up a problem about Gore during debate prep: A raw, unbridled contempt he had for Bush. It wasn't the usual "my worthy adversary and I have different ideas." He would sometimes sigh when I was talking, or frown, or roll his eyes. And his tone and language, too — it all communicated that Gore thought Bush was an idiot."
Eskew: "I don't remember Gore's sighs being super prevalent in debate prep."
Shrum: "We would tell Gore not to react to Bush, not to grimace at him — just look down at your notepad and write something."
Devine: "There weren't supposed to be reaction shots of Al or Bush on television during the debates. But we worried that the networks might not adhere to that — that they might do split-screen shots."
Stevens: "Bush's answers were getting better and better, so we decided to do one full-length, timed mock debate a few days before the debate. But that didn't go well."
Hughes: "We did it at 9 p.m., at the actual time of the debate, which is usually when he is going to bed and reading a book."
Stevens: "I was playing the moderator. Condi Rice kept passing me yellow Post-it notes with all these foreign policy questions. "Ask this question." I would, but Bush was just not into it. Finally on one Post-it she wrote, "It doesn't matter, we're doomed.""
THE DEBATE
Jim Lehrer, PBS anchor and debate moderator: "I had no "gotcha" questions prepared. I saw my role as a facilitator — I wasn't looking for ways to embarrass either of these guys. I just wanted to make sure that their positions and differences would be explained by them."
Shrum: "Watching the debate, we were winning on substance, we were winning on who was really fit to be president. But Gore was also sighing and reacting to Bush, and there were lots of reaction shots. It was somewhat inexplicable — as if the things that Gore had been told not to do became his to-do list."
Eskew: "While I obviously saw the sighing, I thought Gore was doing well."
Stevens: "Our Bush team watched the debate near the Gore team, and we sometimes heard them whooping and cheering. And we kind of looked at each other and said, "I don't know, is it just us? Gore seems like a huge jerk."
Shrum: "Gore ended up saying "lockbox" seven times. And when Bush said he had once visited the scene of forest fires, Gore felt the need to jump in and have the last word and say he had visited the fire scene, too."
Hughes: "When Gore answered that he'd seen the fires — and that he'd gone to them with James Lee Witt of FEMA — I jumped up and said, that's not true. Gore went with another FEMA official. He was such a serial exaggerator. I started calling that first debate "Lies and Sighs."
Lehrer: "After the debate, I walked out with my family, and one of my daughters said something I'll never forget. She said, "Oh, Dad, isn't it something, what Gore did?" I stopped and said, "What do you mean?" She said, "All that huffing and puffing and eyerolling and sighing." I said, "My God, I didn't know anything about it." And she said, "Well, Dad, that's going to be the lead of the debate stories." And she was right."
THE AFTERMATH
Shrum: "I didn't think Gore's sighs were a really big deal until I got to the spin room. Reporters kept asking about sighs, reactions, exaggerations."
Begala: "For all of Gore's good answers, his feelings for Bush was his fatal flaw. You can't afford to look across the stage with that kind of contempt at someone who millions of people have nominated as their standard-bearer, and not have it bleed over to the audience and have them see you negatively."
Cook: "That first debate took on an even larger life five days later when "Saturday Night Live" did a devastating spoof where the Gore character wouldn't stop talking and reacting and saying "lockbox.""
Devine: "Election Day followed, and the Florida recount, and we know the rest. But if Gore had won that first debate clearly and decisively, I think that he would have been president. There's no doubt about it."