The New York Times
U.S. Police Leaders, Visiting Scotland, Get Lessons on Avoiding Deadly Force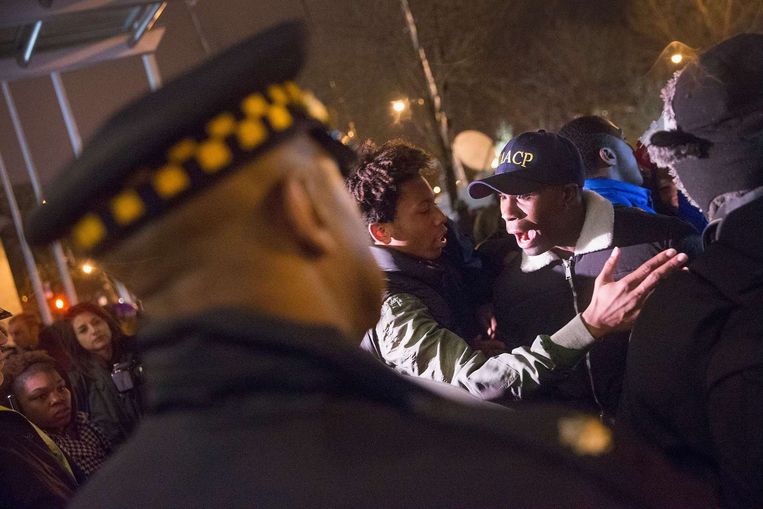 The United States and Britain are bound by a common language and a shared history, and their law enforcement agencies have been close partners for generations.
But a difference long curious to Americans stands out: Most British police officers are unarmed, a distinction particularly pronounced here in Scotland, where 98 percent of the country's officers do not carry guns. Rather than escalating a situation with weapons, easing it through talk is an essential policing tool, and is what brought a delegation of top U.S. police officials to this town 30 miles northeast of Glasgow.
Forty minutes into a Scottish police commander's lecture on the art of firearms-free policing, U.S. law enforcement leaders took turns talking. One after another, their questions sounded like collective head-scratching.
"Do you have a large percentage of officers that get hurt with this policing model?" asked Theresa Shortell, an assistant chief of the New York Police Department and the commanding officer of its training academy, where several hundred officers graduate each year.
"How many officers in Scotland have been killed in the last year or two years?" Shortell added.
Bernard Higgins, an assistant chief constable who is Scotland's use-of-force expert, stood and answered. Yes, his officers routinely take punches, he said, but the last one killed by violence was in 1994, in a stabbing.
There is poverty, crime and a "pathological hatred of officers wearing our uniform" in pockets of Scotland, he said, but constables live where they work and embrace their role as "guardians of the community," not warriors from a policing subculture.
"The basic fundamental principle, even in the areas where there's high levels of crime, high levels of social deprivation, is it's community-based policing by unarmed officers," Higgins said. "We police from an absolute position of embracing democracy."
Public Anger
From Eric Garner in New York City, to Freddie Gray in Baltimore and Laquan McDonald in Chicago, fatal police confrontations have fueled public anger across the United States and have prompted police leaders to reconsider established tactics and entrenched thinking on when and how to use force.
On Monday, the Justice Department announced that it was opening a civil rights investigation into the practices of the Chicago Police Department after one of its officers was charged last month with first-degree murder in the shooting death of McDonald, 17.
The killing, in October 2014, was captured on video that the city released under a court order hours after the officer was charged. And just as protests had previously swept New York, Ferguson, Missouri, and Baltimore, demonstrators have taken to the streets in Chicago to demand change.
It is the sort of outcry that officials know they will continue to face, and it is why, several weeks before charges were filed in Chicago, leaders from many of the country's biggest departments had come to the stone castle that serves as Scotland's Police Headquarters, to hear firsthand about other ways of handling confrontations.
James W. Johnson, police chief in Baltimore County, Maryland, asked how Scotland's culture influenced people's perception of the police. Johnson said he saw few outward signs of the disorder surrounding him at home - roadway trash, graffiti, large numbers of homeless people.
As the U.S. police leaders peppered Higgins with questions, Chief Charles A. McClelland Jr. of the Houston department raised the legacy of racial wrongs that seeps through the criminal justice system in the United States.
"And many of these racial and ethnic diverse communities have a longstanding history, negative history, with the police," McClelland said. "Do you have that here in Scotland?"
While sectarian tensions still flare up, racial fault lines are few in the country, so the Houston chief's question was on the minds of many of the U.S. officials.
But at the lecture last month, and at others throughout the week, the answer from the Scottish police remained the same: How officers think matters more than how they wield force, even in a nation where knives, not guns, are criminals' weapon of choice.
"If you speak about a protest, for instance, the protest of the blacks in the street, well that's about justice, unfairness," Kirk Kinnell, the superintendent of Police Scotland and head of its hostage crisis negotiation unit, said after a lecture. "I would say, 'That message, we should embrace that,' because actually, as police officers, we want fairness. That's why we joined."
None of the officials from the United States raised the specter of terrorism or the nationwide trend by departments to arm counterterrorism units in their agencies to respond more quickly to so-called active shooter situations. Rather, they were concerned with situations in which civilians are armed with a knife or a bat and tempers need to be tamped down.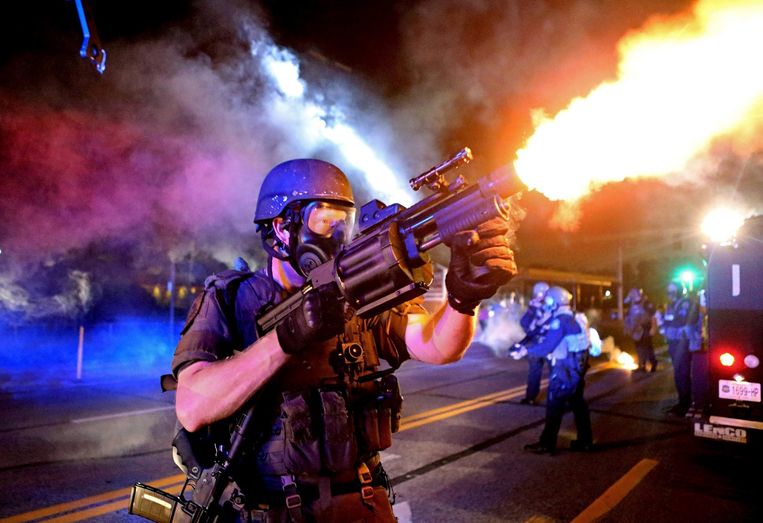 'We Must Do Better'
The idea to go to Scotland was born last year when Chuck Wexler, the executive director of the Police Executive Research Forum, was here for a leadership program. Speaking to a police recruit, Wexler noticed he had no gun on his belt.
"It hit me like a ton of bricks," said Wexler, who was consumed at the time by the fallout from the death of Michael Brown in Ferguson.
A year later, his law enforcement policy group organized the U.S. leaders' visit, to inspire thought - to find room for improvement in handling encounters with people who are armed, though not with guns.
Many departments have been rethinking their rules on use of force, including New York, which in October established explicit guidelines and a new tracking system for documenting force.
Wexler sees a historic opportunity for U.S. police officers to shift their thinking on culture, tactics and training. Whatever ideas law enforcement leaders emerge with, he said, one thing is clear, "We must do better."
In one way or another, those leaders who came to Scotland agreed.
Many expressed dismay over encounters in recent months in which officers were seen using excessive force or aggression.
So, in classroom seminars and training demonstrations, the group of U.S. leaders learned how the Scottish police outfit rank-and-file officers with batons, handcuffs and pepper spray - but no guns - and how the department's elite armed response teams have shot civilians only twice in the last decade.
Tactical withdrawal
Here, officers who retreat are not considered "cowards," as Pamela Davis, a chief in Anne Arundel, Maryland, said they would be considered back home.
Rather, the Scots define backward steps as "tactical withdrawal," to slow the pace. In fact, they have taken the U.S. model of hostage negotiation, developed decades ago, and infused it into everyday patrols.
If armed people ratchet up emotions, the Scottish police seek to defuse them. They pay as much attention to moral standards as legal ones. They do not talk about "deadly" force and would shudder to see such words in their policies. Above all, a Scottish constable's measure of success is whether everyone involved, not just the police officers, survives the confrontation.
"What do you think is a proportionate response?" Higgins asked at one point. "An officer that's uninjured, but somebody's dead? Or an officer that is injured but somebody's alive and in custody?"
A Difference on Guns
On some days, the U.S. law enforcement leaders were like scientists, meticulously taking notes, requesting data and interviewing constables, trying to wrap their minds around any ideas for gaining public trust. Other days their group talks felt, as one Scottish officer put it, like therapy.
When those conversations ended, the Americans' opinions varied. Many lurched back to a simple fact: Far fewer guns are found on Scotland's streets than the 300 million in circulation in the United States.
"The guns makes the difference, right?" William B. Evans, the Boston police commissioner, said after one presentation by the Scots. "We have so many guns that deadly force, to us, is always there, right?"
Across the room, Mike Chitwood, the chief in Daytona Beach, Florida, saw something else.
"We in American policing are missing the boat," Chitwood said, "in the respect for human life, altogether." The notion drilled into officers, he said, from when they are new to policing - "better to be judged by 12 than carried by six" - is misguided.
"I've watched great cops get into a shooting that destroyed their lives," Chitwood said. "They may have been exonerated, but they knew their careers were over, they became alcoholics, they lost their marriages, because they couldn't handle that they took somebody's life, even if it was a good shooting."
Scottish police officials conceded that some elements are uniquely Scottish. They emphasized that Wexler's venture would help them "learn together," as Sir Stephen House explained in opening the conference, one of his final official duties as head of the Scottish police, before he stepped down last month.
"We'll show you what our experience is and how we do things," House said. "It's entirely a matter for yourselves as individuals whether you look at that and go, 'You know, there's something there,' or, 'Actually, that's Scotland, that's a different country.'"
But he emphasized that an emotionally disturbed person wielding a knife on a darkened city street is universal, in Detroit or Dundee.
Time and again, the Americans said parts of Scotland's experience mirrored their efforts.
Others noted how President Barack Obama's Task Force on Policing is aiming to redefine officers' work, so that they listen, speak courteously and explain every action - the tenets of Scottish police work.
Though some conceded it sounded like déjà vu.
After the race riots of the mid-1960s in Detroit, Los Angeles, Newark and elsewhere, the Kerner Commission blamed the uprisings on racism and called for officers to stop cursing and using racial slurs.
"The problem is, all of the departments didn't get the memo," said Samuel Walker, professor emeritus of the University of Nebraska, who did not attend the conference. "And in some departments, it's very easy for standards to slide."
New Levels of Patience
The U.S. leaders, among the most progressive in the country, said some of their aggressive tactics seemed necessary in a country with more violence. At one outdoor training exercise, for instance, a Scottish officer playing a suspect with a knife who suggested he had just killed someone - by licking the blood from the blade and proclaiming it "still warm" - ran into a house as officers kept a measured distance.
Looking on, Michael R. Moore, a deputy chief of the Los Angeles Police Department, questioned how a man who demonstrated "a public threat" could be allowed to barricade himself. "What if that building had 15 schoolkids in it?" he said.
At another exercise, a Scottish officer played a despondent man with a shotgun under his chin. But Dave Harvey, an assistant police chief in Phoenix, later said the response by the Scottish team of armed officers was curious.
"They're not behind cover," Harvey said.
More eye-opening was a populace that rarely turns guns on police officers, he added.
From a broad view, the leaders who came here from the United States embraced much about the way their Scottish colleagues keep the peace and said they would try to weave parts of it into their own departments.
Evans of Boston said his takeaway during a final talk with his international colleagues was, "Take a step back and talk to people, because it works."
"Your style is exactly the way I want my officers to be," he added.
But going home to create change in policing culture is not a simple thing, as Shortell, who went from being an undercover officer to the head of the gang unit to leading the New York Police Academy, told the group minutes later.
"If I go back and I do say, 'Back up,'" she said, referring to one of Scotland's primary tools, "they're going to say, 'What happened to Terry Shortell?' They are."