NY Times
Trump rebuked China for North Korea's oil smuggling. It's more complicated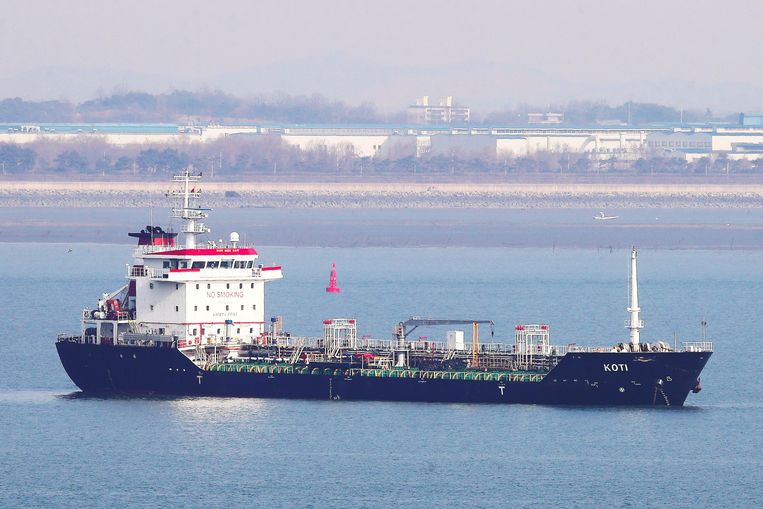 The two ships met in daylight in the middle of the East China Sea. One was an 11,253-ton oil tanker, the Lighthouse Winmore, supposedly heading to Taiwan. The other, an aging freighter, was emblazoned with the red, white and blue flag of North Korea.
In an illicit high-seas exchange captured in photographs taken by an American spy plane, the Lighthouse Winmore offloaded what officials later said was 600 tons of oil to the North Korean vessel in violation of United Nations sanctions.
With those sanctions constricting its trade, including the import of refined petroleum, North Korea has increasingly turned to illegal clandestine shipments to acquire the fuel it needs, according to diplomatic officials and documents obtained by The New York Times.
Trafficking on the high seas has become what these officials regard as a pernicious subversion of the sanctions. Though the frequency of smuggling is difficult to estimate, they fear it is undermining efforts to thwart the nuclear weapons ambitions of Kim Jong Un, the North Korean leader, through economic pressure. The trafficking has also strained relations between the United States and North Korea's two largest trading partners, China and Russia.
Tensions
Last month, the United States tried to persuade other members of the U.N. Security Council to blacklist 10 ships that it said were involved in smuggling oil and coal. In addition to the Lighthouse Winmore, this list, obtained by The New York Times, included four North Korean-flagged vessels, as well as ships linked to South Korea, Hong Kong, Taiwan and mainland China.
A U.N. diplomat said the transfers were happening frequently in the Yellow Sea, East China Sea and possibly the Sea of Japan.
The diplomat, who spoke on the condition of anonymity to discuss intelligence materials, said that detecting the smuggling was difficult and that preventing it would require interdiction of suspect ships at sea, which could further inflame tensions with North Korea.
Determining who abets the North Koreans has proved difficult. China and Russia have been blamed for the smuggling, or at least for failing to counter it, though evidence of direct government involvement is slim.
A day before South Korea announced late last month that it had impounded the Lighthouse Winmore in November, President Donald Trump seemed to directly implicate China in the smuggling, writing on Twitter that it had been "caught RED HANDED" allowing illicit oil deliveries to North Korea.
Tracing the Winmore's ownership and its contraband oil underscores the difficulty of identifying who is complicit, despite what the president's jab suggested.
Most of the Lighthouse Winmore's 25 crewmen were Chinese, but other connections to China were more tenuous. Some links were to places where the United States may be just as influential.
Hong Kong
The ship's flag showed that it was from Hong Kong, which for the last two decades has been a semiautonomous special administrative region of China. The oil originated with a multinational commodities trader, Trafigura Group, and was sold first to a company in Hong Kong, then to a company in Taiwan, the island that China regards as a breakaway province and which maintains close but unofficial relations with the United States.
The ship's owner appears to be a Hong Kong-based company whose director lives in Guangzhou, China. But the ship was leased by a fishing magnate from Taiwan, Chen Shih-hsien, whose company, Billions Bunker Group, was until last month registered in the Marshall Islands, a Pacific Ocean nation that enjoys U.S. military protection.
The difficulty has been compounded by the opacity of the international shipping industry, where vessels can be flagged in faraway countries and ownership is often obscured to limit legal liability.
The North Koreans, too, have become experts at covering their tracks to evade sanctions. Identification numbers are forged; vessels are registered under "flags of convenience" to mask their North Korean origins; names and even paint jobs are changed frequently.
The latest sanctions report to the U.N. Security Council in September warned that "lax enforcement of the sanctions regime coupled with the country's evolving evasion techniques are undermining the goals of the resolutions" intended to halt North Korea's nuclear and missile development.
South Korea's November seizure of the Lighthouse Winmore was made public only in late December — after Trump's post on Twitter. Two days later, South Korea disclosed the impounding of another ship, the Koti, flagged in Panama and operated by Harmonized Resources Shipping Management Co. in Hong Kong.
According to Hong Kong corporate records, the company's owner is an individual named Ma Guixian, and its headquarters is in China's port of Dalian, across the bay from North Korea. The phone at the company has since been disconnected.
After the seizures were publicized, the Chinese government bristled at suggestions that it had been somehow involved.
Hard to patrol
Stopping ship-to-ship smuggling on the open seas is complicated. The suspect area is vast and hard to patrol. Finding smugglers among the hundreds of ships carrying out oil transfers at sea is almost impossible. Such ship-to-ship transfers are legal if the recipient is not North Korea.
Any effort to blockade North Korean ports or inspect North Korean-bound ships suspected of carrying illicit oil could be considered acts of war by Kim and could lead to further escalation.
Determining how much illicit petroleum is reaching North Korea is also difficult, experts said. Before 2017, North Korea imported about 4.5 million barrels of refined petroleum a year, mostly from Russia and China. A U.N. resolution adopted last month imposed a cap of 500,000 barrels of refined petroleum a year. (North Korea is also permitted annual imports of 4 million barrels of unrefined oil, much of which comes from China via pipeline.)
Western officials say it is unlikely that North Korea could smuggle in enough refined oil to make up the difference.
The activities of entrepreneurs like Chen are providing a lifeline, though. So far officials have not said definitively whether Chen was a small-time smuggler or a major figure in the illicit oil trade. He was quoted by several news organizations as saying that he was not aware that the transferred oil had been bound for North Korea. He could not be reached for comment.
Born in 1965, he followed his family into the commercial fishing industry, becoming a prominent figure in the tuna trade as a member of the Taiwan Tuna Association, based in the southern port city Kaohsiung.
Records show that Chen also owned two ships, known as bunker vessels, used for refueling at sea. These vessels, which are like floating gas stations, are an integral part of the international shipping system, particularly in the fishing industry, allowing ships to stay at sea longer. The Lighthouse Winmore, which he leased, was also a bunker vessel.
Chen registered a new company in the Marshall Islands, the Billions Bunker Group, in 2014. The Marshall Islands is one of only 20 countries with official diplomatic ties with Taiwan. According to the corporate registry there, the company was annulled on Dec. 29, the day South Korea made public its seizure of the Lighthouse Winmore.
Billions Bunker separately registered a company called Taiwan Group Corp. in the British Virgin Islands, creating a complex network of holdings, including others that were disclosed in the Panama Papers leaks that revealed hidden wealth in offshore tax havens.
Prosecutors in South Korea said the Lighthouse Winmore's manifest falsely indicated that it had been headed to Taiwan when it departed the South Korean port of Yeosu on Oct. 11. Eight days later, a U.S. naval intelligence aircraft photographed it seemingly transferring oil to the Sam Jong 2, according to documents presented to the U.N. Security Council and seen by The Times.
The documents also included photographs of the two ships owned by Chen's company: the Billions 18 and the Billions 88. While officials say that the Billions 18 was involved in smuggling, evidence is insufficient to say the same about the Billions 88.
The authorities in Taiwan arrested Chen on Jan. 3, their investigation seemingly prompted by the South Korean seizure. He was released on bail for the equivalent of about $50,000, according to a statement by the district prosecutor's office in Kaohsiung, which said that he faced charges of falsifying export documents.
No one answered the door at Chen's home in Tainan, a city just north of Kaohsiung.
Names changed
Since the South Koreans took action, the names of the two ships Chen owned have been changed, a common industry practice that makes tracking ownership more difficult. The Billions 18 became the Kingsway, still under the flag of Panama, while the Billions 88 became the Twins Bull, flagged in Palau, according to Marine Traffic, a website that tracks shipping.
On Jan. 12, Taiwan's Ministry of Justice announced sanctions on Chen, freezing his assets and forbidding others to do business with him.
Smuggling tied to North Korea will remain difficult to eradicate, officials and experts said.
As North Korea faces tighter restrictions on trade, those willing to evade the sanctions can command even higher premiums. That is why the United States and others have sought to press China and Russia to police sanctions more vigorously. Officials say they have shown little inclination.