✦
NYT
Through art and forensics, faces of unidentified victims emerge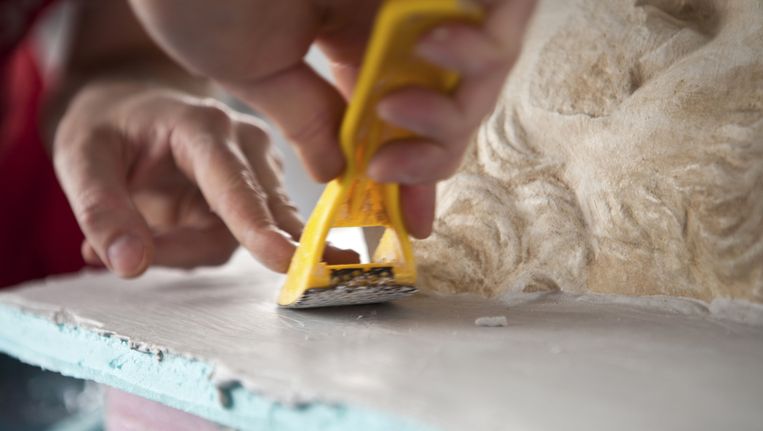 Anyone who walked into Room 501 at the New York Academy of Art in TriBeCa the other day would have seen a roomful of sculpture students molding clay into faces that looked nearly alive. But the people represented by the sculptures had all met ugly deaths and were found as skeletons in desolate places across New York City - train tracks, wooded areas, in a basement.
Most of the bodies bore various violent clues, including dismemberment, bullets to the head and other blunt force trauma, the instructor, Joe Mullins, told the art students. The bodies all had one thing in common.
"They lost their identity," said Mullins, a forensic imaging specialist. "We're going to give it back to them."
This was the point of a weeklong workshop earlier this month in which fine art students tried to give faces to 11 unidentified crime victims found over the years who were now being handled by the city medical examiner's office, which teamed up with the academy for this project.
The agency gets an average of about a dozen skeletonized cases a year, and the work of these artists is a "last-ditch effort" to identify these victims, as a comfort to relatives, and perhaps to open cold cases and, in homicides, find their killers, said Bradley J. Adams, the agency's director of forensic anthropology.
Since his office has only done a few skull reconstructions like these, he told the students, "selfishly, I'm going to get 11 reconstructions done in a week."
Depending on the results, the medical examiner's office would consider working with the academy on a somewhat regular basis.
Additional clues
For this class, each student was given a skull - a replica made by the medical examiner's office of each victim - and a block of clay to sculpt a face. The students were told to incorporate whatever information investigators recorded in finding and examining the skeleton, including estimates of the victim's age and height, maybe a hair type or style, and possible clothing sizes.
Some cases came with additional clues, like a young man believed to be Hispanic who was found in 2004 wrapped in a blanket near the Jackie Robinson Parkway with strands of hair with his remains. There was also a young woman believed to be black who was found in Jamaica Bay in 1991 and who had two gold teeth.
The details hinted at grim stories, of souls found in mysterious and depraved circumstances that often suggested gruesome deaths. The left side of the woman's skull, for instance, had been crushed.
Mullins, who works for the National Center for Missing and Exploited Children in Alexandria, Virginia, told the class that it was the first time he knew of art students' trying to help identify homicide victims.
"You guys are a part of history," he said. "Putting that face on them is our last hope of getting these people identified."
Mullins told the students to work like police sketch artists. They were not there for art's sake, but rather to make a likeness close enough that it might prompt someone who knew or encountered the victims to recognize them. He said his own sculptures of anonymous skulls had yielded over 30 such hits.
Photographs of the students' sculptures would be turned over to New York City police investigators and posted on an online public database of missing persons run by the National Missing and Unidentified Persons System.
Of the roughly 1,200 still-unidentified bodies the medical examiner's office has received in the past 25 years, some of its coldest cases are those that arrive skeletonized or so badly decomposed that the face is nonexistent, Adams said.
The city has begun trying to use the skull to sculpt a face when more traditional methods, such as fingerprinting, dental records and DNA testing, fail.
Smile
"This is like the end of the road," Adams told the class. "This is something we are going to do if there are no other leads."
The class seemed an ideal fit for the fine art students at the academy, given its emphasis on anatomical study, said John Volk, the school's director of continuing education.
One student in the class, Marco Palli, who was sculpting a young man with corn rows, said, "The whole point is having someone say, 'Hey, that looks like my uncle or my cousin.'"
Palli said that while he worked on a face for the missing man, "I felt like he was talking to me and that he'd be happy I was doing this for him."
Since relatives might remember the man through photographs, Palli said he sculpted the face with a slight smile, "because people usually smile in pictures."
The skulls seemed generic and similar at first glance. But as Mullins told the students, each would serve as a distinct blueprint, with its bone structure dictating facial features, as layers of clay were added to create the flesh, skin and cartilage that would rebuild the victim's face.
No room for artistic license
Mullins opened a bag of marbles and placed a pair on each student's desk, to make eyeballs. He distributed toothpicks to make a structure for the nose by following the lines of the nasal aperture.
He told students to stick closely to whatever the skull and other clues provided. The goal was not to create a brilliant likeness of a specific person, but rather a slightly generic look that might still elicit an identification.
"There is no room for artistic license," he said.

Carmen Bilton, 48, worked on a skull of the young woman with the gold teeth. Bilton sculpted the woman with the mouth slightly open, so the teeth could be seen as an identification clue.
Bilton, a teacher from Eutawville, South Carolina, said she traveled to New York for the class in the hope that a realistic rendering might help a family find someone they lost.
"It's the sense that I would get it right," Bilton said, "that maybe I ought to do this."