Religion
Thomas Monson, president of the Mormon church, dies at 90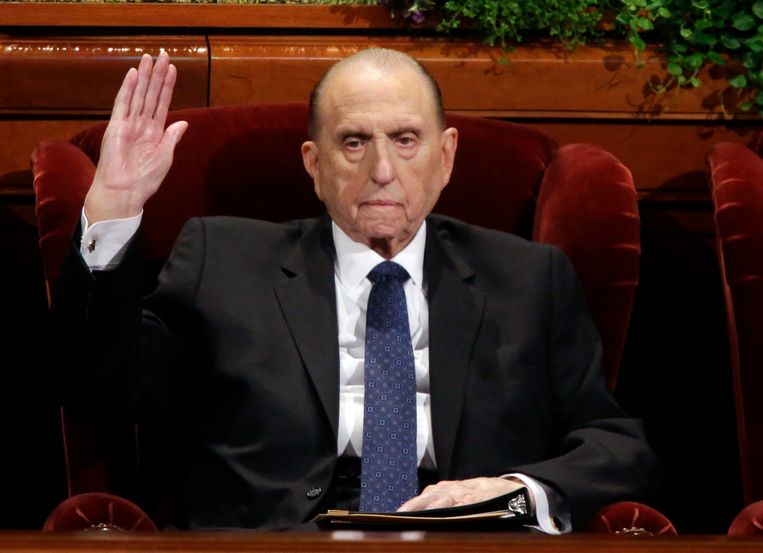 Thomas S. Monson, who as president of the Church of Jesus Christ of Latter-day Saints since 2008 enlarged the ranks of female missionaries, but rebuffed demands to ordain women as priests and refused to alter church opposition to same-sex marriage, died on Tuesday at his home in Salt Lake City. He was 90.
Facing vociferous demands to admit openly gay members to the church and to recognize same-sex marriage, and weathering demonstrations at church headquarters by Mormon women pleading for the right to be ordained as priests, Monson did not bend. Teachings holding homosexuality to be immoral, bans on sexual intercourse outside male-female marriages, and an all-male priesthood would remain unaltered.
Monson displayed a new openness to scholars of Mormonism, however, allowing them remarkable access to church records. But as rising numbers of church members and critics joined the internet's free-for-all culture of debate and exposé, his church was confronted with troubling inconsistencies in Mormon history and Scripture. The church even found itself at odds with an old ally, the Boy Scouts of America, which admitted gay members and gay adults as scout leaders.
On Monson's watch, the church enlarged its global missionary force to 69,200 from 52,000 and, in what students of church affairs called a major achievement of his tenure, doubled the number of young women in its missionary ranks, to 18,400, by lowering the minimum age for service, starting in 2012, to 18 from 19 for men and to 19 from 21 for women.
After high school
"That sent shock waves through the church," Richard Lyman Bushman, a Mormon scholar and Columbia University historian, told The New York Times for this obituary. At 21, he said, many Mormon women were married and not free for missionary work, while lowering the age to 19 let them become missionaries soon after high school.
"It changed the whole view of what women would do: that they would go just like the men," Bushman said. "There was a great surge of readiness. It changed their mentality."
Two years of missionary work abroad or in the United States are a rite of passage and a duty for able Mormon men, a preparation for service in a church operated by its male laity. Women's missionary service is 18 months and optional. The surge of female volunteers after the age limits were lowered suggested that many had long been eager to go.
"Sisters always had that little thought of serving a mission, but by the time 21 comes, you're married or onto something else," Shoushig Tenguerian, a student at Southern Virginia University, a private Mormon college, told The Times in 2012. "This age change changes everything."
Despite persistent demands for change on another feminist issue, Monson — who as president was considered by adherents to be God's "prophet, seer and revelator" — did not open the door to women in the priesthood, which, like the Mormon hierarchy, has been male since the church was founded in the early 19th century. Critics say the ban on female priests has no explicit basis in church Scripture, but efforts to overturn it were sometimes dealt with harshly.
Some Mormons faced sanctions for questioning church positions on women's roles. Kate Kelly, a feminist Mormon lawyer, was excommunicated on a charge of apostasy in 2014 after founding the organization Ordain Women.
As the 16th president of the Latter-day Saints, succeeding Gordon B. Hinckley, Monson faced another test when church members, increasingly scouring online sources, found apparent contradictions between historical records and church teachings.
Openness
In recent years, the church allowed historians access to church documents and records to a remarkable degree. Some published their findings online and in printed volumes, although they were usually vetted by church leaders. In allowing such access, students of church policy said, Monson presided over an unprecedented era of openness about church history, while reassuring the faithful that theirs was the one true, unerring faith.
The church's historic partnership with the Boy Scouts of America, which dated from 1913 and prepared Mormon boys for missionary work and adulthood as lay priests, was threatened late in Monson's tenure. For a century, nearly all Mormon boys became scouts, and the church became scouting's largest sponsor. By 2011, Mormon-sponsored packs and troops represented one-third of the nation's 421,000 scouts.
But the church and the Boy Scouts found themselves at loggerheads in 2014, when scouting admitted gays for the first time, and a year later, when it accepted gay adults as scout leaders. Monson said nothing publicly, and the church did not withdraw its support for scouting, as a church lawyer had threatened to do in a 2000 Supreme Court hearing on exclusionary scouting practices. While calling homosexuality immoral, church policy said "nonpracticing" gays could have the same rights and privileges as other church members.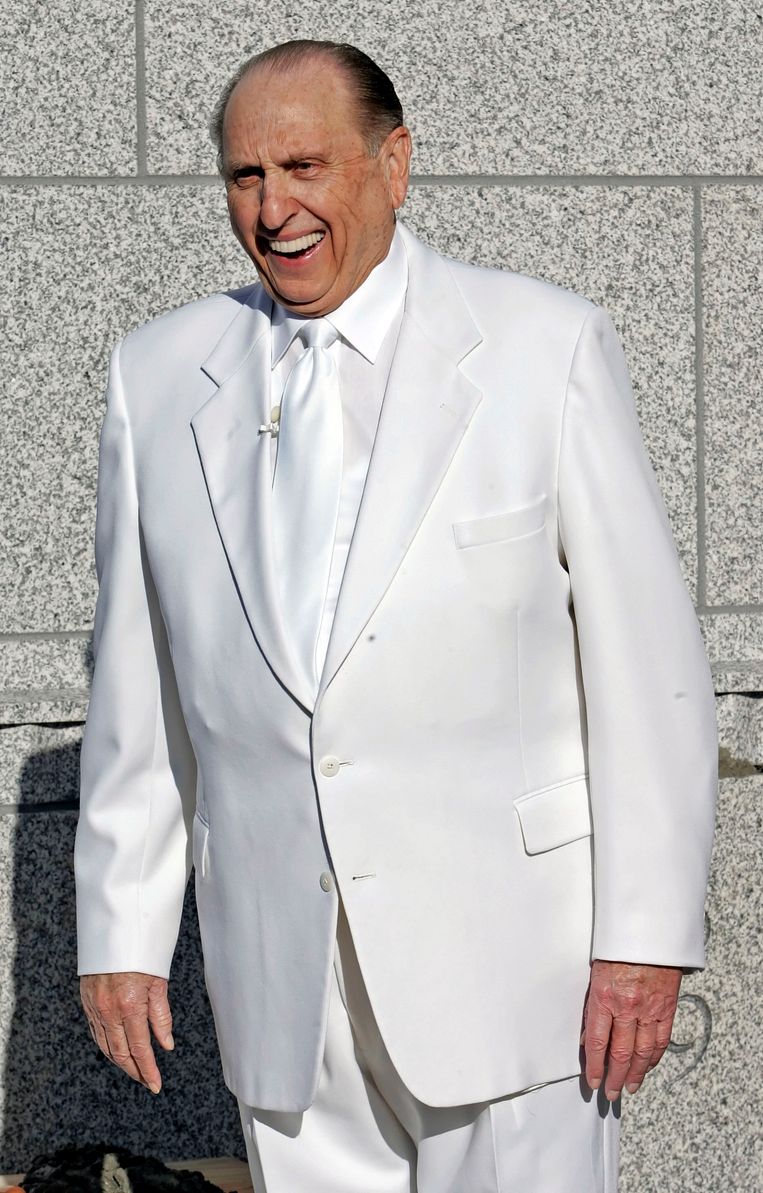 It was clear, however, that a rift over sexual orientation had been laid bare. For years, the church treaded lightly on the subject. In 2009, it supported a Salt Lake City ordinance banning discrimination against gays in jobs and housing.
But in 2015, Monson responded to the Supreme Court's decision legalizing same-sex marriage with a letter read in Mormon churches saying that sexual relations outside heterosexual marriage "are contrary to the laws of God." And, further drawing the line, the church declared same-sex couples to be apostates and restricted their children from baptisms and other rites.
Naval Reserve
Thomas Spencer Monson was born in Salt Lake City on Aug. 21, 1927, the second of six children of George Spencer Monson and the former Gladys Condie. He grew up in a tight-knit extended Mormon family that lived in proximity and that often worked, vacationed and worshipped together. At 12, he began working in a printing business his father managed.
He graduated from West High School in Salt Lake City in 1944. After starting at the University of Utah, he joined the Naval Reserve in 1945. World War II ended months later, and after stateside training, his tour of duty ended in 1946. He re-entered the University of Utah, graduating in 1948 with honors and a bachelor's degree in marketing, and earned a Master of Business Administration degree from Brigham Young University in 1974.
In 1948, he married Frances Beverly Johnson. She died in 2013. His survivors include their three children, Thomas and Clark Monson and Ann Dibb; eight grandchildren; and 12 great-grandchildren.
As is common in Mormonism, Monson's life straddled the worlds of business and religion. A printer by trade, he was an advertising executive with The Deseret News in the 1940s, and rose in the 1960s to general manager of the Deseret News Press, a church-affiliated printing firm. He was a longtime director and board chairman of the Deseret News Publishing Co.
He rose steadily in the church, too. In the 1950s, he was the bishop of a ward, akin to a parish, of 1,000 Mormons, including 85 widows whom he visited regularly and 23 men serving in the Korean War, to whom he wrote personal letters weekly. From 1959 to 1962, he was president of the church's Canada mission, covering Ontario and Quebec.
In 1963 he became a member of the Quorum of Twelve Apostles, the church's second-highest governing body. The highest authority is the church president, followed by two counselors, positions based on seniority, which makes transitions free of politics but also puts a mantle of age at the top.
Awaiting his turn for the presidency, he embraced humanitarian causes with Christian, Jewish and Muslim groups supporting homeless shelters, food banks, nursing homes and disaster relief efforts in the United States and abroad. "We don't ever meet on doctrinal matters," he told Christian Century. "It's strictly on the social side."