Schietpartij Texas
Still in shock, a Texas town starts to bury its dead after church massacre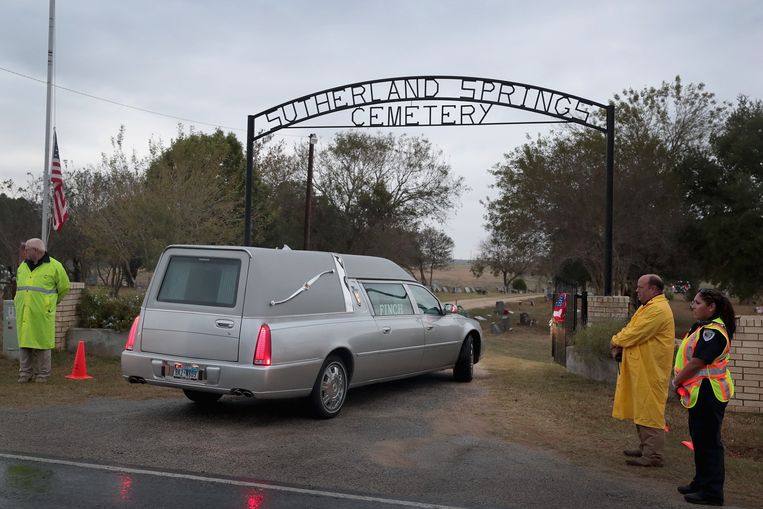 In a drizzle-shrouded cemetery, this small town in South Texas that endured one of the most horrific mass shootings in U.S. history began on Saturday to bury its dead.
Mourners gathered on the edge of Sutherland Springs for the funeral of two victims in last Sunday's massacre: Richard Rodriguez, 64, a retired railroad foreman, and Therese Rodriguez, 66, a retired receptionist at the railroad maintenance company where they both had worked.
The married couple was among the 26 parishioners, including children, who were killed by a gunman at First Baptist Church. Convulsing this town of a few hundred people, the mass shooting was the latest of several across the United States.
Residents here are bracing for the many more funerals to come.
"This has been a trying day — well, a trying week," Frank Pomeroy, the pastor at First Baptist Church, told the several dozen people gathered on a cemetery hill as he choked back tears.
"But remember: God will — no, God has — prevailed," said the visibly shaken Pomeroy, whose 14-year-old daughter, Annabelle, died in the shooting.
Several hundred people had attended a memorial service Saturday at Grace Bible Church in the nearby town of La Vernia. As people wept, Erin Weaver, the church's senior pastor, read from Psalm 23, proclaiming, "Though I walk through the valley of the shadow of death, I will fear no evil."
A display of photographs showed the Rodriguezes throughout their lives. Richard, who was born in Fort Collins, Colorado, displayed a scruffy beard and an affection for American flag T-shirts, as well as the music of Carlos Santana and Journey. Therese, who as a child moved from postwar Germany to the United States with her parents, was remembered as a gregarious traveler, breast cancer survivor and faithful parishioner of her church.
Friends of Therese said that for pastor appreciation day, she was preparing to give a deer killed by her grandson to Pomeroy.
"They left in a perfect way, together, not having to mourn each other," Regina Rodriguez, 33, said at the service about her father and stepmother. "Whenever I was having a hard time, if I felt like I was drowning, they were always there to help me," added Rodriguez, sobbing at times.
People who were gathered for the funeral chatted in Spanish and English, reflecting how the friends and relatives of the couple, like many others in South Texas, mingle Hispanic and Anglo traditions. Children ran around the cemetery while mourners placed flowers on the caskets.
"They were two great people, and they were always really loving," said Melanie Picazo, 24, a cousin of Richard who drove three hours from Eagle Pass on Saturday. "It's very overwhelming," she said about how Richard and Therese were killed with so many others. "You never think this will happen to you."
The large extended family of Richard and Therese, including numerous grandchildren, sang "Amazing Grace," the 18th-century hymn written by English clergyman John Newton. As a light rain coated the burial yard, some grasped hands as they gazed at the caskets and voiced the lyrics:
Amazing grace
How sweet the sound
That saved a wretch like me
I once was lost, but now I'm found
Was blind, but now I see
At the service, Pomeroy said he wanted to remember Richard and Therese as a joyful couple who forged a bond with each other late in life. Both exhibited a sense of humor, Pomeroy said, recalling a recent occasion when he parked his motorcycle inside the church.
"You're always doing dumb things," Therese told her pastor. "That's why I like you."