New York Times
Steep Sell-Off Spreads Fear to Wall Street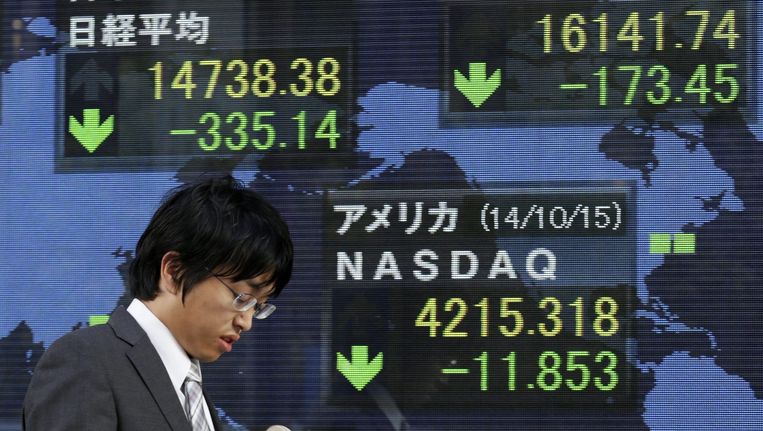 The party is over. Waves of nervous selling buffeted the stock market in the United States on Wednesday, after a steep sell-off in Europe. At one point, the Dow Jones industrial average had plunged 460 points, or 2.8 percent, though it later swung higher to close off 1.1 percent, or 173.45 points. The Standard & Poor's 500 index fell 0.8 percent, or 15.21 points. Since their peak a month ago, American stocks have lost over $2 trillion in value, losses that may ripple through the wider economy.
"It was a roller coaster, and I think you will have these wild price movements for a few more weeks," said Peter P. Costa, a top executive at Empire Executions, a trading firm on the floor of the New York Stock Exchange.
Dizzied by the turmoil, Wall Street experts agreed on one thing: The jarring day showed that fear had finally returned to markets that had become disconcertingly complacent.
"I think what is good is that it finally felt scary today," said James W. Paulsen, chief investment strategist at Wells Capital Management. "Prior to today, all the commentary was that this was a refreshing pause, but that's not what you are going to read tomorrow."
The steep plunges on Wednesday also signaled something more serious to other analysts and investors. They fear that governments and central banks have failed to anticipate a recent weakening in the global economy - and that policy makers may now struggle to prevent their economies from stalling. As a result, the faltering global recovery after the 2008 financial crisis may now be in jeopardy, particularly in Europe.
Speaking to investors Wednesday, Laurence D. Fink, the chief executive of BlackRock, the $4.5 trillion asset management company, underscored the concerns that Europe could sink into recession and the European Central Bank might have limited ability to do anything about it. "Investors are questioning the ECB's efforts to stabilize the European economy," Fink said.
"We need a more expansionary fiscal policy from Germany," he added in an interview, expressing a widespread worry that Europe's economic powerhouse was not doing enough to stimulate growth by increasing government spending.
European stocks were particularly hard hit on Wednesday, with Italian shares diving more than 4 percent. The German and French stock markets both fell by nearly 3 percent.
Rally
As is often the case in times of stress, investors sought relative safety in government bonds, pushing their yields - which move in the opposite direction of their prices - sharply lower. The drop in the yield on the 10-year Treasury note, a benchmark for many interest rates, was particularly stunning in its size and speed on Wednesday morning. Its yield fell the most since March 2009, tumbling below 2 percent, before rising later in the day to 2.13 percent, from 2.20 percent late Tuesday.
In other markets Wednesday, the dollar was weaker against most major currencies, while crude oil regained some ground after a slide had the price flirting with $80 a barrel.
The Chicago Board Options Exchange's index of volatility, known as the VIX and sometimes referred to as "the fear index" of the stock market, surged on Wednesday to its highest level since 2011.
Much of the selling in U.S. stocks, traders said Wednesday, was driven by hedge funds unloading big holdings in benchmark stocks that for most of the year have had strong returns. With the end of the year approaching and markets falling rapidly, these momentum investors turned tail.
What caused the sudden rally in the stock market just before 1:30 p.m. is not clear. But it may have been fueled in part by a report from Bloomberg News saying that Janet L. Yellen, the chairwoman of the Federal Reserve, had expressed confidence about the U.S. economy at a closed meeting in Washington last weekend. The Fed is winding down its monetary stimulus program.
Adding to the nervousness, Wal-Mart Stores, often a barometer of the American economy, lowered its sales forecast for its current fiscal year. An announcement of a third case of Ebola in Dallas injected its own sinister chill and put downward pressure on airline stocks. And the early sell-off in the market came after unexpectedly anemic economic releases in the United States.
European Central Bank
Still, a good share of the worries were focused on Europe. The growing fear is that the European Central Bank and governments in the region may have been badly caught out by recent signs of a slowdown there.
On Wednesday, for the first time in months, there was a sell-off in eurozone government bonds, led by Greece but including Italy and Portugal as well.
This has led to calls for the European Central Bank to do more. In particular, some analysts want the central bank to buy large amounts of government bonds, a stimulus measure that the Federal Reserve employed.
But in Germany, Europe's largest economy, there is considerable resistance to that idea. The opposition is often rooted in the belief that southern European nations have not yet made their economies sufficiently competitive. As a result, according to this view, bond buying would do little to help some of the struggling European countries.
"You cannot solve this problem with monetary or fiscal policy measures," Hans-Werner Sinn, president of the Ifo Institute for Economic Research in Germany, said in an interview. "It is a different disease, so we need a different medicine."
undefined
Hopeful
Despite the red on trading screens, some stock market experts saw reasons to be hopeful.
The jitters, for instance, have come just as companies in the United States are reporting their third-quarter earnings. If they report surprisingly strong profits, investors might be tempted to pile back into the market.
"Everyone is hoping for the white knight to come, which is earnings," said Howard Silverblatt, senior index analyst with Standard & Poor's. Over 130 large companies report earnings next week, he noted.
The S&P 500 index is now down 7.4 percent from its peak in September, leaving it up 0.76 percent this year. The last time U.S. stocks declined 10 percent or more from their previous peak - called a correction in Wall Street parlance - was in 2011, when Europe's economic and financial woes loomed large.
Some stock market experts thought Wednesday's action might at least be the start of a cathartic selling splurge that often marks a bottom for the market.
"Before, people were willing to weather the downside, particularly when there was a buy-on-the dip mentality," said Dan Suzuki, an equity strategist at Bank of America Merrill Lynch. "But now that we're seeing close to a 10 percent sell-off, they might be saying, 'I am not willing to stick around.'"