✦
New York Times
Putin and Obama Have Profound Differences on Syria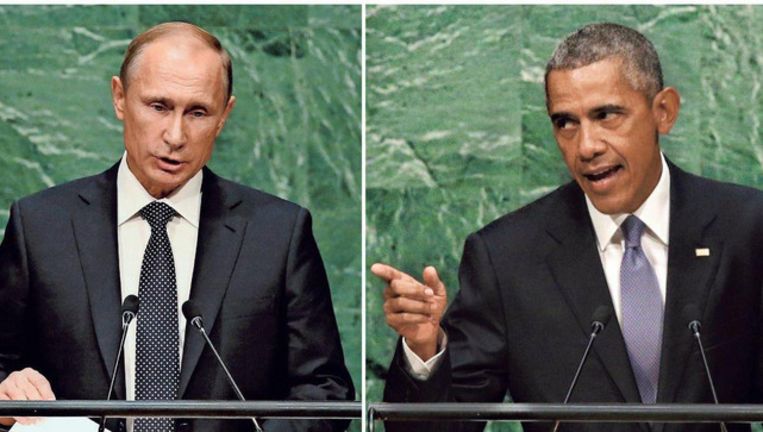 This opinion was written by the Editorial Board of The New York Times.
Speaking at the United Nations on Monday, President Obama and President Vladimir Putin of Russia affirmed the need for international cooperation. But those sentiments are undermined by profound differences on the nature of the Syrian crisis - differences that provide little hope for resolving a conflict that has killed more than 250,000 people.
Mr. Putin's increased aggressiveness in Syria could result in a new era of Russian-American competition and a larger role for Russia in the Middle East. The announcement on Sunday that Mr. Putin had reached an understanding with Iran, Syria and Iraq to share intelligence about the Islamic State was the second time in recent weeks that the Obama administration was caught off guard by a Russian initiative. Before that, Mr. Putin had moved to bolster the weakened military forces of President Bashar al-Assad of Syria by pouring Russian tanks and combat aircraft into the country.
Caliphate
Both Mr. Obama and Mr. Putin agree that the Islamic State, which is trying to establish a caliphate in Syria and Iraq and has by some accounts grown to tens of thousands of fighters, is a major threat. Beyond that, their two visions are radically at odds, and each used his speech to blame the other for the catastrophic war and the refugee crisis it has unleashed.
Mr. Putin said it was "an enormous mistake to refuse to cooperate with the Syrian government and its armed forces, who are valiantly fighting terrorism face-to-face," conveniently ignoring the fact that Mr. Assad's main target has always been his domestic opposition, not the Islamic State. He portrayed Mr. Assad as a force for stability and said the only solution "is to restore their statehood where it has been destroyed."
Mr. Obama correctly argued that in 2011 Mr. Assad "reacted to peaceful protests by escalating repression and killing that, in turn, created the environment for the current strife," which the Islamic State has been able to exploit. He said Mr. Assad and his allies "cannot simply pacify the broad majority of a population who have been brutalized by chemical weapons and indiscriminate bombing," and Mr. Obama reiterated his call for a "managed transition" away from Mr. Assad to a more inclusive government.
In theory, at least, there should be grounds for a political compromise. As the American invasion of Iraq showed, destroying state institutions leads to chaos. Every effort should thus be made to ensure that institutions in Syria continue to function once Mr. Assad is moved out of the government. Mr. Obama told the United Nations he was willing to work on Syria with Russia and Iran, which had previously been excluded. But there is little reason to believe that any compromise between the Assad government and the opposition fighters, or Washington and Moscow, will happen soon.
In an obvious attempt to seize the initiative from Mr. Obama, Mr. Putin proposed a United Nations Security Council resolution that would create "a genuinely broad international coalition" to fight the Islamic State. That was presumably meant to supplant the American-led coalition that has been bombing Islamic State militants for over a year with one that includes Mr. Assad.
On Monday night, Mr. Obama and Mr. Putin held their first formal meeting in over two years, but there was no indication of progress. Their personal antipathy was clear in their speeches when they took jabs at each other with pointed language over Ukraine, Iraq and democracy, as well as Syria.
Mr. Putin enabled the Assad government early on, and he has no particular strategy to contain the Syrian conflict. With Russia grappling with sanctions, lower oil prices and a weakened economy, it is unclear how much he can afford to invest in a dead-end war in Syria. Mr. Obama, who did not create this catastrophe, doesn't have the answer, either. Bombing alone won't defeat the Islamic State, and American attempts to create a proxy force to do the ground fighting have failed.In the meantime, millions of Syrians have been killed, maimed or forced to flee to Europe, and countries of the region are being further destabilized by the endless violence.