✦
New York Times
Obama lending support, but only in friendly territory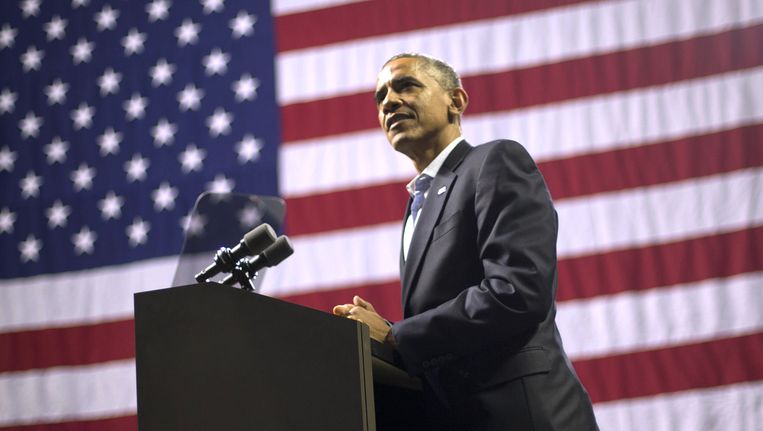 President Barack Obama implored voters to cast aside cynicism and turn out to elect Democrats who are "fighting for you," making his closing argument before midterm congressional elections that will shape the contours of his final two years in office.
"You've got to ask yourself: Who's going to be fighting for you? Who's going to be on your side?" Obama said Sunday evening to about 5,500 people in an arena at Temple University in Philadelphia during his final rally before the balloting.
Campaigning before a mostly African-American crowd for Tom Wolf, the Democrat with a substantial lead in his race against Gov. Tom Corbett, a Republican, Obama acknowledged that he was "preaching to the choir," but pleaded with his supporters to turn out on Election Day. "Y'all have to vote. That's what this comes down to," the president said, as supporters hoisted the giant letters "V-O-T-E" behind him.
With both parties seeing an edge for Republicans going into Tuesday's balloting, Obama is making a final push through Democratic strongholds, hoping to boost his party's candidates for governor and energize core supporters to defy the historic trend of voters sitting out midterm elections.

"Despite all the cynicism, America is making progress," he told about 1,900 voters Sunday afternoon in a cold high school gymnasium in Bridgeport, Connecticut, as he campaigned for Gov. Dannel P. Malloy, who is in a tough re-election race.

But even in deep-blue Connecticut, a state Obama carried by 18 points two years ago, there were reminders of the political challenges facing him six years into his presidency, and the partisan divisions that are likely to dominate his last two years in office. Opponents of his administration's immigration policies interrupted the president's remarks several times, prompting an exasperated, "Let's try again."

"I am sympathetic to those who are concerned about immigration" Obama said after two young male protesters - one of them wearing a T-shirt reading "Obama Deports Parents" - were escorted out of the rally by police.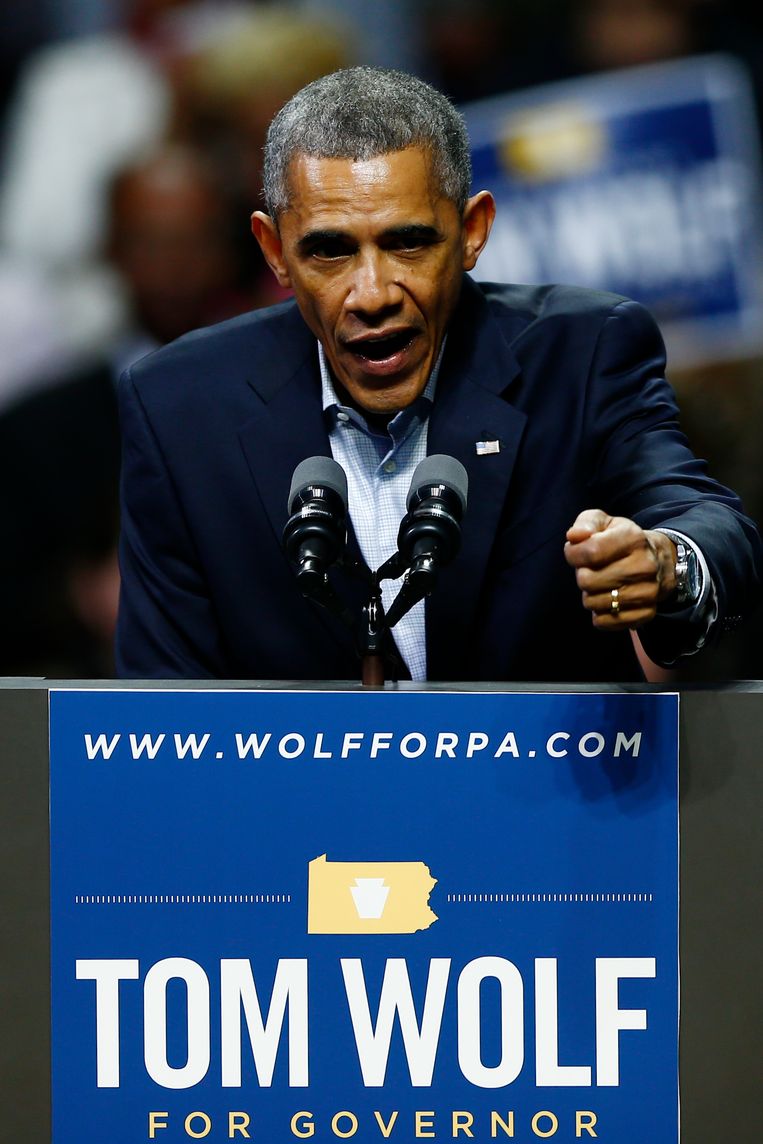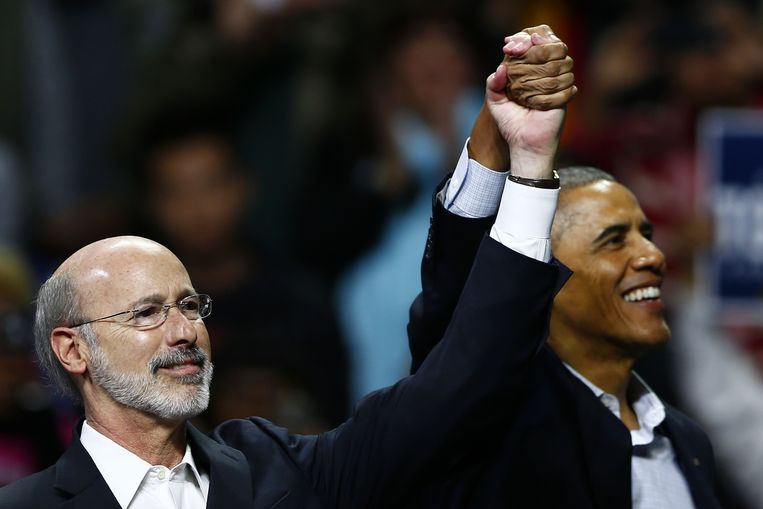 Get-out-the-vote tour
"My mom is a human being!" a young man shouted as he was led out.

"Unfortunately," Obama said, "folks get frustrated and so they want to yell at everybody."

They were sour moments in what has otherwise been a get-out-the-vote tour dominated by adoring crowds greeting the president in friendly territory. His carefully tailored campaign route kept him far from the swing states whose races would decide control of the Senate.

When the president said that Republicans are patriots - a line he has used often of late, before eviscerating their policy ideas - a member of the audience shouted his disagreement, saying Republicans actually hate their country.

"This is a rowdy crowd today," the president said with a chuckle.

The final week before the midterm contests took the president to campaign events in Wisconsin, Maine and Michigan - all places he won handily in 2012. Candidates in the toughest races - including Sens. Mark Begich in Alaska and Mark Udall in Colorado, and Senate candidates Michelle Nunn in Georgia and Bruce Braley in Iowa -are keeping their distance as they grasp for advantage in states where Obama is deeply unpopular.

Republicans confidently predicted that dynamic would hurt Democrats. "The wind's at our back," Sen. Rand Paul, R-Ky., said on CNN's "State of the Union." "This election is going to be a referendum on the president."

Democrats sketched a more optimistic scenario, arguing that their party's brand would carry them to victory.

"The most important thing that voters will be asking themselves is, 'Who has my back?'" Rep. Debbie Wasserman Schultz of Florida, chairwoman of the Democratic National Committee, said on ABC's "This Week." "And they will consistently across the board say Democrats have their back."

It was a theme the president had been trying to drive home, as he portrayed Republicans as well-intentioned but hopelessly old-fashioned politicians peddling ideas proven to be ineffective. In the last election that will make a difference to his presidency, he is also working to burnish his legacy as he seeks to remind voters of the economic improvements that have taken hold during his tenure.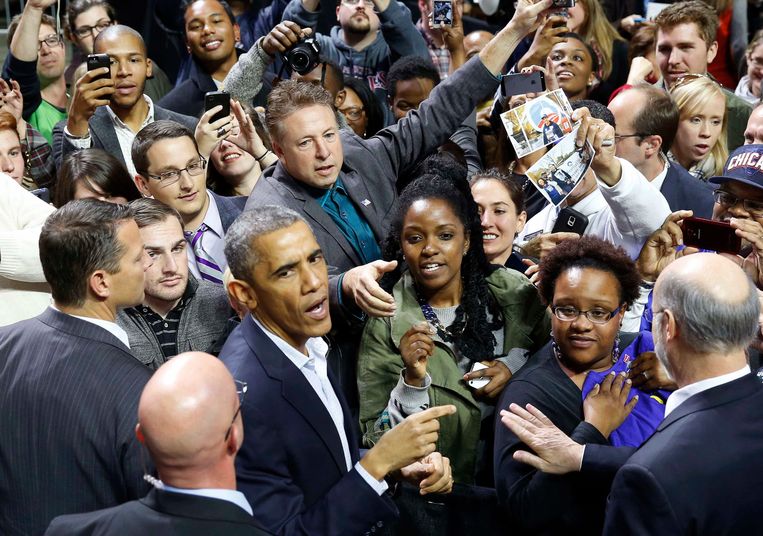 The Jackson 5
"Despite unyielding opposition," he said in Bridgeport, "there are workers who have jobs today who didn't have them before," as well as families who have health insurance, children able to go to college, and troops coming home from Afghanistan.

The president is also working to rekindle some of the magic that defined his two bids for the White House, when his popularity soared and he was greeted like a rock star at gigantic, often star-studded rallies. With polls showing a negative public mood and the president's own popularity near its lowest ebb, his events over the past week have been smaller and less celebratory.

But in Philadelphia, the mood was upbeat. A five-member a cappella and dance group Brotherly Love, clad in white tails and black bedazzled vests, warmed up the crowd with renditions of the Jackson 5's "I Want You Back" and other R&B hits and hip-hop dance moves.

When Obama emerged on stage to thunderous roars, he told the audience to "feel free" to sit but they shouted back an enthusiastic "No!"

"That's good, 'cause I'm going to try to get you out of your seats," the president said, "'cause we've got some work to do."