Winter Olympics
North Korea's cheerleaders: military discipline and chaperoned bathroom trips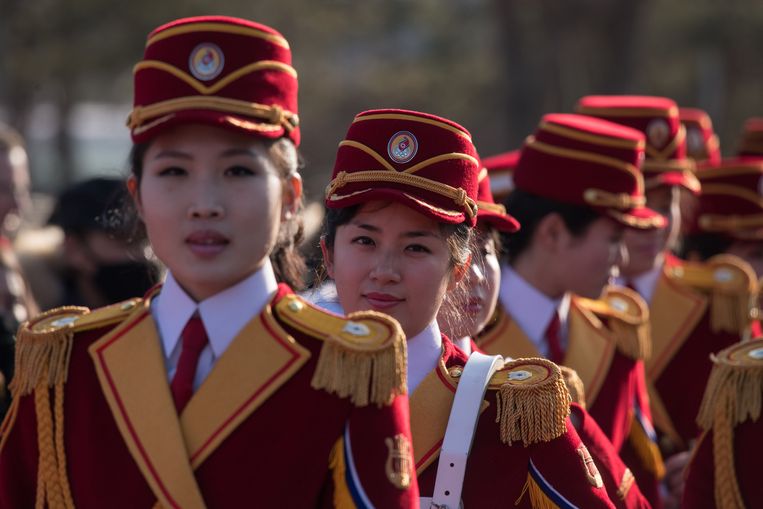 GANGNEUNG, South Korea — A collective murmur rolled through the stands of Kwandong Hockey Center late Monday night. Camera phones were held high. The North Korean cheerleaders had arrived.
"They look very pretty," said Hyun Myeong-Hwa, 58, of Cheongju, South Korea, who filmed the women as they took their seats 30 minutes before the joint Korean Olympic women's hockey team played Sweden.
The presence here of the all-female squad of cheerleaders — 229 strong, as part of the larger North Korean delegation at the Olympics — has been politically charged, provoking divided reactions among spectators at the games and those watching from afar. Hyun had mixed feelings, too. But for a moment she rubbernecked like everyone else.
"I do understand the negative criticisms about them being here," she said. "But I think we should be positive and open-minded about them. We are the same people."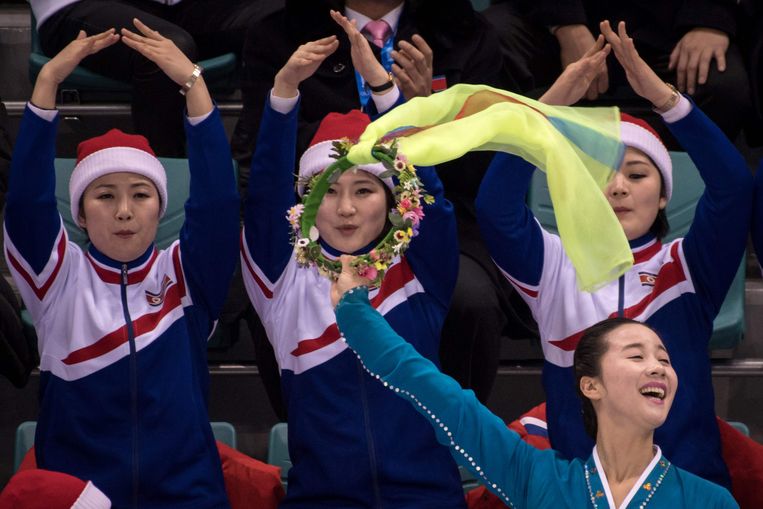 Human olive branches
The cheerleaders have been praised as human olive branches, a preliminary way to ease tensions during the current nuclear crises. They have been criticized as singing, dancing spearheads of a strategic North Korean propaganda campaign at the games.
They are under tight control, entering and exiting the arenas staging the world's biggest sporting event with minders who shield them from any interaction with strangers. In this very public bubble, they have been the source of endless, intense curiosity. And in their sheer numbers and with the surreal scenes they have created, they have garnered a level of attention — in competition venues and in the news media — that would make most Olympic athletes envious.
"This is another part of their charm-and-peace offensive," said Duyeon Kim, a visiting senior fellow at the Korean Peninsula Future Forum. "If you look at the big numbers, that's a spectacle."
For all the scrutiny they have garnered, little is known about the cheerleaders.
On Monday, the squad rode for an hour and a half in eight buses — accompanied by six police cars — from a remote resort at the Inje Speedium, a racetrack complex in Inje County, along the foothills of Mount Sorak.
The cheer squad is occupying 108 condominium units there, with two people sharing a room in most cases, according to Kim Tae-eun, a spokesman for the Inje Speedium. There are 21 North Korean reporters staying in rooms there, too. Most units have two televisions with network and satellite channels available, Kim said.
The company signed a provisional contract with the South Korean government in December, when there was no guarantee, just a tentative hope, that the North Koreans would participate in the Olympics. Still, the company pre-emptively cleared out all of its facilities from Feb. 5 to the end of games.
The cheerleaders have been eating their meals in one of the ballrooms of the adjacent hotel, about 100 meters, or about 325 feet, from their accommodations, Kim said. (He contradicted some news outlets that reported they were eating in a makeshift structure nearby.) The women arrived for meals in staggered groups of 30 or so, with two older male chaperones accompanying each group. They enter the ballroom in neat, double-file lines, and when they are finished eating they line up again for the two-minute walk back to their rooms.
Trips to the restroom
Such military precision has been one of the visual hallmarks of their visit this month. At the stadium on Monday, the North Koreans carried identical bags with cheering props, including the white and blue unification flag. They wore matching red snowsuits — which swished loudly as they walked in packs — and white sneakers that looked vaguely similar to Adidas. They yelled slogans about unity and sang old Korean folk tunes.
The North Koreans do not make a move without at least one other compatriot and a South Korean government monitor. Trips to the restroom before and after the hockey game, for instance, took place in groups. And the older North Korean men chaperoning the squad who left the stadium during the game for cigarette breaks did so in groups of three.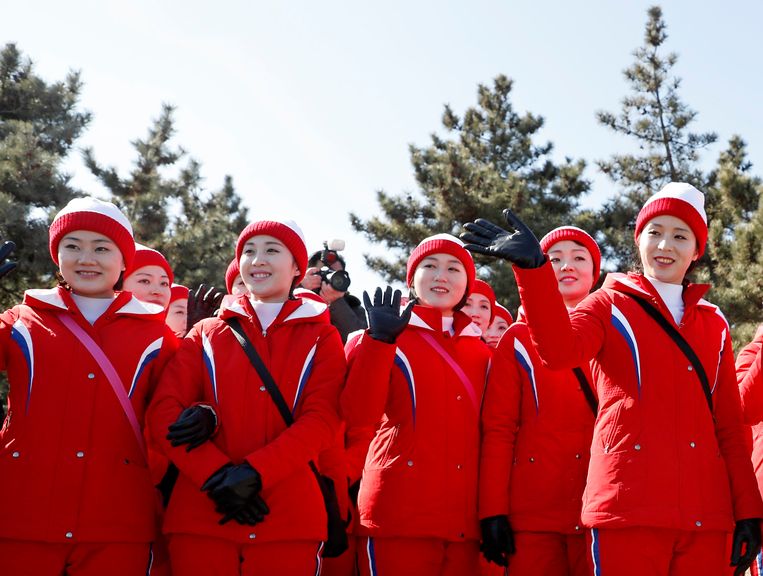 At times the cheerleaders seemed perfectly engaged with their surroundings, inching forward with anticipation whenever the Korean team made a rare foray toward goal, waving back at times to curious passers-by. The arena was never louder than it was after Sweden scored the first of eight goals and the North Korean cheer squad immediately sparked a rousing, flag-waving chant of "Cheer up!" that was joined by nearly everyone in the stadium.
But at other times they seemed utterly oblivious, or indifferent, to their surroundings. In the second period, an American proposed to his girlfriend on the arena's video board, earning raucous cheers, and then a long round of warm applause, from the rapt crowd. All the while, the North Koreans, staring straight ahead, never stopped chanting, "We are one!"
During a stoppage later on in the game, when four scantily clad South Korean cheerleaders gyrated to the song "Boyfriend," by Avril Lavigne, the North Koreans swayed, clapped and sang their own song in a completely different beat.
Unflappable
Such moments of dissonance combined to a dreamlike effect.
"They will stick on message," said Jenny Town, assistant director of the U.S.-Korea Institute at John Hopkins' School of Advanced International Studies. "They are basically unflappable."
Town said cheerleaders in North Korea are groomed much like athletes and other entertainers, who are seen as symbols of national strength and discipline, and come from elite families in Pyongyang.
Han Seo-hee, 35, a North Korean defector to the South, who was picked to be a cheerleader 16 years ago, said squad members were drawn from various performance troupes around the capitol. She said many, herself included, belonged to a band associated with the Ministry of People's Security, a national law enforcement agency, which she joined after high school. Though it was not a year-round job, the women could be called in for months of full-time training before a major event.
Han explained the selection criteria: "Those who are well assimilated to the North Korean regime, those who are exemplars of working collectively, those who are from the right families, and of course those who meet the height and age standards," she said.
The cheerleaders, she said, had to be in their early 20s and taller than 160 centimeters, or about 5 feet 3 inches. She said five of her bandmates from the Ministry of People's Security, after passing all the previous rounds of vetting, were rejected in a final interview with central party members because they had family overseas in Japan. Han said cheerleaders were not paid, but that many saw the opportunity to travel overseas as a privilege.
The overall aura of mystery only intensified peoples' fascination with them.
Indifferent to unification
The South Korean news media's pursuit of the cheerleaders has been intense. TV Chosun, a national television station, was criticized for a report — on the possibility that the North Koreans were watching South Korean television — that relied on footage shot through the living room window of the cheerleaders' condo units. Yonhap News last week took down photographs it had published of the women inside a bathroom after it provoked a similar outcry.
"The countries have been divided for so long, and it's my first time seeing people from the North, so it's cool," said Yoon Jin-ha, 16, a student from Seoul attending the game Monday with her mother. Referring to a growing indifference toward reunification among younger South Koreans, she added, "We think that unification is not that important of a thing, but being this close to them tonight has made me really understand that we are the same people."
For the second straight game, the joint Korean women's hockey team lost, 8-0, to a clearly superior opponent, but the cheerleaders never let up.
They sang and chanted for another 15 minutes after the final buzzer. When they were done, they waved toward the nearly empty stands and called out "Goodbye!" They then congregated on the concourse and waited in silent, straight lines as some members broke off into small groups to use the restroom. Minders from the South Korean government followed each group inside.
Then, reforming into two straight lines, they streamed out of the arena and onto their caravan of buses, which rolled away bathed in the blinking red and blue lights of a fleet of police cars.