Is De Morgen racist?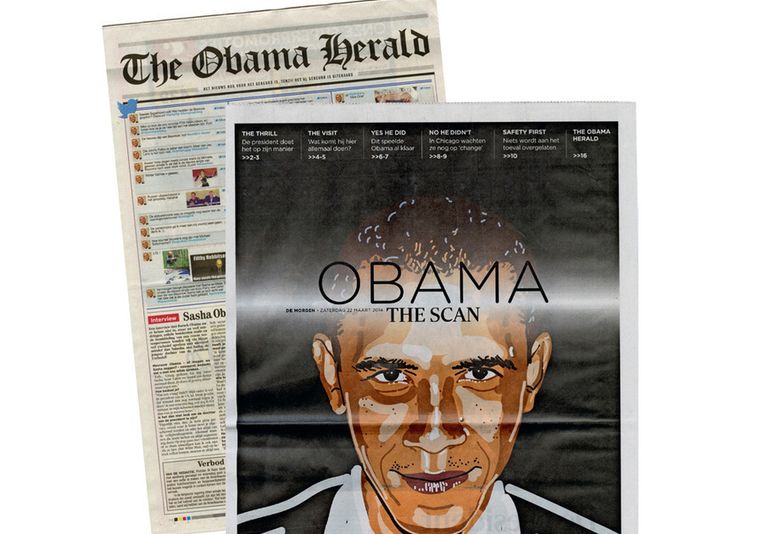 Wouldn't you know it; just when De Morgen publishes a journalistic article in an extra section about Barack Obama, the newspaper receives international opposition due to one, admittedly tasteless, joke about the American president.
It was Saturday afternoon around 4 p.m. when the Nigerian-Belgian author Chika Unigwe sent out a tweet: "We still have a long way to go. Shame on @demorgen." The tweet was accompanied by a photo with a fragment from 'The Daily Herald', the weekly satirical column found in De Morgen. Just like the 'Reporter' section that preceded it, 'The Herald' was completely devoted to President Obama in response to his visit to Belgium this week. In the concerned section you see President Putin sending in a photo in which he portrays the American president and his wife with monkey faces.
Of course it was meant to be a joke, but it turned out all wrong. "An attempt to make an anti-Putin joke that took a turn for the worse"; that is how EU correspondent Michiel Van Hulten summarised it on Twitter. Many people see this as making racism commonplace.
The ball of protest continues to roll. Chika Unigwe, who also has great fame in the Anglo-Saxon world as an author, is tweeting her furious reactions in English and Dutch all over the world. She is receiving quite a bit of support. A bit of support in Flanders, lots in the Netherlands, and a whole lot in the US. People from Nigeria and other African countries are expressing their indignation and they accuse the newspaper of racism. The Dutch news site Joop.nl, which is connected to the Vara broadcasting corporation, is dedicating a small article that supports the indignation.
The tone is calmer in Belgium. Is this because Belgians/Flemings are all clandestine racists? Or is it because many feel sure that De Morgen, which is known for its very anti-racist point of view, hasn't suddenly changed course but simply had a lapse of poor judgement? The second explanation sounds more plausible. It also offers an explanation for the fierce emotional reactions from the rest of the world. If you remove the fragment from its context of a satirical page in an otherwise well thought-out special section then you do indeed get an image of unadulterated racism instead of a controversial joke. The editorial staff now realises that this risk was not assessed enough in advance.
Thin line
In response to Women's Day at the beginning of March, De Morgen published a similar special section about gender equality. It included an article about the return of sexism under the cloak of irony. Many of the arguments that were cited at the time to expose sexism are - unfortunately - also applicable to the way that racism was dealt with in this case. It must be possible to put everything into perspective with satire, especially one's own core values. But in that case the joke has to work.
The error in reasoning that was made this time is the conviction that racism is no longer accepted in general so it is safe to laugh along with it. It might be meant as an absurd joke to turn a black president into an ape, but we quickly forget that the scandalous equation of blacks with apes still appears on a regular basis, especially in the US. It is not meant as a joke there. It is very understandable that some take offence by the newspaper's attempt at satire.
It seems that laughing with racism remains a thin line. It is not at all about freedom of speech, it is about good taste. Just when the Dutch politician Geert Wilders crossed the line with serious racist provocations, this theme is extra sensitive in Flanders. It partially explains why the failed Obama joke is eliciting so many fierce reactions in the Netherlands.
De Morgen apologises to anyone who took offence at the concerned passage in the newspaper. We are sorry. In this case we are guilty of bad taste. With just as much conviction as ever, we will continue to side with all those who battle every form of racism. Just like the rest of the Obama section illustrated this past weekend, we will try to make this clear in our daily journalism practices.
Do not hesitate to point it out if we cross the line of acceptability.
undefined