The New York Times
Is Any Place Safe?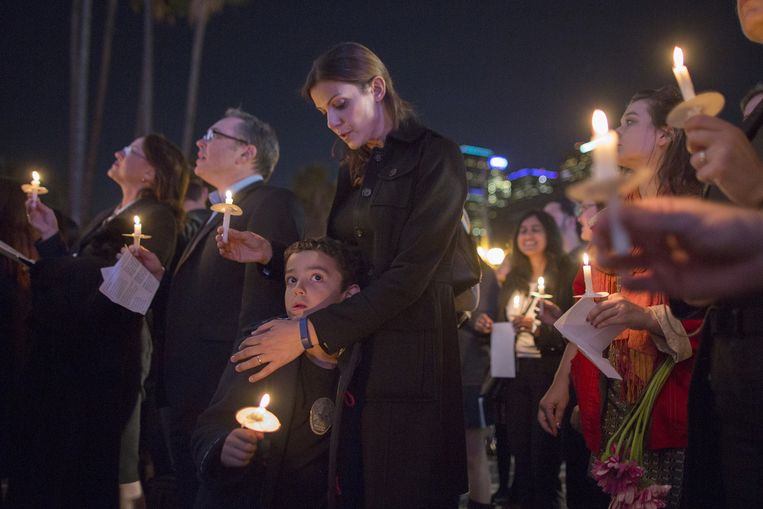 Friday night, after the terrorist attacks in Paris, I went out into the streets. I was confused and afraid, of course. But the terrible things that had happened - I wanted to see them for myself, breathe them in, walk among them. It was a little past 11 and the streets were deserted, silent. Paris no longer existed. Paris had fallen.
On my way home, I ran into my 60-something neighbor Monique in the stairwell. We exchanged kisses more warmly than usual. "This is the end!" she said. "Where are we going to live now?"
"Where are we going to live now?" The question kept running through my mind. I came to Paris 16 years ago from Morocco, as a young, gay Muslim. What will happen to my city now?
The attacks have taught us that there are no more borders. What happens in Syria, in Iraq or in Afghanistan also happens in Paris.
The news came from one of my sisters, back in Morocco. Her phone call woke me up at 10:15. "Paris is at war. War! Where are you? Are you all right?"
Paris? At war? Let's keep things in perspective. Terrorist attacks, yes, but not war. War is somewhere else, far away. I thought I was smarter than my sister. Later, in the deserted streets, I realized I was wrong. War had come to Paris. A war that had begun long ago. We'd waged it elsewhere - in Iraq, in Mali, in Libya. We'd watched it on TV. And now here it was, escaped from our screens and pointing an accusing finger. No one is innocent.
"Don't go out. Stay at home, do you hear? Please don't go out in the street in the next few days," my sister said. "Eat whatever you have at home. Do you understand me?"
The same terror that held me frozen gripped my sister, too, more than a thousand miles away in Rabat, in the distant Moroccan night. Say what you will, there are no more safe places left. Paris was going under. Islamist terrorism will spare no one now, neither in Baghdad nor in London.
I didn't take my sister's advice. I couldn't. I had to go out into the streets. To see with my own eyes. To show my solidarity.
I made my life in Paris because I believe in its values: rationalist, humanist, universalist. But Paris is a city that has, in losing its borders, lost certain values as well. The neglect of a segment of our youth (especially those of Maghrebi origin, from countries like Morocco or Algeria) is an undeniable reality. This neglect has produced an environment conducive to radicalization, joyous nihilism and, now, carnage. Racist attitudes, ever more frequently espoused by certain politicians and intellectuals, have become the stuff of daily life.
France has responded to Friday's attacks with the following words, repeated in an endless loop: reinforced security, counterattack, war. Do we not understand that this is the very response the Islamic State wished to provoke?
The experience of citizens of the Arab world holds a lesson for France. Their leaders have long resisted embarking on any true modernization or self-examination. They are more oppressive than ever, doing whatever it takes to keep their people from declaring freedom.
As I walked through Paris, maimed as Beirut was by another bomb just the night before, I realized that the citizens of France would have to come to intimate terms with what people in Kabul, Baghdad, Sanaa and elsewhere have experienced for years. The very heart of what they hold most dear has been wounded: freedom. The freedom to go out, dance, have fun, listen to music, make art, rejoice - and for a moment, be innocent.
I left Morocco as a young and desperate gay man. In Paris, I found a place where I could fight for myself and for my dreams. But I know now that nowhere is totally free or safe.
The Parisians will put up a fight to protect their way of life, of that I am convinced. I just hope that fight upholds France's values of liberté and fraternité, instead of becoming mired in racism, Islamophobic hysteria and a new war on terror. But, deep inside, I suspect that my hopes will not come true.
The day after the attack, we learned that a Syrian passport had been found near one of the suicide bombers who blew himself up by the Stade de France. It was most likely stolen or fake, and yet it was immediately used to make a case for reinforcing security and tightening borders, playing off the hatred for refugees now spreading throughout Europe.
Europe is becoming increasingly extreme. But remember: When it comes to extremism, the Islamist terrorists have a huge head start.
(Abdellah Taïa is the author of the novels "An Arab Melancholia" and the forthcoming "Infidels." This essay was translated by Edward Gauvin from the French.)