Integraal: De brief van Hein Verbruggen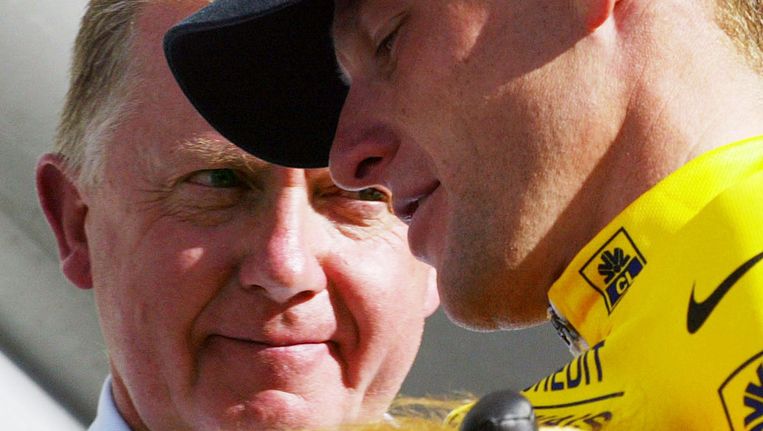 Dit is de brief waarnaar sportjournalist Hans Vandeweghe verwijst in zijn stuk over voormalig UCI-voorzitter Hein Verbruggen dat vandaag in De Morgen is verschenen.

Dear UCI-Board Members, dear Friends,
This letter is sent to those Members of the current UCI Management Committee who I have known well for many years and those who I had the privilege of collaborating with.
This letter is not addressed to Mr. Cookson (although he will receive a copy) simply because I consider it useless to write to someone who has shown over the past three years that he does not want to have a dialogue with me. His opinion of me - or perhaps I could refer to it as his "Honorary President-obsession" - has been shaped and has remained unchanged for many years. Any communication with me has never been direct, only through his preferred channel, the media. Except for one recent occasion: a letter on 17 March in which Mr. Cookson asked me to consider my position with respect to my title of honorary president... I don't know whether you, the Management Committee Members, were consulted about that.
It is indeed rather comical to see how Mr Cookson does literally everything possible to not meet me face to face at any occasion where we are both present. I'm afraid I have to conclude that straightforward and courageous confrontation is not his best quality. That is, however, not the subject matter of this letter.
Instead, I want to put you all in the picture of what has happened with regard to the CIRC-report and what will happen in the near future. You might soon be asked to take decisions concerning this and I do not want you to be asked to do this without being fully informed about my intentions and plans.
I would also hope that I could count on that you that, should you be asked to take decisions that affect me, as a standard practice of good governance so dear to Mr Cookson and also as a matter of justice, you will seek to ensure that I am informed and given the opportunity to express my view before any decision is taken.
I have the strong impression that both Messrs. Cookson and Gibbs (there are a number of reports that suggest Mr. Gibbs is in fact the "acting" UCI President and it was, by the way, Mr. Gibbs who took the decision to have all computers confiscated the day of the election, even before the Congress was finished, as he told me himself in November 2013) seem to believe that the whole CIRC-saga is over following the publication of the report and the delivery of the much sought after "evidence" that allows them to take away my honorary title.
Dear Friends and Management Committee Members, it is definitely not going to be that easy.
Mr.Cookson is in for a surprise if he thinks that I will accept this scandalously biased CIRC-report and the same goes for taking away my honorary title. Indeed, the last word about the CIRC-report has not yet been written. I would like to make you aware that I am having the report analysed by Swiss lawyers and there is little doubt that the CIRC- report:
La Conversion, 17 April 2015
• contains incorrect accusatory statements; ¿
• lacks any factual basis for many of the opinions contained in it. Most CIRC-opinions are based ¿on unsubstantiated statements by unidentified interviewees rather than upon documentary ¿evidence;
¿• documents that I have submitted to the CIRC have been left out of consideration without ¿giving any explanations why this was done; ¿
• contains a great many biased statements; ¿
• presents facts in an incomplete way; ¿
• criticizes decisions made by the UCI without considering or even mentioning the reasons why ¿these decisions were taken; ¿
• a couple of those decisions are then used to qualify the whole of the anti-doping policy the ¿overwhelming major part of which is not examined at all; ¿
• accuses the members of successive Management Committees, with the exception of Sylvia ¿Schenk, of being 'blind sheep'. ¿I feel very strongly that my right to defend myself has been violated. Many statements made against me were not revealed to me as part of the process and I was therefore not given the opportunity to comment on them or refute them. For you, as insiders, it should suffice to say that the CIRC met with Mrs. Sylvia Schenk, Messrs. Clerc, Pitallier, Boyer, Bailly, Biver and Zomegnan - all people who had been in conflict with the UCI. ¿A thorough analysis of the CIRC's report taught us that many of the criticisms of me (and my character, since I don't believe it would be an exaggeration to call the report a "character assassination") have come from these people. ¿I worked as President with most of you and I feel sure that you do not recognize this caricature that has been painted of me in the CIRC report based on the testimonies of people who have taken the opportunity to exact petty revenge. ¿Instead of simply basing its opinion upon these people, the CIRC should rather have shown objectivity and should have spoken with the many other people with whom I worked, be it staff (in the UCI and in SportAccord) or co-members in various Boards or IOC -Evaluation and Coordination Commissions. But the CIRC seem to have preferred to rely solely on the biased opinions of people out for revenge! I know that other CIRC interviewees expressed positive opinions about me and my leadership, but these opinions have been completely ignored and omitted from the report. ¿Let me give you another striking example of the CIRC's bias and subjectivity: the report states (on page 90) that "many interviewees spoke of conspiracy and corruption"! One might wonder why these unsubstantiated accusation is mentioned in its report at all if, after all the man-hours and millions spent, the CIRC has declared that it has NOT found any conspiracy or corruption. And one might wonder why the CIRC has given so much credit to other things that "many interviewees" told the CIRC if already the main accusation apparently made by "many interviewees" has proved to be utterly baseless? ¿So far the CIRC's report. You will hear much more about this on short notice!
I would like to move onto the issue of my honorary title. After being warned by the media that the success of his presidency would be determined by the outcome of the independent commission (Daily Mail, 2 January 2014) Mr. Cookson declared (in Cycling News, 14 February 2014) that if the allegations turned out to be true, I would be stripped of my honorary title. Now that the allegations have been thoroughly debunked, it appears that Mr Cookson still desperately seeks the withdrawal of my honorary title as the 'trophy' he won by setting up the CIRC. Mr. Cookson seems to consider this 'mission' to be the most important element of his presidency. It rather seems to me that he should have more important things on his plate (see below). But instead, for him, the pinnacle of his presidential achievement must be the withdrawal of my honorary title. Already, back in 2012, he phoned me (the only call I have ever received from him) to tell me that I should make a "gesture" given the cover-up and corruption allegations. His argument was that he was very worried about Pat's position and that I could help Pat with a "gesture".
Subsequently, the possible "wrongdoings" turned into a recurrent theme in his election campaign (apparently, he was suddenly no longer concerned about Pat's wellbeing when he declared himself a Presidential candidate). Then, soon after his election, he sent Martin Gibbs to ask me "what I would do with that honorary title". Once again, it is striking that he did not contact me himself - Mr. Cookson definitely does not like straightforward confrontations. I told Mr. Gibbs that, having just informed me that the UCI would launch the CIRC, before talking about my title we should first wait for the CIRC's results. He responded by saying that he could understand that and then added that "he did not expect the CIRC to find any wrongdoings since he, Mr. Gibbs himself, had worked two years for the UCI and had never noticed any such 'wrongdoings'." How curious! In which case, why spend CHF 2.5 million ? For taking away a title?
And now, after all that time and money spent, the CIRC has reported back that it has not found any proof of corruption or bribery. Under these circumstances, wouldn't any "normal" President have immediately expressed his satisfaction and joy that his federation had been cleared of these serious accusations? Not Mr. Cookson, it seems. It appears he is still stuck with his obsession about the "Verbruggen Honorary President" and so, after this (biased) report was published, his first public comments were "Hein has to give back his title". Unfortunately for him, this time he could not use the word "wrongdoings" or "corruption" anymore so he switched to another argument: my conduct and the "serious mistakes that I had made". In an interview with Dutch TV, he used the word "dictator". And in a most recent press article he referred to the Vrijman report on Armstrong's 1999 samples, totally ignoring that the conclusion of the report is Mr Vrijman's and that this conclusion is confirmed by the CIRC. I will return to that later as well.
Dear Members of the Board, it has become clear that what I am dealing with here is simply a personal revenge campaign against me by Mr. Cookson. What is more, I have more than sufficient indication and proof that this campaign is being conducted solely by Mr. Cookson. I have never seen or heard anybody else from your Board or from the UCI speak out publicly on this issue; it is only Mr. Cookson. I could go even further: I have received a great deal of support from many people in the cycling world, indeed also from a number of Board Members (!) and they have told me that they do not wish to pursue this matter. In a nutshell, there has been no "wrongdoing"; why then should there be any sanction?
I therefore declare here and now that I will consider the withdrawal of my title to be a 'sanction' and I will NOT accept being sanctioned, especially not by such a person as Mr. Cookson! Be aware that the UCI should be prepared to face legal action against any sanction imposed on me based on either Mr. Cookson declaring me a "dictator", or on the clearly biased CIRC report.
In conclusion, I would like to make a number of short statements, that I would ask you to consider and to judge:
1. In the (largest) Dutch newspaper, De Telegraaf, it was written: "With the statement that Hein Verbruggen should relinquish his position as Honorary President of the UCI, the current UCI President Brian Cookson made it clear why he had no less than Euro 2.8 million to spend to rake over these old controversies". From this statement, it is clear that this whole CIRC was set up by Mr. Cookson under pressure from some (mainly) British journalists in order to find proof for their fabricated stories about 'complicity and corruption' that they had written in their books and articles. I know for certain that a number of high-ranking sports officials had urged Mr. Cookson to not install a CIRC to investigate something that could so easily be checked: Armstrong had quite simply never had a positive dope test, as had already been clearly demonstrated to WADA back in 2010. But Mr. Cookson knew better and, at a cost of Euro 2.8 million, he had a report produced that has now not only confirmed "no complicity or bribery" but also that, as the same article in "De Telegraaf" says: "In a report by the CIRC running to 227 pages, the doping culture of the nineties was redefined as though it were the Second World War of cycling. It is however little more than a summary of what was already known." (my translation) ¿ 2. Please understand that almost Euro 5 million (!!) has now been spent by the UCI, a sum which has ultimately proved what exactly? The first Commission had not even started its work before it was sabotaged by WADA and USADA; the second Commission (the CIRC) proved what did not have to be proved - and offered only an unsubstantiated "character assassination" of me! ¿Mr. Cookson might find me "dictatorial", but this "dictator", when he was President, would never have allowed these ridiculously huge amounts of money to be spent in such a wasteful way. Ironically, Mr Cookson has been wasting money that had not even been made by his efforts, but rather by his predecessors. It was money that could have been so much better used for the benefit of the sport of cycling. ¿
3. In all honesty, it was not only the (British) press that was putting pressure on Mr Cookson to set up the CIRC, but it was also WADA. Please know that my cooperation with the CIRC was made conditional upon the CIRC also investigating WADA's wrongdoings towards cycling and the UCI. I presented an extensive report on this issue to the CIRC with a great many important questions, a number concerning WADA. The CIRC totally ignored my report and my questions, in spite of the fact that they had assured me that "they would look into ALL STAKEHOLDERS". The CIRC has even chosen not to publish my report as an attachment to theirs. I will therefore shortly send you my report, so that you may judge for yourselves. My reservations concerning the CIRC's mission and intentions were because (a) Mr. Cookson had nominated the CIRC Members in close cooperation with WADA (remember: Pat McQuaid was not allowed to nominate the Members of the first IC) and (b) the CIRC's Terms of References were written with the help of WADA's lawyers.¿That was enough for me to be very suspicious about this CIRC, as I have written several times to Mr. Cookson and to the CIRC itself. I was unfortunately wrong to believe that the CIRC would be neutral and objective; they were not. As I will soon prove, it has resulted in a CIRC report that could have been written by WADA itself, more particularly Mr. Dick Pound. It is a long litany of highly subjective accusations against me (my name is mentioned 115 times) and against UCI's antidoping policy - with the cheap accusation that we were more in favour of riders' health than anti-doping, totally ignoring the fact that you can do both at the same time. But the report is even blatantly unfair towards our sport and - in particular - towards our professional riders.¿How can you put in a report, based upon the declaration of one "respected" witness, that "90% of riders are still doping"? How can you state without thorough research that 90% of the TUE's are still being used for doping? This is insulting demagogy that would never be found in any serious reports!¿It is flabbergasting that Mr. Cookson allows his sport and his athletes to be attacked like this. He should stand up to defend his sport and his athletes against these cheap attacks, as indeed I did when I took people such as Messrs. Pound, Voet, Landis and Kimmage to court and lodged an appeal in the Festina-case (and, incidentally, won all court cases to date!). Even this defence of our sport is now being used against me by the CIRC and Mr. Cookson. But make no mistake, I am proud of it. I defended our sport (not doping!) when we were being unfairly treated and receiving undeserved criticism. In doing so, I defended also the reputation and the integrity of the UCI anti-doping workers, be it staff or volunteers! Instead of taking away honorary titles, Mr. Cookson should rather follow the example of this "dictator" and defend his sport and his athletes in the same way as I did.¿It is totally unacceptable that a President of the UCI should accept these unproven accusations. His acceptance demonstrates that the only thing he is interested in is his personal, self-proclaimed war against me and my presidency.
4. Last but not least, dear Members of the Board, you as insiders know very well that there is very little reason for Messrs. Cookson and Gibbs to be very proud of their presidency to date. Before they start attacking others for "mistakes" made, these gentleman should analyse what exactly they have "achieved" over the past 19 months. Reading all their "roaring" media statements and press releases (apparently, huge sums are still being spent on PR and spin doctors) one sees a great many "promises and plans" and lots of "we are working hard" and even more about "commissions are installed". What you don't read about is any tangible action or decisions and even fewer results. What's more, the results you do see are negative! It is well known that the atmosphere in the UCI offices is at an all-time low; that there is a climate of fear. People are afraid they will be fired if they speak out, or voice any form of dissent or criticism and that any contact with either Pat or me is strictly forbidden.
But worse than that: Messrs. Cookson and Gibbs have fired or harassed out a great many excellent and long-time people for no other reason that they had previously worked with either Pat or me. These include Messrs. Rumpf, Chevallier, Middag, Verbiest, Siegrist ... Messrs. Cookson and Gibbs have totally ignored the interests of the UCI by firing people with such a treasure of know-how and experience, just because they have prioritised their personal revenge "obsession". They have, sadly enough, unnecessarily created undeserved personal misery for a great many people. This is totally unacceptable. Whatever the CIRC (or rather people like Mrs. Sylvia Schenk and Mr. Jean Pitallier) says about my "dictatorial" management style, I would NEVER have done the sort of things that Messrs. Cookson and Gibbs have done. I challenge the CIRC to carry out some proper research among the UCI staff during my Presidency and compare that with Mr. Cookson's Presidency and let them say which one they preferred!
Perhaps one should give Mr Cookson a copy of the book that was offered to me by the UCI when I stepped down from the Presidency in 2005! Do it and let Mr. Cookson read the comments of many people (yes, also Messrs. Armstrong and Pound) and then let him aim to receive similar kind comments at the end of his term in office. I can tell you, he still has a long way to go.
I will stop here talking about the Presidency of Messrs. Cookson and Gibbs, but not without adding that the UCI's image at the level of the Professional Teams and Organizers has seriously been damaged over the past 19 months as a result of a Cookson policy that drifts from left to right and is characterized by a total lack of decisions. I have been told by a number of you that also the Board is only too aware of this. Not taking decisions was also something that did not happen in the Verbruggen-era as most of you know well. But taking decisions is what is now referred to as being "dictatorial".
Dear Members of the UCI-Board, I do realize that this letter is probably over-long and taken a great deal of your time to read. But I hope you will understand that I had to get these messages to you in order to tell you MY side of the story, as well as inform you of the actions that I will be taking. I remain very open to be contacted by any and all of you.
I wish you lots of wisdom in these difficult times for the UCI organization. I also hope we will find consolation and joy in the beauty of cycling as we see it performed during the annual April high point of our sport.
Kind regards,
Hein Verbruggen