New York Times
In Quest for More Meat Profits, U.S. Lab Lets Animals Suffer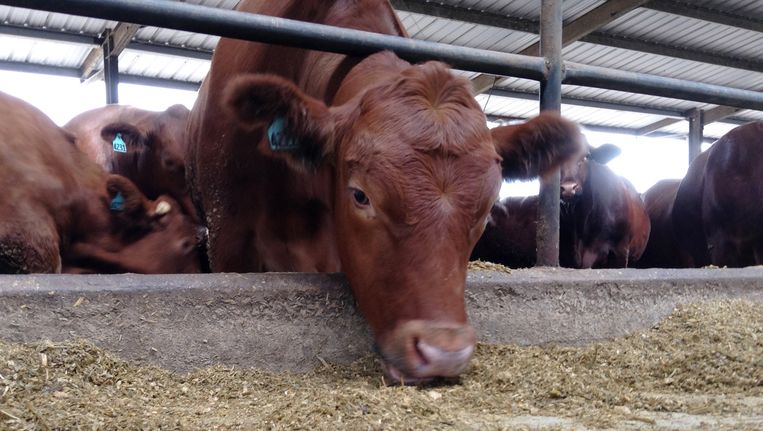 At a remote research center on the Nebraska plains, scientists are using surgery and breeding techniques to re-engineer the farm animal to fit the needs of the 21st-century meat industry. The potential benefits are huge: animals that produce more offspring, yield more meat and cost less to raise.
There are, however, some complications.
Pigs are having many more piglets - up to 14, instead of the usual eight - but hundreds of those newborns, too frail or crowded to move, are being crushed each year when their mothers roll over. Cows, which normally bear one calf at a time, have been retooled to have twins and triplets, which often emerge weakened or deformed, dying in such numbers that even meat producers have been repulsed.
Then there are the lambs. In an effort to develop "easy care" sheep that can survive without costly shelters or shepherds, ewes are giving birth, unaided, in open fields where newborns are killed by predators, harsh weather and starvation.
Last Mother's Day, at the height of the birthing season, two veterinarians struggled to sort through the weekend's toll: 25 rag-doll bodies. Five, abandoned by overtaxed mothers, had empty stomachs. Six had signs of pneumonia. Five had been savaged by coyotes.
"It's horrible," one veterinarian said, tossing the remains into a barrel to be dumped in a vast excavation called the dead pit.
These experiments are not the work of a meat processor or rogue operation. They are conducted by a taxpayer-financed federal institution called the U.S. Meat Animal Research Center, a complex of laboratories and pastures that sprawls over 55 square miles in Clay Center, Nebraska. Little known outside the world of big agriculture, the center has one overarching mission: helping producers of beef, pork and lamb turn a higher profit as diets shift toward poultry, fish and produce.
Since Congress founded it 50 years ago to consolidate the U.S. Department of Agriculture's research on farm animals, the center has worked to make lamb chops bigger, pork loins less fatty, beef steaks easier to chew. It has fought the spread of disease, fostered food safety and helped American ranchers compete in a global marketplace.
But an investigation by The New York Times shows that these endeavors have come at a steep cost to the center's animals, which have been subjected to illness, pain and premature death, over many years. The research to increase pig litters began in 1986; the twin calves have been dying at high rates since 1984, and the easy care lambs for 10 years.
As the decades have passed, the center has bucked another powerful trend: a gathering public concern for the well-being of animals that has penetrated even the meat industry, which is starting to embrace the demand for humanely raised products.
It is widely accepted that experimentation on animals, and its benefits for people, will entail some distress and death. The Animal Welfare Act - a watershed federal law enacted in 1966, two years after the center opened - aimed to minimize that suffering, yet left a gaping exemption: farm animals used in research to benefit agriculture.
To close that loophole, more than two dozen companies and universities that experiment on farm animals have sought out independent overseers and joined organizations that scrutinize their research and staff - a step the center has resisted as far back as 1985, when a scientist wrote the director with a warning: "Membership may bring more visibility" to its activities, "which we may not want."
The center's parent agency, the Agriculture Department, strictly polices the treatment of animals at slaughterhouses and private laboratories. But it does not closely monitor the center's use of animals, or even enforce its own rules requiring careful scrutiny of experiments.
As a result, the center - built on the site of a World War II-era ammunition depot about two hours' drive southwest of Omaha, and locked behind a security fence - has become a destination for the kind of high-risk, potentially controversial research that other institutions will not do or are no longer allowed to do.
"They pay tons of attention to increasing animal production, and just a pebble-sized concern to animal welfare," said James Keen, a scientist and veterinarian who worked at the center for 24 years. "And it probably looks fine to them because they're not thinking about it, and they're not being held accountable. But most Americans and even livestock producers would be hard pressed to support some of the things that the center has done."
Keen approached The Times a year ago with his concerns about animal mistreatment. The newspaper interviewed two dozen current and former center employees, and reviewed thousands of pages of internal records obtained under the Freedom of Information Act.
That reporting shows that the center's drive to make livestock bigger, leaner, more prolific and more profitable can be punishing, creating harmful complications that require more intensive experiments to solve. The leaner pigs the center helped develop, for example, are so low in fat that one in five females cannot reproduce; center scientists have been operating on pigs' ovaries and brains in an attempt to make the sows more fertile.
Even routine care has fallen short. Of the 580,000 animals the center has housed since 1985, when its most ambitious projects got underway, at least 6,500 have starved. A single, treatable malady - mastitis, a painful infection of the udder - has killed more than 625.
The experiments have not always helped the meat business. Industrywide, about 10 million piglets are crushed by their mothers each year, according to pig-production experts, and studies have pointed to bigger litters as a major contributor. Not only do they generate more and weaker piglets, but the mothers have grown larger because they are kept alive longer to reproduce.
Certainly, the production of meat is a rough enterprise. Yet even against that reality - raising animals to be killed, for profit - the center stands out. Some of its trials have continued long after meat producers balked at the harm they caused animals.
The center's director, E. John Pollak, declined to be interviewed, but in written responses, Agriculture Department officials said the center abides by federal rules on animal welfare. Many current and former employees vigorously defended the center's work, saying it has helped improve the lives of animals, and people, around the world.
"We're just as concerned about the humane treatment of animals as anyone else," said Sherrill E. Echternkamp, a scientist who retired from the center in 2013. Still, he added: "It's not a perfect world. We are trying to feed a population that is expanding very rapidly, to 9 billion by 2050, and if we are going to feed that population, there are some trade-offs."
The center, in fact, is used as a classroom for teaching animal care. For about 25 years, the University of Nebraska-Lincoln has sent veterinary students into the center from an adjacent building for on-the-job training. Until recently, the university owned all of the animals. But decisions about their use and treatment are made by the center.
Center officials said that while even one death from starvation, exposure or disease "is too much," the fatalities have been relatively few, given the huge herd. Others, however, find the number of casualties troubling.
"It should have been the best research center in the world, and it's not," said Gary P. Rupp, a longtime director of the veterinarian teaching program who retired in 2010 to raise his own cattle. "The death loss was higher than it should have been."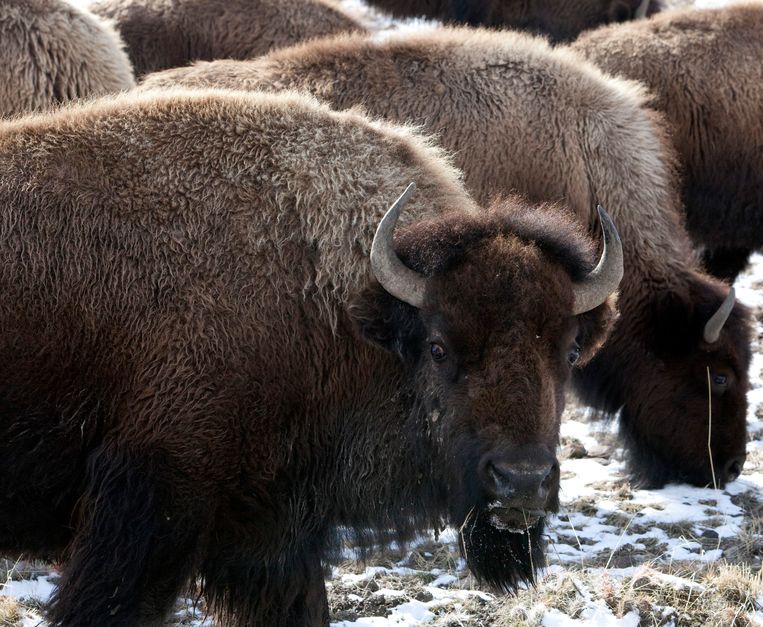 Into the Wild
The newborn lamb lay alone in the grass, bleating feebly, abandoned by a mother far out of earshot. As dusk neared and cold gusts heralded a hailstorm, it seemed unlikely that the animal would survive the night. It was certain that no one would come to its rescue.
Sheep occupy a low rung at the center. It keeps no account of their injuries or treatment, as it does for cows and pigs. At bottom, sheep pose a problem for the center and the industry: Lamb consumption in the United States has plunged to an annual average of less than a pound per person, from nearly 5 pounds in the 1940s.
Yet the embattled state of the business has prompted the center to put sheep through some of its boldest, most tenacious experiments.
In one trial aimed at creating larger lambs, pregnant ewes were injected with so much of the male hormone testosterone that it began to deform their babies' genitals, making urination difficult. "Death losses were high," the lead scientist wrote in 1990, and the experiment was abandoned because it had little to offer sheep producers.
In 2004, the center began work on a major effort to save ranchers money by creating a low-maintenance sheep called easy care. Similar breeding had gone on elsewhere since the 1960s, producing sheep that do not need shearing; instead of wool, the animals grow fine hair that regularly falls out.
The center added a daring twist: pasture lambing, an attempt to take domesticated sheep, which are dependent on human help, and create a breed that can survive on its own. Ranchers commonly shelter ewes giving birth in special barns, which cost money to build, maintain and staff. So the center began sending pregnant sheep out to open pastures in hopes of identifying those that would nurture their babies despite severe weather and predators.
Even under the best conditions, ewes are notorious for abandoning newborns; sheep growers typically enclose mother and baby in tight stalls, called jugs, for a day or two, so the mother cannot flee before they bond.
Predictably, many ewes in the experiment ignored their lambs. And the scientists did the same: They withheld help for the newborns, typically leaving them in the pastures - till death, if necessary - to test whether mothers would respond to the young ones' growing desperation.
Cristiano Bouéres, a visiting student from Brazil, was assigned in 2012 to gather the dead lambs as part of his veterinary program at the university, and told to ignore the rest.
"Some days, 30 to 40 percent of the lambs were dead, and some of those still alive were in bad condition, separated from the moms, and they would be dead the next morning," he said, dismayed and bewildered by the gulf between the experiment and his training. "As a vet, you always appreciate animal welfare, and you want to have all of your patients taken care of and looking good and being fed."
Many lambs were already put at higher risk by the same kind of breeding done on cows and pigs, producing triplets instead of the usual singles or twins. Their sheer numbers reduced their chances of getting mothers' attention.
Coyotes often got to them first. In a 2011 memo, the experiment's lead scientist, Kreg A. Leymaster, beseeched the center's director for help after 12 lambs were killed in four days. The center added more guard dogs, but in just the first half of 2014, records show, 21 lambs were killed.
When a reporter visited in May, two dozen carcasses had been hauled into a shed so the cause of death could be determined. As he helped dissect them, Keen, the veterinarian who had contacted The Times, questioned the logic of expecting domestic animals to perform like wild ones.
"Because we've already bred all of the wild out of them," he said. "And they've been trying for 10 years."
Out in the fields, the hailstorm sent the next day's body count soaring to 110. Death rates in the past three years have ranged between about one-quarter and one-third of the lambs, far beyond the 10 percent that many industry experts say is considered acceptable in sheep farming.
The experiment has drawn interest from sheep-industry publications. But while the potential for higher profits is exciting, the concept of withholding care is bound to be unthinkable to most sheep growers, said David R. Notter, a professor emeritus of animal and poultry sciences at Virginia Tech who consults for ranchers. "You can't just turn and go, saying to yourself, 'I think that lamb is going to be dead in three days,'" he said.
Michael L. Thonney, a Cornell professor of animal science, said the university panel that oversees his work would not have let him ignore vulnerable lambs. "There is no reason to allow animals to have that kind of suffering," he said. When he conducted pasture-lambing tests a few years ago, any lamb that appeared to be abandoned was grabbed and nursed to health.
Center officials said their fieldworkers occasionally rescued lambs, though that was not the usual practice. Their experiment is scheduled to continue for four more years.
'Rough Handling'
Months into his new job at the center in 1989, Keen said, he got a call from a fellow worker asking him to help with a "downed cow."
"There was a young cow, a teenager, with as many as six bulls," he recalled. "The bulls were being studied for their sexual libido, and normally you would do that by putting a single bull in with a cow for 15 minutes. But these bulls had been in there for hours mounting her."
The cow's head was locked in a cagelike device to keep her immobile, he said. "Her back legs were broken. Her body was just torn up."
Keen wanted to euthanize the animal, but the scientist in charge could not be tracked down for permission. A few hours later, the cow died.
The episode was unusual in its violence, and current center officials said they were not aware of it. Yet Keen and co-workers recounted other instances they said attested to the same problem: a recurring failure to fully consider the pain that animals suffer during experiments, or in everyday life at the center. Some employees blamed inadequate training or budgets; others pointed to friction between scientists bent on their research and veterinarians, who take an oath to protect animals.
The center has about 30,000 animals, tended by about 44 scientists, 73 technicians and other support workers. The scientists, who do not have medical degrees, and their assistants euthanize and operate on livestock, sometimes doing two or more major surgical operations on the same animal.
A year before Keen encountered the dying cow, Robert A. Downey, executive director of the Capital Humane Society, in Lincoln, Nebraska, alerted by the staff, complained to the center director. "Experimental surgery is being performed in some (not all) cases by untrained, unskilled and unsupervised staff," Downey wrote. "This has resulted in the suffering of animals and in some cases the subsequent death of animals."
During a visit, he said, he saw animals headed to surgery that fell from carts or were pushed to the floor by their handlers, while two other workers in the operating room ate doughnuts. The director responded that the center was reviewing its surgical procedures and recommending improvements in animal care.
John Klindt, a scientist who retired in 2008, defended his fellow researchers in an interview, saying they were mindful of animal health and comfort. "A vet has no business coming in and telling you how to do it," he said. "Surgery is an art you get through practice."
The center does not have enough veterinarians to be present during experiments, even if it wanted them to. Twenty years ago, it employed six scientists with veterinary degrees, including Keen. Today it has none. One staff veterinarian, not a scientist and junior in status, advocates for animals, helped by a seasoned technician and veterinary teachers and students from the university.
Simply ensuring the animals' day-to-day health can be a challenge. That veterinarian, Shuna A. Jones, wrote to scientists and managers in 2011 and 2012 with a variety of concerns, including barns so stuffed with pigs that workers could not clean them, resulting in spates of diarrhea and respiratory disease. "This is a scheduling nightmare," wrote Jones, who declined to be interviewed. "We have pigs everywhere."
The center is constructing new buildings for the pigs, and has started trials aimed at reducing the number of piglets crushed by mothers. But some employees say center officials have been hampered by a budget ($22.7 million in 2014) with limited money for basics like larger pens, shelters or basic care. Rupp, the former teaching program director, said he had fought to get cows more nutrients and shelters. Thirty to 40 have died on average each year of exposure to bad weather, records show - not including storms in which hundreds have perished, center scientists say.
Keen, who now works for the University of Nebraska-Lincoln, said he and his students were startled in March to come across an emaciated ewe, in plain view of center employees, unable to eat because of a jaw abscess that had likely been growing for months. The ewe eventually died, records show, becoming the 245th animal to succumb to an abscess since 1985.
Some trace such neglect to attitudes held over from the days when little mind was paid to the suffering of animals.
Visiting the center in the late 1980s, the renowned animal welfare expert Temple Grandin approached a herd of cows. They panicked. "When cattle run away, that's indicative of rough handling, screaming and yelling," said Grandin, who gave the center a report suggesting ways to treat cattle more humanely. Though one former employee recalled that some of those steps were taken, Ronda Jaeger, who helped manage the cattle herd, said her supervisor had a different reaction.
"He tore the papers up," she said.
Accounts of harsh treatment have continued to appear in internal reports, but attempts to bring attention to it have not always fared well.
Roger Ellis, a scientist and veterinarian who now works for a cattle nutrition company, said that when he determined about 10 years ago that a sheep had died at least in part from neglect, a center official pressed him to "soften the diagnosis." Ellis said he refused, and the center had an outside veterinarian change the death record.
An animal manager, Devin M. Gandy, complained in 2012 that swine were kept in pens so small, 4 feet by 4 feet, that they appeared to violate basic rules on animal care. He got an email reply from the experiment's lead scientist saying the pigs had enough room, adding, "A lot of time has been wasted addressing a nonissue."
Geoffrey Hirsch, a former technician, recalled helping with a routine procedure about 12 years ago to extract lung tissue from the carcass of a young pig. But efforts to euthanize the pig had failed, he said; it was still thrashing and gagging. Worse, Hirsch said, the scientist who had erred "seemed to be getting some kind of enjoyment out of this thing, talking and shouting at the animal, "'How do you like that, pig?' Stuff like that. The whole process was shocking."
The scientist leading the trial stormed back to his office to write a complaint about the animal's treatment, after informing his boss, William Laegreid. "There were ill feelings towards him and me and the unit after that," recalled Laegreid, who now directs the veterinary science program at the University of Wyoming.
"There is always this issue," he said. "'You damn veterinarians think you know better.'"
As for Keen, his attempts to raise alarms culminated in May, when, he said, his university supervisor told him he would no longer be allowed in the center, citing an Agriculture Department report that Keen had accompanied a reporter inside the secure complex. Center officials say they did not issue such an order, and the university has declined to comment.
Trouble With Twins
Experiments at the center get their start in various ways. Sometimes the scientists get money from the ranchers' marketing kitties, or orders from the Agriculture Department. And sometimes they follow their own instincts.
Center scientists were among the first to see the potential in breeding cows for specific traits like size, stamina and meat tenderness, and that has led a vast genome project that is winning praise from the beef industry.
That zeal also has drawbacks. The scientists toiled at one of their longest-running trials, the Twinning Project, for 31 years, despite increasing cattle deaths and resistance from meat producers made uneasy by the damage. The experiment had many earmarks of the center's most troubling work: an audacious concept, a laserlike focus on one aspect of the animal and a determination to press on despite the mounting toll.
The project began in 1981 with the center's founding director, Keith E. Gregory, and one powerful idea: Cows are woefully inefficient. A single catfish, Gregory wrote in a scientific paper, produces more than 1,000 times its weight in offspring, but the cow manages only seven-tenths of its weight.
What if most cows had twins? The added meat, Gregory wrote, could be a financial godsend.
Only the center had the resources to attempt such a transformation, creating a testing herd that would grow to as many as 900 cows. Scientists extracted embryos from cows that had borne twins. These were transferred to other cows, then fertilized with semen from twin-prone bulls.
As subsequent generations were bred, the genetic odds of twins multiplied. By 2000, the cows, which would normally average three sets of twins in every 100 births, were having 55, reaching the threshold where ranchers might consider taking up the breeding themselves.
Yet unsettling side effects surfaced. Some 95 percent of the females born with male siblings had deformed vaginas. Many of the twins died during birth as their eight legs became tangled. Even calves born singly had trouble getting out: The mothers had been bred with such large wombs, to accommodate twins, that the calf could not get enough traction. And the breeding increasingly yielded triplets, with 12 legs to get tangled.
By 2001, the center was reporting that 16.5 percent of twins and triplets were dying, a rate more than four times that of single calves.
The scientists mobilized to address each new problem, according to records and interviews. They fed the mothers extra nutrients to strengthen the newborns. They used tools to extract calves stuck in birth.
Persuading the Agriculture Department to keep funding the experiment was easy, scientists said, since the department generally takes a hands-off approach to the center's work. Ranchers, however, were skeptical.
"The pressure came from state and national beef organizations, where we would give talks, justifying that we were spending taxpayer dollars on one of the longest genetics selection projects in history," said Mark Allan, a scientist who worked on the project before leaving the center in 2008.
At one industry conference, center officials acknowledged the high death rates, yet argued that the math still worked in ranchers' favor: The combined weight of surviving twin cows was nearly 50 percent more, on average, than for conventional cows.
Many ranchers were unswayed. The center's efforts to shore up the cows' health only convinced them that breeding twins was too much work and too expensive. A decline in consumer demand for beef was forcing the industry - small producers for the most part - to pare costs.
"Twins are nothing but a pain in the a$$ and I personally would never intentionally breed for them," a Wisconsin beef producer wrote in a 2011 chat-board discussion. "Cows were not designed to have litter IMHO."
Jeanne White, a rancher in Groton, New York, who posted her own critique - "I HATE TWINS!!" - said in a recent interview that added costs were only one reason ranchers resisted the project. "For every farmer, whether you're young or old, a woman or a man, it's an excitement, a joy, to have a birth," she said. "And when you have a calf that dies, it gives you an empty feeling."
A more definitive verdict came in a 2009 report by a New Zealand cattle expert, Duncan Smeaton, who had visited the project and spoken to ranchers. "The consensus view is that they do not want twins," he wrote.
When the Twinning Project's lead scientist retired in 2013, no one stepped up to succeed him. The surviving cows were sold, though the center is still trying with little success to sell the bulls' semen.
Asked whether, in hindsight, they considered the death rate acceptable, center officials said in a statement that the experiment had been valuable, adding to the body of knowledge about the mechanics, "and the consequences," of producing twins. "The result of any change in animal performance is often unknown at the beginning of a project," they said.
Questions of Oversight
The center was just starting to hit its stride when it encountered a threat to its autonomy: Activists were pressing to extend the Animal Welfare Act's protections to farm animals.
So at the national meeting of animal scientists in 1979, the center director, Robert R. Oltjen, unleashed an attack on the notion of outside scrutiny. Quoting the Book of Genesis on man's dominion over animals, he assailed "this era of overregulation," arguing that he and his fellow scientists could police themselves.
The push for protections petered out. In the years since, the center has not only eluded oversight, but also fallen short on its promise to watch itself.
Its parent agency, the Agriculture Department, zealously enforces the welfare act, investigating animal abuse in private medical research. In 2013, the department intervened in a surgical trial for pain medicine at a laboratory two hours from the center, ordering researchers to be more rigorous in trying to alleviate the pigs' suffering.
But the agency gives only a broad-brush review to the center's work, which is exempt from the law. Details of the experiments are left for the center itself to evaluate, said Laurence D. Chandler, the agency's director for the Great Plains area.
To make sure that examination takes place, the Agriculture Department requires that the center do what many universities and companies do: appoint a review committee that holds regular meetings, keeps minutes and approves or rejects each experiment after carefully evaluating animal safety.
The Nebraska center, asked for the minutes of every committee meeting in the past decade, provided just six sentences describing a single session in April. And though the committee inspects the center twice a year, it does not review experiments. Instead, the center said, the trials are informally discussed, then formally approved, by scientists, the staff veterinarian and other employees.
A Times examination of 850 experimental protocols since 1985 showed that the approvals were typically made by six or fewer staff members, often including the lead researchers for the experiment. The few questions asked dealt mostly with housekeeping matters like scheduling and the availability of animals.
The language in the protocols is revealing. While the words "profit" or "production efficiency" appear 111 times, "pain" comes up only twice. By contrast, the University of Georgia has its researchers answer a questionnaire for each experiment that uses "pain" or "distress" 37 times. Its 17-member review panel includes a lawyer for an animal welfare advocacy group.
The university's director of research compliance, Christopher S. King, and a prominent animal researcher, Joseph Thulin, reviewed several of the center's protocols for this article and found them lacking in critical details, like how to perform life-threatening procedures, and guidelines for when to stop a trial if animals were suddenly in jeopardy.
"These would not pass muster at many institutions," said Thulin, a veterinarian who directs the Biomedical Resource Center at the Medical College of Wisconsin.
In response, Agriculture Department officials said the center's approval process met their requirements, and that anyone on the staff could raise concerns about the animals at any time. They could recall no experiment that had been formally rejected because of such worries, but said several ideas had been abandoned at an earlier stage.
And they said oversight would now be provided, indirectly, through the University of Nebraska-Lincoln. In October, the university's farm-animal unit joined the Association for Assessment and Accreditation of Laboratory Animal Care International, which conducts animal-welfare inspections and audits for more than 900 schools and businesses. Because the university owns animals at the center, the auditors are empowered to visit there as well.
Still, the center has not joined the association, and it is unclear whether the school's membership will make any difference for the animals. The center and the university quietly reached an agreement in 2013 to transfer ownership of most of the animals to the center.
Both said the deal was prompted by financial considerations. However, Gene White, a retired university veterinarian and scientist who sits on its animal care committee, said the change occurred because the school was seeking accreditation, which imposes stringent requirements.
"We had to have more control over the animals out there, which was not acceptable to the USDA," White said.
A Changing Business
When the American Meat Science Association met in 2013, a scientist from the Nebraska center gave a presentation comparing the two chief methods for killing pigs - one with anesthesia and one without. Though he did not favor one or the other, his standard was clear: Which produced the more tender meat?
The next day, speaker after speaker urged a different yardstick for raising and killing animals: Which methods caused the least suffering?
The annual conference, financed by food giants like Cargill and Oscar Mayer, had turned over half of its two-day schedule to the biggest new challenge, and opportunity, facing the meat industry: the growing consumer demand for humanely raised products.
Whether out of genuine concern, self-interest or both, the industry is responding. Meat producers have begun bankrolling their own research into ways to ease suffering. Last January, Tyson Foods told its suppliers to start using pain medicine when they castrate or remove the tails of pigs, and to stop putting pigs in pens so small they cannot move. Whole Foods and some other supermarkets are refusing to buy fresh meat from sources that do not meet their standards for animal welfare.
Universities that conduct experiments for the meat industry are also asking whether their research has overstressed animals. "We know we need these animals to be productive, but we also need to know if we've pushed them too far," said Janice Swanson, chairwoman of the behavior and welfare unit of the Department of Animal Science at Michigan State University.
All this has not gone unnoticed at the Nebraska center. The staff veterinarian circulated a news report about Tyson's demands on its suppliers. When the Agriculture Department issued stricter rules last year on animal handling in meat-processing plants (the center runs a small one), one scientist asked about the center's practices. "I don't know to what extent we are emphasizing training for humane animal handling," he wrote to the director. "But we handle a lot of animals."
Center officials say animals' well-being is served by much of their research, including efforts to fight a type of pneumonia endemic to sheep, and to help ranchers reduce heat stress in cows. "Production research and animal welfare research do not have to be mutually exclusive," they wrote.
Sometimes, though, the two seem at odds. Last year, the center set out to show that its cows could thrive on a growth stimulant called Zilmax. Months earlier, the drug had been withdrawn by its manufacturer, Merck & Co., amid concern in the meat industry that it caused rare complications, like hooves that slough off, and was associated with higher death rates. (Merck says it believes in the drug's safety, and plans controlled trials to address the worries.)
The new attention to animal welfare has struck one center worker as an opportunity, records show. In February, Katherine Whitman, a University of Nebraska veterinarian who works at the center, proposed an experiment to find more effective pain medicine for two common procedures on sheep: removing tails and castration.
Her budget was a modest $3,524, mostly for tests to measure stress and pain. And the goals she pitched were practical: Not only would the animals benefit, she wrote, but the findings could also help meat producers show they cared about pain management, which "will likely be a demand placed on the industry by consumers in the near future."
Her proposal was turned down by Leymaster, the center's sheep expert. The center's sheep research, he responded in an email, had only two objectives: fighting pneumonia, and enhancing "the competitiveness, profitability and sustainability of lamb production with reduced labor inputs." That is, the experiment to breed easy care sheep.
Another reason for the denial: The center said it lacked the expertise to assess the pain felt by animals.