New York Times
How the Hacking at Sony Over 'The Interview' Became a Horror Movie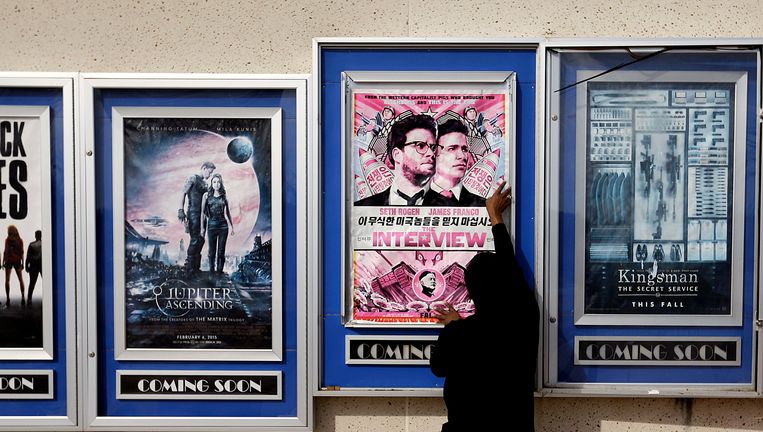 Things have gone so deeply wrong so quickly - the movie industry will look back at this crossing of the Rubicon with a deep sense of shame - it is hard to keep track of all the mistakes that led us here, but I'd like to take a crack at it.
Kim Jong Un, who appears to be America's newly self-appointed minister of culture, has decided that it is not enough that 'The Interview', the Seth Rogen film about North Korea that includes Kim's assassination, will not be released. On Thursday, a message from the Guardians of Peace, the hacker group that breached the computer systems of Sony Pictures and warned against releasing the film, said "we want everything related to the movie, including its trailers, as well as its full version down from any website hosting them immediately."
My, that slope became mighty slippery pretty quickly. The hackers promised that if Sony scrubbed all traces of the comedy from the Internet - an impossible task - they would cease a campaign that has lasted almost a month and has threatened employees and their families, embarrassed executives and potentially unleashed 100 terabytes of private company data into the world.
Federal officials said Friday morning that they had extensive evidence that the North Korean government organized the attack. A few hours later, President Barack Obama added his voice to the chorus of critics, including irate Hollywood actors, who say Sony and the nation's theater operators should not have canceled the release.
"We cannot have a society in which some dictator someplace can start imposing censorship here in the United States," he said.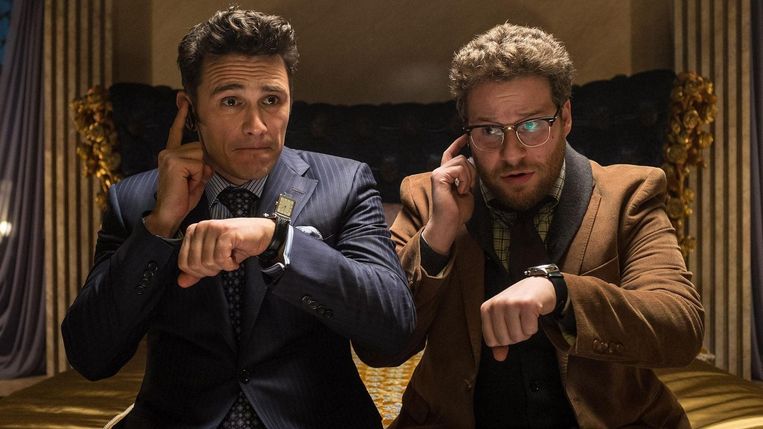 A lowbrow comedy
It was a remarkable and disorienting turn of events: a tiny, failing state that lacks the wherewithal to feed its own people was deciding which movies we can and cannot see, while the industry it had attacked watched silently from the sidelines, and the president of the United States felt compelled to step into an international confrontation catalyzed by a lowbrow comedy.
After weeks of embarrassing disclosures from Sony's hacked files, the endgame for the movie began on Tuesday, when the hackers invoked the devastation of Sept. 11 and said that anyone who attended the opening on Christmas Day would be risking their lives.
"We recommend you to keep yourself distant from the places at that time," they wrote in a rambling email to news organizations.
Theater chains quickly let it be known that "The Interview" would not be screened.
Sony, saying it had no choice, withdrew the movie. Certainly, there were concerns about public safety, but make no mistake, other considerations factored in the decision, all involving dollar signs: the box office receipts of films that would be playing alongside 'The Interview' during one of the biggest movie weeks of the year, and the holiday shoppers at the retail chains that surround so many theaters. Major cable players made it clear that they were unwilling to step in with a video-on-demand alternative, so short of hanging a bed sheet and screening the movie at its Culver City headquarters, Sony was cornered.
Once the film was successfully censored, you could count the days until other films were affected. Actually, it happened earlier in the same day, before 'The Interview' was shelved, when New Regency announced that it would drop an untitled thriller about North Korea that was to have starred Steve Carell.
Rubicon
The threats and subsequent cancellation will become a nightmare with a very long tail. Now that cultural discourse has become the subject of online blackmail, it is hard to imagine where it will end. Documentaries, which have become increasingly important sources of news and information, could suddenly be in jeopardy. And if you've been watching the current season of 'Homeland' on Showtime, you know that Pakistan's more sinister operations have been on wide view.
This summer, HBO is planning to broadcast a comedy series starring Jack Black as a foreign service officer who takes on a rogue general who seizes control of Pakistan's nuclear arsenal. Rogue states and their operatives could go after a Bond movie because they didn't like its taste in villains. (The script for the next installment was released as part of the intrusion, by the way.)
And it doesn't end with the entertainment. Some news outlets, including The New York Times, have found themselves under sustained digital attack after publishing articles that displeased various groups that had the resources to respond with intrusions. Many state-sponsored actors will no doubt be emboldened by the spectacular success of the Sony breach.
Things have gone so deeply wrong so quickly - the movie industry will look back at this crossing of the Rubicon with a deep sense of shame - it is hard to keep track of all the mistakes that led us here, but I'd like to take a crack at it.
The list goes on
Sony
I happened to be with Howard Stringer, then chief executive of Sony, during a vast security attack on its PlayStation platform in 2011 - he looked as if he had been living inside a beehive for three days. That Sony did not harden as a target in a meaningful way afterward is inexplicable.
And while I am all for bold creative choices, was it really important that the head being blown up in a comedy about bungling assassins be that of an actual sitting ruler of a sovereign state? If you want to satirize a lawless leader, there are plenty of ways to skin that cat, as Charlie Chaplin demonstrated with "The Great Dictator," which skewered Hitler in everything but name.
Hollywood
If you are looking for courage on the lots of Hollywood, probably best to pack a lunch. Other studios were content to watch Sony dangle, saying nothing for fear that they, too, would end up on the Guardians of Peace's naughty list. The Motion Picture Association of America, which represents the film industry, went into witness protection when the crisis erupted, with a spokeswoman telling Deadline, a trade website, on Dec. 11, "We have no comment at this time. We are not involved." The association condemned the attack only once the devastation was writ.
The breach of Sony would seem to be exactly the kind of moment when an association has real value, when it can collectively respond to a fundamental threat to the industry. The organization and the studios it represents hid instead. As my colleagues Brooks Barnes and Michael Cieply wrote, "The incident is likely to be remembered as a failure of Hollywood leadership."
On Friday, George Clooney was even less polite about the widespread cowardice, telling Deadline Hollywood that when he circulated a petition of solidarity, he heard nothing but crickets in response.
"As we watched one group be completely vilified, nobody stood up," he said. When the novel "The Satanic Verses" was under attack, the book industry formed a united front. Exactly the opposite happened here.
The News Media
After the hackers absconded with personal and corporate information from Sony, they put the data on a site called Pastebin. Trade publications and some mainstream news outlets took the bait and spent a great deal of time rummaging through the stolen goods, and highlighting juicy emails meant to cause maximum embarrassment. What public purpose was served by printing private correspondence? We discovered that studio executives are capable of being callous, and that producers can be churlish when they don't get what they want. As Aaron Sorkin pointed out, that's not exactly new or important information.
The data dump did reveal an industrywide effort to join forces against Google, but most of what was disclosed was intended to elicit clicks and smirks and the hackers knew enough to harness the base, competitive impulses of the press. News organizations mostly refrained from publishing material like passports and medical records, but in general, the news media served as last-mile delivery agents on information that was used to threaten Sony, the industry, and finally, the American public. The larger story about an unprecedented political attack on free speech took a back seat to titillating peeks at industry back-biting.
The list goes on, including politicians who engaged in bombastic, warlike rhetoric, but let's just say the last few weeks in the American political and cultural narrative have been miserable. The merits of "The Interview" can be debated, but fundamental business imperatives and civic freedoms are clearly in play.
The right response
So what is the right response? Americans are good at sitting on a couch and watching all kinds of stuff, so why not harness that impulse? David Boies, a lawyer for Sony, told "Meet the Press" on Sunday the film would eventually be distributed. "How it's going to be distributed, I don't think anybody knows quite yet, but it's going to be distributed." The president - yes, it's that important - should convene all the players who make billions from the free and unfettered display of content and broker a deal that gives Americans the opportunity to watch the film. Put "The Interview" on Hulu, on iTunes, on Google Play, on Netflix, on NBC and all the broadcast networks, on Showtime and all the cable stations, put it anywhere and everywhere that people can push a button and watch at the same time. Ubiquity and the lack of a discernible target would trump censorship.
The industry, old and new, digital and analog, should step across a line together, holding hands with consumers and letting the world know that we prize our goofy movies, along with the important ones, and the freedoms that they represent. If disparate competitors managed to set aside self-interest and acted for the common good, it could be the social viewing event of the century. I'd do anything to do my bit for artistic freedom, including watching a buddy-movie comedy that stars Rogen and James Franco.
Play the movie.