Het beste uit The New York Times
Emmanuel Macron's Unwanted New Title: 'President of the Rich'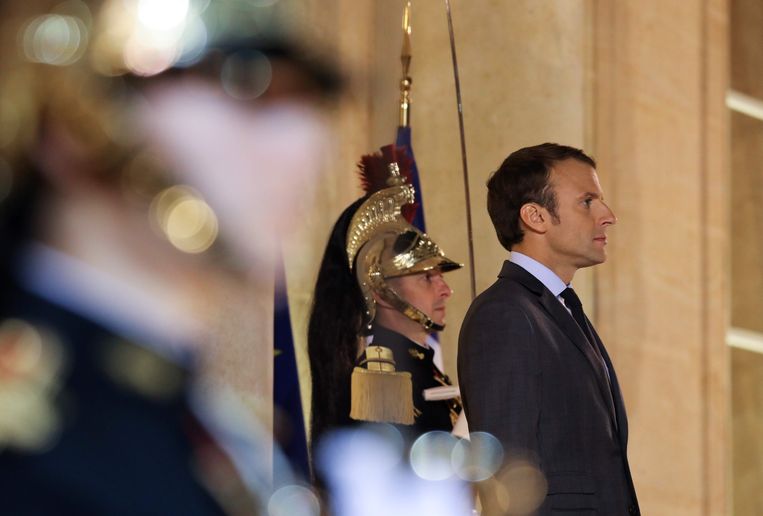 From the all-powerful president with the infallible touch, Emmanuel Macron has become the "president of the rich," an elitist dispensing fiscal goodies to the wealthy. At least that is what parliamentarians, some economists, television interviewers and newspapers have been calling him in recent weeks.
Barely six months into his presidency, Macron has been brought down from the heights to places many French are deeply suspicious of: the corporate suite and the banker's office. Over and over that unflattering label — "president of the rich" — has been affixed to the young leader.
"You are committing violence with your policy. It's you that are going after the poor to give to the rich!" thundered François Rufin, a firebrand of the leftist France Unbowed party.
Macron was guilty of a "heavy moral, economic, and historical sin," the best-selling economist Thomas Piketty wrote in the newspaper Le Monde.
From the populist far right: "Nothing guarantees that more rich in our society will reduce poverty," said Emmanuelle Ménard, a lawmaker affiliated with the National Front.
For all the thunder, however, Macron, a former investment banker, is moving fast in the early days of his unexpected presidency to overhaul his country's wary relationship with capitalism.
His reforms — major overhauls of France's labor market, along with symbolic changes in fiscal policy — are so far unchecked. Union demonstrations against him have fizzled. He has divided French labor, nearly a first in the Fifth Republic, by compromising on his reforms.
But he has also maintained the essence of what he wanted: more flexibility for individual firms in carving out agreements with workers. Macron's plans have sailed through a parliament with a big presidential majority, against a fragmented right and left.
"For now, he's winning the game, no point in hiding it," Jean-Luc Mélenchon, leader of France Unbowed, said in a television interview last weekend.
"Do-nothings"
Still, the new French president's popularity ratings bounce up and down — helped by a political persona that remains awkward outside the realm of the successful, and by speeches that are not always sensitive to class resentments.
Macron's encounters with workers are often tense. "Do-nothings," he called critics in one recent speech; "people who are nothing," he said in another, referring to those "one passes" in train stations.
Last week the 39-year-old president — successful at virtually every step in his rapid career trajectory — got a rapturous reception at an elite engineering school outside Paris. It was easy to see that Macron, all smiles, was in his element.
"This business of being the president of the rich," said Hugo Sevillia, 23, a student at Centrale Supélec in Saclay. "It makes people mad who aren't doing well, but I don't think it's fair."
Much of the hue and cry is over Macron's proposal to reduce a tax on the rich known here as the "Solidarity Tax on Wealth" — in French, the Impôt de Solidarité sur la Fortune, or ISF.
The government's income from the tax is relatively modest. The tax's real value is its symbolism — an emotional, long-standing one — in a country where wealth is often perceived as synonymous with injustice.
No president until Macron has dared go after the wealth tax since it was created, in a different form, under the first government of President François Mitterrand, a Socialist, in 1982.
The tax aims at assets — financial, property and otherwise — above 1.3 million euros ($1.5 million). Everybody with holdings above that sum has had to pay up, on a progressive scale: The more you own, the more you pay.
This type of wealth tax has been eliminated almost everywhere else in the developed world. In Sweden, among other places, the elimination has had no effect on inequality, and there are signs it has actually spurred growth.
Meanwhile, in France the wealth tax has accounted for less than 2 percent of the government's total tax revenues. Macron and his economists contend it is nonetheless important to reduce the tax because the tranche is sliced off those accumulating capital. Capital gains will now be taxed at a flat 30 percent under Macron's plan, nearly half the previous maximum rate.
Macron argues that he is merely trying to free capital for much-needed investment in France's slow-growth, high-unemployment economy.
No sacred cows
His policies have nothing to do with setting one class off against another — far from it, he insists. It is all about overturning the fraying, much despised, but paradoxically cherished status quo.
In a defiant recent television interview, Macron — a president who has by now shown himself unafraid of sacred cows — clenched his fists, waved his arms and showed no signs of retreating.
Still, for all the criticism, some have defended his intentions. "The ISF is purely a symbol," said the ex-Harvard economist Philippe Aghion, now at the Collège de France, and one of Macron's principal economic advisers.
"We've got to stop being obsessed by the rich, and start being obsessed by poverty traps," Aghion said.
"President of the Rich" is a "thoroughly illegitimate charge against him," said Jean-Louis Bourlanges, a centrist deputy who is sympathetic to Macron, though not in his political movement.
"It's explained by the deep hostility of the French toward the rich," Bourlanges said. "As soon as something is seen as favoring the rich, it's also seen as an attack on the poor."
But Bourlanges added that it was "idiotic" for Macron "to present the suppression of the Solidarity Wealth Tax as the first thing you do. He should have said, we'll suppress it progressively."
Macron has now eliminated non-real-estate assets from the tax, cutting it by some $3.7 billion.
"Isn't this just a gift to the rich?" Macron was asked during the lengthy television interview, in language that echoed the attacks in parliament.
"Are you not the 'President of the Rich?'" he was asked. Macron bristled.
"I don't believe in this French jealousy which says, 'There are rich people; let's tax them and we will all feel better,'" Macron said testily.
He pointed to news reports showing that "the big French fortunes don't even pay the Solidarity Wealth Tax," because they simply leave the country. "So this is classic French hypocrisy," he said.
"In order for our society to do better," Macron argued, "we've got to have people who succeed, and people will then say, that's great."
But then he used a metaphor for the rich that left him open, again, to the elitist charge. He called them "the first in the rope line."
Macron, while vowing that "the others who are fragile, we will protect them," added that "if we throw stones at the first in the rope line, it's the whole line that collapses."
While Macron's phrase was "clumsy" and "a bit arrogant," he was nonetheless on "absolutely the right path" in policy terms, said Bourlanges, the lawmaker.
"Macron is like a test-tube baby," he said. "He came out of school and then it was a succession of bubbles. He lacks the popular touch."