✦
NYT
Donald Trump Jr. Makes the Russian Connection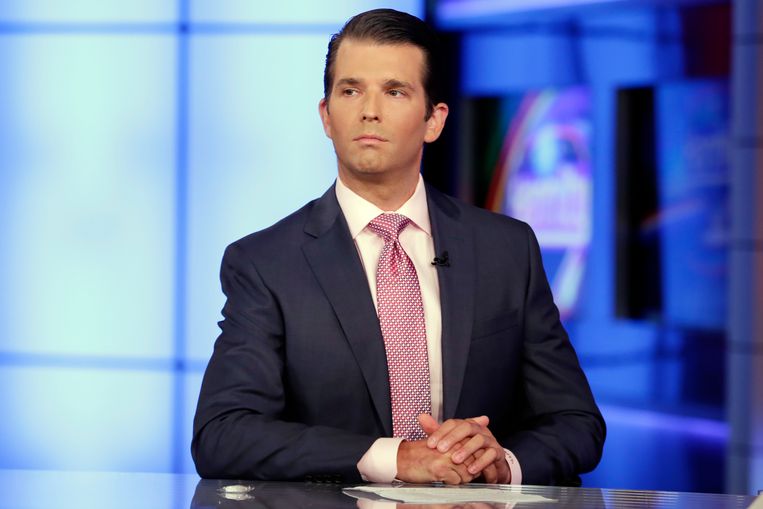 Donald Trump Jr. vormt de Russische connectie, schrijft The New York Times vandaag in haar editoriaal. 'Al die tijd was de waarheid te vinden in zijn e-mails.' Abonnees kunnen het volledige artikel hieronder lezen.
All along, the truth was right there in the emails — Donald Trump Jr.'s emails, that is, which he released publicly on Twitter Tuesday morning after learning that The New York Times was about to publish their contents.
In language so blunt and obvious it would make a Hollywood screenwriter blush, the emails confirm what the president, his son and others have denied repeatedly for more than a year: that top members of the Trump campaign met with representatives of the Russian government in the expectation of help in damaging Hillary Clinton and getting Donald Trump elected.
On June 3, 2016, the younger Trump received an email from Rob Goldstone, a former British tabloid reporter and music publicist, telling him that a Russian government lawyer had "offered to provide the Trump campaign with some official documents and information that would incriminate Hillary and her dealings with Russia and would be very useful to your father."
Goldstone went on, "This is obviously very high level and sensitive information but is part of Russia and its government's support for Mr. Trump."
FBI
At this point, any halfway competent and ethical campaign would have contacted the FBI. That's what the Gore campaign did in 2000 when it mysteriously received confidential debate materials belonging to the Bush campaign.
In President Trump's world, ethics is for suckers. His son wrote back to Goldstone, "If it's what you say I love it especially later in the summer" — when he probably assumed it would do the most damage.
On June 9, the younger Trump met at Trump Tower with the Russian lawyer, Natalia Veselnitskaya, who has connections to the Kremlin. Also attending were members of the Trump inner circle — Paul Manafort, the campaign chairman, and Jared Kushner, President Trump's son-in-law and now a senior White House adviser. (Kushner initially failed to mention this meeting, and several others with Russian officials, on his security clearance application.)
What happened at the meeting? Nothing, according to Trump Jr., who said it had occurred "before the current Russian fever was in vogue." Less than two months later, CNN asked him about allegations that Russia was trying to help his father's campaign. "It's disgusting, it's so phony," Trump said then. "I can't think of bigger lies."
He might try thinking a little harder, especially about his multiple conflicting accounts of what transpired with Veselnitskaya. On Sunday, for example, he said that he had told Manafort and Kushner "nothing of the substance" of the meeting in advance. But the subject line of the exchange with Goldstone, which Trump forwarded to both men, read, "Russia – Clinton – private and confidential."
Legal jeopardy
Trump Jr. appears to be in real legal jeopardy. Federal campaign finance law prohibits political campaigns from soliciting any "thing of value" from foreign nationals. By that standard, Trump's acceptance of the offer to see Veselnitskaya certainly looks bad. Any charges along these lines could be filed by Robert Mueller III, the special counsel overseeing the Russia investigation, or by the Justice Department under the direction of Deputy Attorney General Rod Rosenstein, who took over all Russia-related matters after Attorney General Jeff Sessions recused himself in March.
Meanwhile, Republicans in Congress are maintaining their head-between-the-knees position as the Trump plane spirals downward. Sen. Orrin Hatch said attention to the emails was "overblown" and called Trump Jr. a " very nice young man."
Vice President Mike Pence tried to vault himself as far as possible from the mess. He was "not aware of the meeting," his press secretary said, and is "not focused" on "stories about the time before he joined the ticket."

And what of the president? Goldstone ended his email to the younger Trump by saying, "I can also send this info to your father" through his personal assistant. Trump Jr. has flatly denied that his father had any knowledge of the meeting, but that's hard to believe given who was in attendance, and impossible to accept given how untruthful the younger Trump has been.
On Tuesday, President Trump was uncharacteristically subdued on social media. He offered only a bloodless note of support for Donald Jr. in a statement released by his press office: "My son is a high-quality person and I applaud his transparency." But transparency is one of the many things, along with credibility, that this administration lacks. So when Trump Jr. claims that he's released the "full email chain," the question has to be, what else are you hiding?
The Challenges After Mosul
Iraq's prime minister, Haider al-Abadi, and Iraqi security forces deserved to celebrate after re-establishing control over Mosul, which the Islamic State occupied for three years in its bloody quest for a caliphate. The celebration should be brief. There is still plenty of urgent work to be done — by Iraqis, the United States, regional neighbors and others — to stabilize Iraq and Syria while also working to counter ISIS' insidious ideology. And a new report about the high civilian casualty rate demands that President Donald Trump and the Pentagon rethink how the war is being fought.
The focus among ISIS' foes has been killing the terrorists in Iraq and in Syria, where American-backed Syrian forces are closer to recapturing ISIS headquarters, in Raqqa. The longer-term challenge will be addressing the complex factors that have created conditions for the group to thrive, including destructive rivalries between Sunni and Shiite Muslims, corruption and the failure of governments to meet their citizens' economic and security needs.
In Mosul, there are pockets of resistance and residual threats from ISIS sleeper cells, suicide bombers and houses rigged with explosives. Any satisfaction over the military success must be tempered by the high death toll, with perhaps over 1,000 Iraqi soldiers and hundreds, if not thousands, of civilians killed in nine months of fighting. ISIS used civilians as human shields, while Iraqi and the American-led coalition forces could have done more to protect civilians, says a new report by Amnesty International.
Mosul residents have been left traumatized by the psychological, sexual and physical violence suffered during three years of ISIS control. The city has been devastated, including the iconic Al Nuri mosque and much of the rest of its religious and cultural heritage. At least $1 billion is needed for reconstruction so that thousands of displaced Iraqis can return home. The coalition of nations that joined with America to fight ISIS has raised funds through the United Nations to rebuild Iraq and Syria; some are meeting in Washington this week to decide on future steps.
The obvious question is, what comes next? The Trump administration has so far failed to put forward a comprehensive strategy to deal with postwar reconstruction in Mosul and other challenges. The White House is reportedly debating whether to get involved in Iraq's long-term recovery, the kind of overseas venture Trump disparaged during the election campaign. His proposal to greatly reduce the State Department aid budget would limit what America could do. Iraqis bear the primary responsibility for stabilizing their country, but they cannot do it without help.
One unanswered question is how to ensure that Iraq's Shiite-led government guarantees the Sunni minority security and brings Sunnis into the political process. Its failure to do so, dating back to 2003, when the Americans invaded and deposed Saddam Hussein, created the fertile ground in which ISIS flourished. Abadi has been more inclusive than his predecessor, but there is a long way to go. Serious efforts are also needed to curb corruption, which undermines public trust.
Tensions between Kurds and Iraqis in northern Iraq must be managed, as must Kurdish aspirations for independence in Iraqi Kurdistan. Preventing Iran from expanding its influence in Iraq and in Syria, where with Russia it is a major ally of the Assad regime, is also important. Left unaddressed, such situations will continue to roil Iraqi politics and lead to new conflicts that ISIS can exploit.
Another dilemma is what to do about the ISIS fighters who are even now melting back into local communities to regroup, not just in the Middle East but in far-flung parts of the globe. There must also be efforts at the local level to persuade young people not to join militant groups that manipulate Islam for violent purposes.
Iraq squandered one opportunity to remake itself into a stable and pluralistic country. With ISIS on the run, it should seize this second chance.