Tennis
Despite towering opponents and bad breaks, David Goffin is sticking around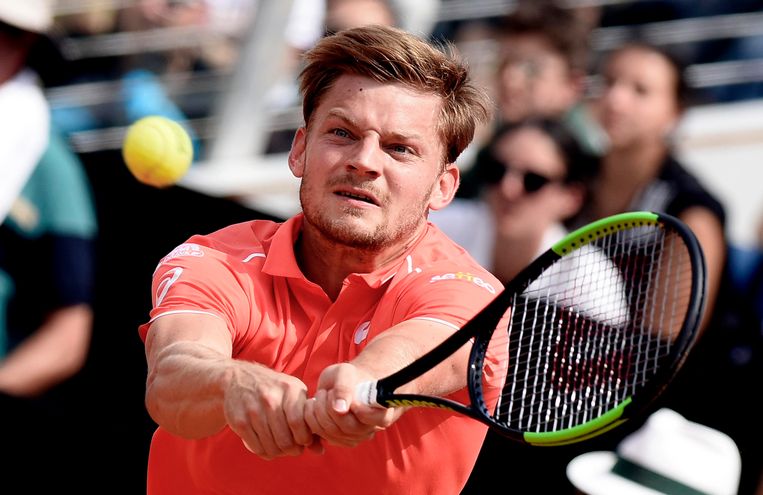 ROME — Encircled by the monolithic statues that surround the Stadio Pietrangeli here, the considerably less statuesque David Goffin showed a different type of solidity that has put him in the top 10 of men's tennis.
Listed at 5 feet 11 inches, Goffin was even dwarfed by his opponent on Thursday: the 6-foot-6 Juan Martín del Potro, who retired with a groin injury to put Goffin through to the quarterfinals of the Italian Open.
As his opponent wavered, Goffin displayed the speed and wizardry that has helped him succeed in an era in which five of the top 10 men's players are at least as tall as del Potro, who is ranked No. 6. He extended rallies with his speed and anticipation, and craftily worked to steer the ball away from del Potro's lethal forehand.
"He's one of the fastest players on tour," said third-ranked Alexander Zverev, Goffin's quarterfinal opponent. "He barely produces errors and finds a way out of difficult positions to make life tough on the opponent."
He's also one of the lighter players on tour: Listed at 150 pounds, Goffin is 26 pounds lighter than the second-lightest player in the top 10, and 88 pounds lighter than ninth-ranked John Isner.
"I didn't expect to be this far, to be in the top-10 and to win and have these kind of results," said Goffin, currently ranked 10th. "Of course I knew when I was young that I had some qualities, physically. Even if I'm not a big guy, I have good footwork, I'm fast on the court, and I see the ball really early. I knew that I had some qualities, physically and 'tennistically.' But my goal was to be top 100."
Bad luck
Lately, though, Goffin has had to overcome not only physical deficiencies but bad luck as well, having been sidelined by two freak on-court injuries in the past year.
At an ATP tournament in Rotterdam in February, a passing shot from Grigor Dimitrov ricocheted off the frame of Goffin's racket and hit him hard in his left eye, keeping him out of Indian Wells in early March. It still hampered him during a 6-0, 6-1 loss in Miami on March 23, as his pupils remained unevenly dilated.
As he worked to recover, Goffin wore a contact lens in his left eye, and did exercises to strengthen the muscles behind the eye, as well as to practice his eye's ability to zoom and focus.
And at last year's French Open, he badly injured his ankle when, after sliding back for a defensive lob, his foot caught on a tarp in the back of Court Suzanne Lenglen. He was forced out of the tournament, his favorite Grand Slam, and then the entire grass court season.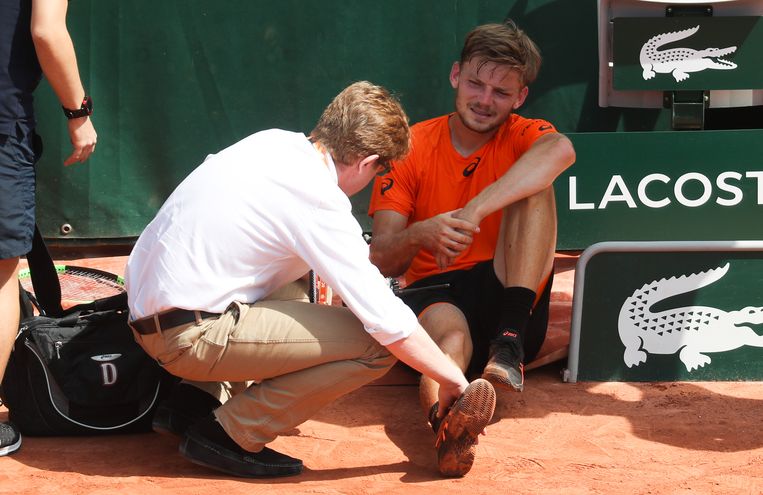 That injury was particularly surprising for Goffin, because he is not a player who spends much time far behind the court, having retreated there only late in one extended rally. For others, though, he sees potential hazards.
"You see where Nadal, where he's returning, or Dominic Thiem — he's almost returning in the flowers on the side — so it can be dangerous with the line umpires, covers, sponsors, fans," he said. "But being really far behind the baseline, that's not the case for me, it's not my game."
"Maximum efficacy"
Now, having overcome his on-court incidents and honed a specific style, Goffin has achieved "maximum efficacy toward his potential," said his coach, Thierry Van Cleemput.
"He covers the court, he runs very fast, and he has the view of the court to anticipate the shots — he's amazing," Van Cleemput said. "And he tries to play the best shot each time; if he doesn't, he gets punished immediately."
Van Cleemput joked that he was "lucky" to work with Goffin compared to his previous player Olivier Rochus, who is 5-foot-6.
"So tennis is difficult, but you have a chance: There's a net between the guys," he said. "If it was boxing, David would be finished after five minutes."
His targets are measured: Van Cleemput hopes Goffin can reach the semifinals of a Grand Slam and the final of a Masters event. He expects Goffin, 27, to have greater opportunities for success once the aging Grand Slam champions Roger Federer, Rafael Nadal, Andy Murray, Novak Djokovic and Stan Wawrinka have retired.
"In the future it's going to different; there will be opportunities for everybody," Van Cleemput said.
Goffin's best result came at the World Tour Finals in London last November, when he beat Federer and Nadal en route to the final, which he lost to Dimitrov. He is at his most comfortable, however, at this time of year, when the tour hits the European clay courts, with which he has been accustomed since his youth in Belgium. "As soon as I play on this surface, I feel great," he said.
Nadal, the top seed at this tournament, said that Goffin has proved that his relative lack of size was "not a drama, you know?"
"He's super quick," Nadal said. "He has big talent. He's there because he has everything that a tennis player needs to become a top player."
Goffin has long idolized Nadal's archrival, Federer, and hopes he can emulate the 36-year-old's longevity on tour with his similarly graceful, floating style.
"The key for me will be to play as long as I can," he said, "and hopefully to be physically like Roger when I'm 36."