De volledige healthcare-toespraak van Obama (2)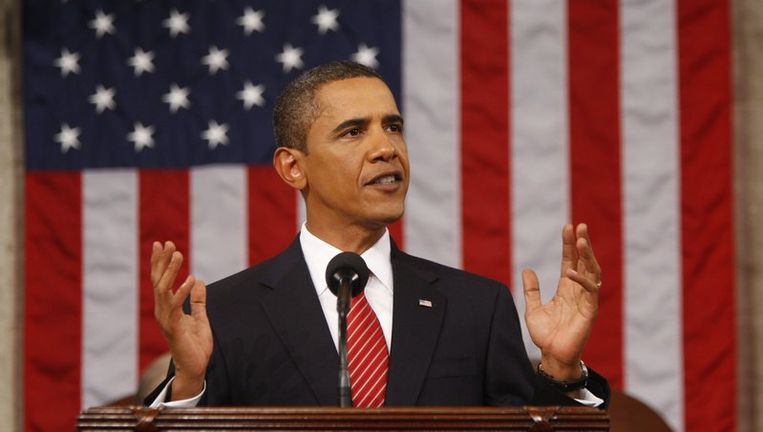 During that time, we have seen Washington at its best and its worst.
We have seen many in this chamber work tirelessly for the better part of this year to offer thoughtful ideas about how to achieve reform. Of the five committees asked to develop bills, four have completed their work, and the Senate Finance Committee announced today that it will move forward next week.
That has never happened before. Our overall efforts have been supported by an unprecedented coalition of doctors and nurses; hospitals, seniors' groups and even drug companies many of whom opposed reform in the past. And there is agreement in this chamber on about eighty percent of what needs to be done, putting us closer to the goal of reform than we have ever been.
But what we have also seen in these last months is the same partisan spectacle that only hardens the disdain many Americans have toward their own government. Instead of honest debate, we have seen scare tactics. Some have dug into unyielding ideological camps that offer no hope of compromise. Too many have used this as an opportunity to score short-term political points, even if it robs the country of our opportunity to solve a long-term challenge. And out of this blizzard of charges and counter-charges, confusion has reigned.
Well the time for bickering is over. The time for games has passed. Now is the season for action. Now is when we must bring the best ideas of both parties together, and show the American people that we can still do what we were sent here to do. Now is the time to deliver on health care.
The plan I'm announcing tonight would meet three basic goals:
It will provide more security and stability to those who have health insurance. It will provide insurance to those who don't. And it will slow the growth of health care costs for our families, our businesses, and our government. It's a plan that asks everyone to take responsibility for meeting this challenge not just government and insurance companies, but employers and individuals. And it's a plan that incorporates ideas from Senators and Congressmen; from Democrats and Republicans and yes, from some of my opponents in both the primary and general election.
Here are the details that every American needs to know about this plan: First, if you are among the hundreds of millions of Americans who already have health insurance through your job, Medicare, Medicaid, or the VA, nothing in this plan will require you or your employer to change the coverage or the doctor you have. Let me repeat this: nothing in our plan requires you to change what you have.
What this plan will do is to make the insurance you have work better for you. Under this plan, it will be against the law for insurance companies to deny you coverage because of a pre-existing condition. As soon as I sign this bill, it will be against the law for insurance companies to drop your coverage when you get sick or water it down when you need it most. They will no longer be able to place some arbitrary cap on the amount of coverage you can receive in a given year or a lifetime. We will place a limit on how much you can be charged for out-of-pocket expenses, because in the United States of America, no one should go broke because they get sick. And insurance companies will be required to cover, with no extra charge, routine checkups and preventive care, like mammograms and colonoscopies because there's no reason we shouldn't be catching diseases like breast cancer and colon cancer before they get worse.
That makes sense, it saves money, and it saves lives.
That's what Americans who have health insurance can expect from this plan more security and stability.
Now, if you're one of the tens of millions of Americans who don't currently have health insurance, the second part of this plan will finally offer you quality, affordable choices. If you lose your job or change your job, you will be able to get coverage. If you strike out on your own and start a small business, you will be able to get coverage. We will do this by creating a new insurance exchange a marketplace where individuals and small businesses will be able to shop for health insurance at competitive prices. Insurance companies will have an incentive to participate in this exchange because it lets them compete for millions of new customers. As one big group, these customers will have greater leverage to bargain with the insurance companies for better prices and quality coverage. This is how large companies and government employees get affordable insurance. It's how everyone in this Congress gets affordable insurance. And it's time to give every American the same opportunity that we've given ourselves.
For those individuals and small businesses who still cannot afford the lower-priced insurance available in the exchange, we will provide tax credits, the size of which will be based on your need. And all insurance companies that want access to this new marketplace will have to abide by the consumer protections I already mentioned. This exchange will take effect in four years, which will give us time to do it right. In the meantime, for those Americans who can't get insurance today because they have pre-existing medical conditions, we will immediately offer low-cost coverage that will protect you against financial ruin if you become seriously ill. This was a good idea when Senator John McCain proposed it in the campaign, it's a good idea now, and we should embrace it.
Now, even if we provide these affordable options, there may be those particularly the young and healthy who still want to take the risk and go without coverage. There may still be companies that refuse to do right by their workers. The problem is, such irresponsible behavior costs all the rest of us money. If there are affordable options and people still don't sign up for health insurance, it means we pay for those people's expensive emergency room visits. If some businesses don't provide workers health care, it forces the rest of us to pick up the tab when their workers get sick, and gives those businesses an unfair advantage over their competitors. And unless everybody does their part, many of the insurance reforms we seek especially requiring insurance companies to cover pre-existing conditions just can't be achieved.
That's why under my plan, individuals will be required to carry basic health insurance just as most states require you to carry auto insurance. Likewise, businesses will be required to either offer their workers health care, or chip in to help cover the cost of their workers.
There will be a hardship waiver for those individuals who still cannot afford coverage, and 95% of all small businesses, because of their size and narrow profit margin, would be exempt from these requirements. But we cannot have large businesses and individuals who can afford coverage game the system by avoiding responsibility to themselves or their employees. Improving our health care system only works if everybody does their part.
While there remain some significant details to be ironed out, I believe a broad consensus exists for the aspects of the plan I just outlined: consumer protections for those with insurance, an exchange that allows individuals and small businesses to purchase affordable coverage, and a requirement that people who can afford insurance get insurance.
And I have no doubt that these reforms would greatly benefit Americans from all walks of life, as well as the economy as a whole. Still, given all the misinformation that's been spread over the past few months, I realize that many Americans have grown nervous about reform. So tonight I'd like to address some of the key controversies that are still out there.
Some of people's concerns have grown out of bogus claims spread by those whose only agenda is to kill reform at any cost. The best example is the claim, made not just by radio and cable talk show hosts, but prominent politicians, that we plan to set up panels of bureaucrats with the power to kill off senior citizens. Such a charge would be laughable if it weren't so cynical and irresponsible. It is a lie, plain and simple.
There are also those who claim that our reform effort will insure illegal immigrants. This, too, is false the reforms I'm proposing would not apply to those who are here illegally. And one more misunderstanding I want to clear up under our plan, no federal dollars will be used to fund abortions, and federal conscience laws will remain in place.
My health care proposal has also been attacked by some who oppose reform as a "government takeover" of the entire health care system. As proof, critics point to a provision in our plan that allows the uninsured and small businesses to choose a publicly-sponsored insurance option, administered by the government just like Medicaid or Medicare.
So let me set the record straight. My guiding principle is, and always has been, that consumers do better when there is choice and competition. Unfortunately, in 34 states, 75% of the insurance market is controlled by five or fewer companies. In Alabama, almost 90% is controlled by just one company. Without competition, the price of insurance goes up and the quality goes down. And it makes it easier for insurance companies to treat their customers badly by cherry-picking the healthiest individuals and trying to drop the sickest; by overcharging small businesses who have no leverage; and by jacking up rates.
Insurance executives don't do this because they are bad people. They do it because it's profitable. As one former insurance executive testified before Congress, insurance companies are not only encouraged to find reasons to drop the seriously ill; they are rewarded for it. All of this is in service of meeting what this former executive called "Wall Street's relentless profit expectations."
Now, I have no interest in putting insurance companies out of business. They provide a legitimate service, and employ a lot of our friends and neighbors. I just want to hold them accountable. The insurance reforms that I've already mentioned would do just that. But an additional step we can take to keep insurance companies honest is by making a not-for-profit public option available in the insurance exchange. Let me be clear it would only be an option for those who don't have insurance. No one would be forced to choose it, and it would not impact those of you who already have insurance. In fact, based on Congressional Budget Office estimates, we believe that less than 5% of Americans would sign up.
Despite all this, the insurance companies and their allies don't like this idea. They argue that these private companies can't fairly compete with the government. And they'd be right if taxpayers were subsidizing this public insurance option. But they won't be. I have insisted that like any private insurance company, the public insurance option would have to be self-sufficient and rely on the premiums it collects. But by avoiding some of the overhead that gets eaten up at private companies by profits, excessive administrative costs and executive salaries, it could provide a good deal for consumers. It would also keep pressure on private insurers to keep their policies affordable and treat their customers better, the same way public colleges and universities provide additional choice and competition to students without in any way inhibiting a vibrant system of private colleges and universities.
It's worth noting that a strong majority of Americans still favor a public insurance option of the sort I've proposed tonight. But its impact shouldn't be exaggerated by the left, the right, or the media. It is only one part of my plan, and should not be used as a handy excuse for the usual Washington ideological battles. To my progressive friends, I would remind you that for decades, the driving idea behind reform has been to end insurance company abuses and make coverage affordable for those without it. The public option is only a means to that end and we should remain open to other ideas that accomplish our ultimate goal. And to my Republican friends, I say that rather than making wild claims about a government takeover of health care, we should work together to address any legitimate concerns you may have.
For example, some have suggested that that the public option go into effect only in those markets where insurance companies are not providing affordable policies. Others propose a co-op or another non-profit entity to administer the plan. These are all constructive ideas worth exploring. But I will not back down on the basic principle that if Americans can't find affordable coverage, we will provide you with a choice. And I will make sure that no government bureaucrat or insurance company bureaucrat gets between you and the care that you need.
Finally, let me discuss an issue that is a great concern to me, to members of this chamber, and to the public and that is how we pay for this plan.