New York Times
At Burning Man, a Counterculture Festival, Fashion Police Walk the Beat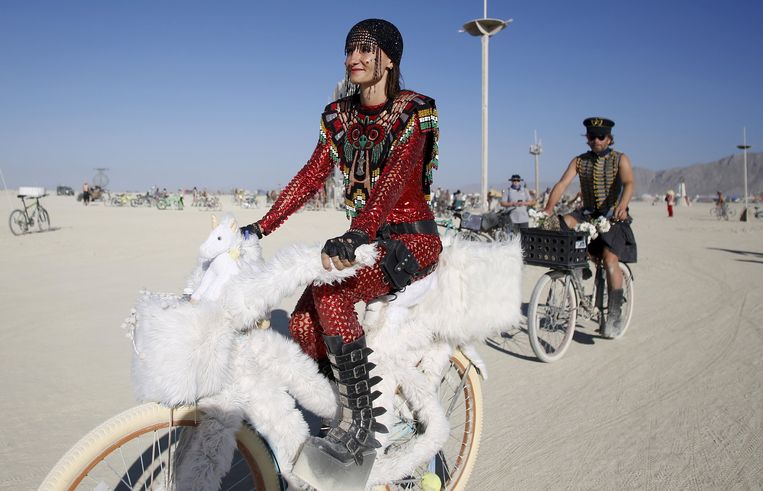 Glitter is a no-no. Sequins are frowned upon. Feathers were verboten, though they have still infiltrated in trims and turbans, to gnashing controversy.
The rules for costumes at the Burning Man festival, which began Sunday in the scorching desert of northern Nevada, are complex. Governed by a quasi-spiritual principle to leave no trace behind, festival organizers are committed to cleaning up every speck of party detritus from the sand - "Matter Out of Place" or MOOP, to use the festival's term.
Shedding feather boas and stray sequins are a scourge of the playa, or desert basin, where the revelers - known as Burners - strut and frolic for eight days, while anticipation builds for the giant man-shaped bonfire that is the raison d'être of Burning Man.
Such restrictions have not stopped Burning Man from being one of the biggest modern costume shows for adults outside Halloween. Unicorn masks, head-to-toe bird-of-prey outfits, Mylar spacesuits, glow-in-the-dark disco gear - as the scene has grown in psychedelic outrageousness, so has the need among Burners for evermore inventive costumes.
undefined
"You are part of the art - the whole playa is an art scene," said Donna Kaupp, 67, who is known as Uti and sells custom Burner accouterments, like winged goggles and leopard-print dust masks, from her store here, the Piedmont Boutique in the Haight-Ashbury neighborhood. "And your participation in it is - you're also art."
This year, holographic spandex onesies for men are big. For women, sparkling booty-shorts worn with nothing else are a perennial favorite. The perfect Burning Man costume, experts say, will be lightweight enough to keep the wearer happy in the desert sun, showy enough to turn heads and accommodating of such essentials as heavy boots and sunglasses.
"It has to be comfortable to wear in either the heat or the cold," said Mary Hogue, who makes custom costumes with details like mesh armpits for ventilation at Praxis, a shop in the Mission district here. "And it needs to be comfortable for when you're high - when people are tripping, it can't feel weird."
undefined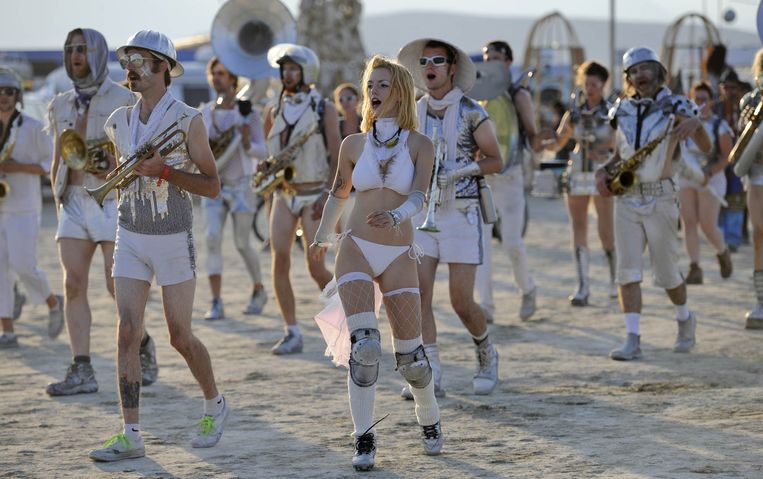 At Burning Man, participants escape from society and most of its demands (including cellphone reception), building art in the desert only to burn much of it down. Once a remote counterculture party, the event, nearly 30 years old, long ago relocated from San Francisco to a remote spot about three hours north of Reno, Nevada, where 65,000 attendees are expected this year.
It now includes the Silicon Valley set and their trappings, as well as a simmering sense that it has sold its soul. Yet for the cottage industry that supplies its outlandish costumes, the influx means one thing: a bumper year for retailers of spandex and faux fur.
"It's a place where you can do whatever you want and not feel like, 'Why is that woman's side of her head shaved?' Or, 'Why is that person's hair blue?' " said Joe Carter, 35, a musician and a longtime Burner who favors his custom leather suits in the style of Jimmy Page of Led Zeppelin. "None of that matters up there. The societal norms melt away, and inhibitions melt away."
The term "cosplay" - or costume play, usually with a role-playing element - emerged in the 1990s from Japanese anime and theater, and it has been widely embraced by Burners. Although adults also don elaborate costumes at Comic-Con conventions and similar events, the garb worn at Burning Man tends to be custom made and built for repeated wearings - few, if any, off-the-shelf superhero capes or witch wigs are to be found.
undefined
The extravagant costumes in the Black Rock Desert help with another escape: from reality.
A multiyear study published in 2013 looked at the psychological effect of Burning Man on its participants and found that people there were more comfortable expressing themselves, particularly positive emotions. The costumes, said Kateri McRae, an author of the study and an assistant professor of psychology at the University of Denver, could be a reason. "The clothes may be a sort of cue that the rules are different here," she said.
On Haight Street, corsets, top hats, mirrored umbrellas and a particular Burner favorite - low-slung leather utility belts to hold desert necessities like lip balm and electrolyte tablets - hang in many windows under signs that say, "Burners Welcome!"
The costuming has gone international. On Etsy, the online craft marketplace, a search for Burning Man calls up more than 28,000 items, including several from Moscow, like a "postapocalyptic men's leather bracelet for $183.51," and from Spain, like a $1,200 chrome corset with a flared collar that Lady Gaga might covet.
Online shops like Playa Cracks sell glowing clothing, embroidered with thin strips of LED wire, that is fashionable and practical: In the pitch black night, it is easy to get hit by a passing Art Car, one of the festival's extravagantly altered vehicles in the shapes of dogs or boats. At Decades of Fashion, a vintage store on Haight Street, attendants stand like bouncers at the entrance of a special back room packed with Vegas showgirl gowns and extravagant fur coats, admitting only people who utter a passwordlike phrase: I'm going to Burning Man.
undefined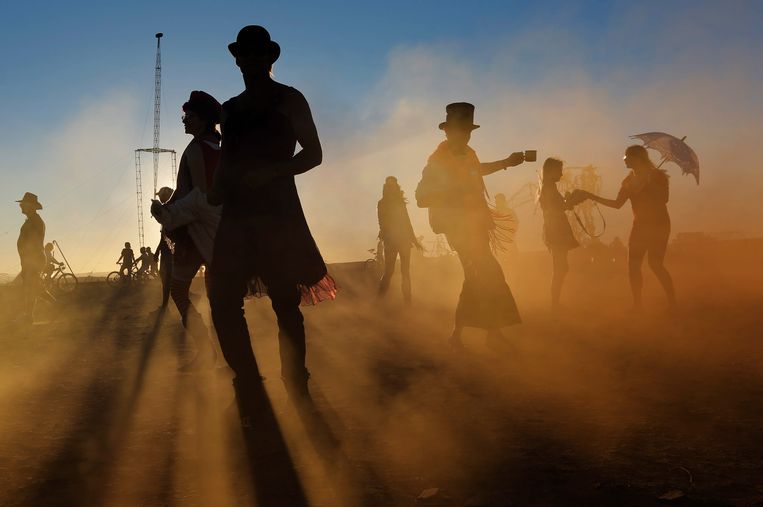 Daniel Zeller, 31, who works in information technology and flew from Melbourne, Australia, for Burning Man, spent several hundred dollars on a slew of glitter onesies from Sea Dragon Studio, a company that specializes in Burning Man costumes. Last week, he was almost out the door to catch his flight, carrying more than 60 pounds of outfits in his luggage, when he remembered he should probably bring some street clothes - at least for the airport.
"Tutus are huge for men," Zeller said. They are worn like kilts, with nothing underneath. "You want to get noticed. All the conversations stop, and people are like, 'Wow.' "
At Praxis a few days before the festival, Hogue, 28, and her business partner, Aerin Willey, 31, zipped Tal Ariel, a local piano teacher and composer, into a costume. (This reporter, who will attend Burning Man for the first time this year, bought her costume - a made-to-order hooded black bodysuit inspired by Cher - for $80 at Praxis.)
Ariel was trying on a jumpsuit as glittering as a disco ball, with white faux fur flaring around his calves and cuffs. A cape of 3D white fabric roses completed the outfit. He planned to bring a piano to the desert, where he would perform, impersonating an idol, Liberace. "But I'm even better," he said, looking in the mirror. "I'm 'Glitterace.' "
undefined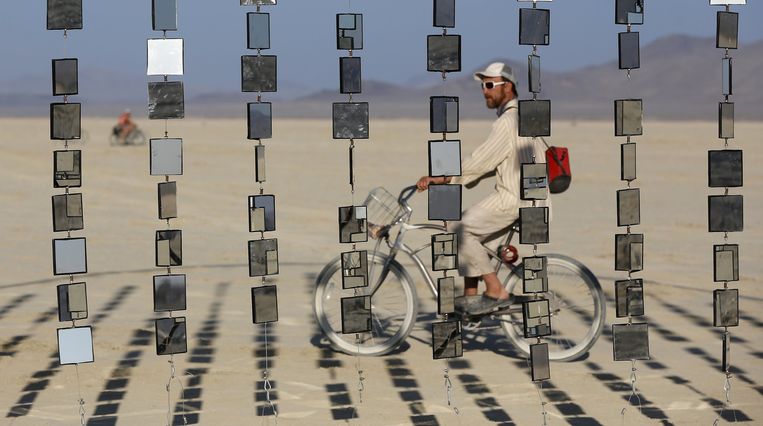 As in any small community, there is a pecking order. Die-hard Burners sneer at those buying ready-to-wear costumes rather than embracing the spirit of "radical self-reliance" that is part of the event's ethos and making something on their own. Women in feathered headdresses and bras are derided in online forums as "playa chickens." Outrage flies through the Internet about any item that will flutter away or fall apart, adding extra chores to the postparty cleanup, or "MOOPing."
There is also backlash from non-Burners. A tongue-in-cheek online fundraising campaign this year called for a wall to be built around San Francisco during Burning Man to keep those who departed for Black Rock City, as the festival location is called, out permanently. More than $7 million has been pledged to the cause.
"Burning Man catered to people who made their costumes, that was an iconic part of it," said Peter Wilczynski, 25, who works at a software company in San Francisco. But today, he said, it is seen as "a playground for rich tech people who mooch off hippies who build art."
Wilczynski would have no part, but for a different reason. "I don't like sand," he said.