Iran
An Iranian bastion of power sees its economic strength sapped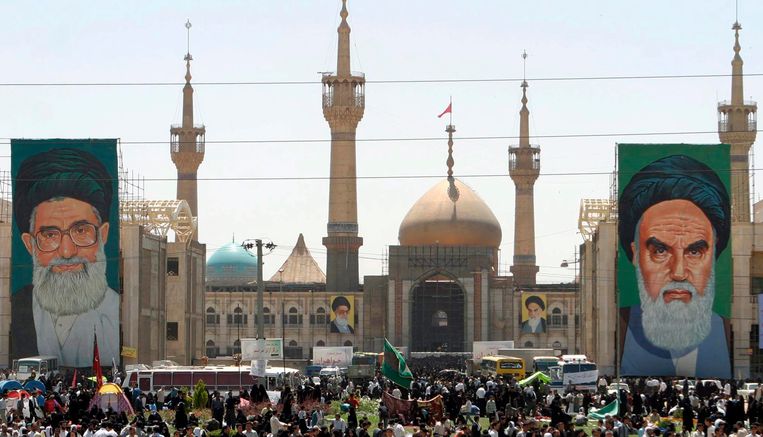 From its nine-story headquarters in an upscale neighborhood of Tehran, a giant construction company directs its operations across Iran, building mosques, airports, oil and gas installations, hospitals and skyscrapers.
Armed guards stand watch at the doors, and small posters on its exterior walls honor Iranians who have died in the current wars in Syria and Iraq.
But this is not just any company. Khatam-al Anbiya, whose name means "seal of the prophet," is the most important economic arm of Iran's elite Islamic Revolutionary Guards Corps. It employs nearly 1.5 million people, including subcontractors, and is led by a military commander.
Yet the company's outward signs of strength belie the powerful currents of change that are eroding its business. A crackdown is being led by Iran's president, Hassan Rouhani, who ran for office promising to unleash economic growth by completing a nuclear deal and freeing the country from international sanctions.
Having achieved that — though some sanctions remain — he has turned his sights on the Revolutionary Guards, whose monopoly on large sectors of the economy and penchant for corrupt dealing he sees as a major drag on the growth he promised after completing the nuclear pact.
In his assault on a bastion of privilege and power long thought to be impregnable, Rouhani seems to have the all-important support of Ayatollah Ali Khamenei, Iran's supreme leader. The ayatollah, who has blasted officials for allowing corruption to grow in all layers of Iran's political system, including the government, called recently for the government to reach out to foreign countries for investments and new businesses.
"What I sought is that in the economy, we must have free competition," Rouhani told a group of news media executives during his visit to the U.N. General Assembly in New York in September. "No institution can use its authority to derive a benefit. We must be open and fair, and there can be no exclusivity in any one sector."
"All the sectors must be productive," he said. "We are pushing and promoting a more open atmosphere for businesses, with open and fair competition and no exclusive sectors."
For years, the construction giant and numerous other companies and conglomerates run by the Revolutionary Guards have operated with impunity, well beyond the reach of civilian authorities, driving Iran's sanctions-crippled economy, financing its military adventures in the region and — not coincidentally — enriching the hard-line commanders and clerics at their helms.
But now, with many sanctions lifted after the nuclear deal, and as the government tries to open the country to competition and foreign investment, the group's economic dominance is increasingly seen as a liability.
The Revolutionary Guards' international reputation for regional meddling, its potential designation as a terrorist group by the Trump administration and the sanctions that remain in place combine to make it a toxic business partner for the Western and Asian companies Tehran needs to reinvigorate its economy and rebuild its crumbling infrastructure.
As a result, it has had its budget cut and seen large government projects that were once its private preserve steered to outsiders. Several senior members of the Revolutionary Guards have been arrested on suspicion of corruption.
The changes have unfolded steadily since the summer. In July, lawmakers told local news outlets that the government had decided to cut Khatam-al Anbiya's annual budget. "They cannot take over every project anymore," a lawmaker, Gholamreza Tajgardoon, told the newspaper Shargh. "Not the ones that private contractors can also do."
Over the summer, several former Revolutionary Guards officials were arrested on suspicion of corruption by the intelligence service of the organization itself, an influential member of parliament confirmed last week on the Telegram messaging service. Two hard-line media strategists affiliated with the Revolutionary Guards have also been arrested, in a sign that their influential media empire is under siege.
More recently, Khatam-al Anbiya was sidelined in two major oil and shipping projects, which went to bidders from France and South Korea.
Insiders say the arrests confirm that the Revolutionary Guards' top echelon is now committed to curbing corruption and smuggling by its forces, which control all of Iran's borders.
"It took a lot of effort, but President Rouhani has convinced the top commanders that if systematic corruption and favoritism are not taken seriously, the pillars of the regime will be undermined," said Saeed Laylaz, an economist close to the government. "These cases are the tip of an iceberg of wide and systematic corruption in the country at all levels of the state."
In most of the world, the Revolutionary Guards Corps is known for its military wing, which has been leading Iranian efforts to support its ally, President Bashar Assad of Syria, in his fight against rebels and Islamic State militants. It has sent thousands of Iranian soldiers to advise and to fight, helping to tip the balance in both wars. Domestically, the Revolutionary Guards oversee Iran's aggressive missile program, which has caused enormous friction with the Trump administration.
In line with its increasingly prominent military role, the Revolutionary Guards' budget for military and missile activities has increased recently. But its economic activities are increasingly seen by top officials as a liability.
It was the United States-led imposition of punitive international sanctions during the Obama years that empowered the Revolutionary Guards' role in the economy. At the height of the sanctions, beginning in 2009, the Iranian government found itself cut off from international credit. With foreign companies pulling out and global banks unwilling to finance trade or investment, Tehran was forced to turn to the Revolutionary Guards to keep the country running.
"During the sanctions, we couldn't export, we needed goods. The Guards stepped in, and we are proud of it," said Hamidreza Taraghi, an analyst close to Iran's leaders. He described how the Revolutionary Guards took over oil projects from companies like Royal Dutch Shell, sold oil to some willing countries and engineered complex methods of transferring cash into the country. "They brought in hard currency," he said. "They saved the country."
(From that perspective, President Donald Trump's refusal last week to recertify the Iran nuclear deal — and the possibility of new unilateral sanctions that brings — could be welcome news for the Revolutionary Guards, restoring them to a central role in the economy.)
After the harshest sanctions were lifted, following the nuclear agreement in 2015, Iran's economy needed fresh blood, many in the government thought. "We need a more competitive economy, that's it," said Laylaz, the economist.
Tensions over the Revolutionary Guards' economic activities first surfaced during Rouhani's re-election campaign in May, when he implied that the group was the primary beneficiary of several rounds of privatization.
"We handed our economy to a government that has guns, media, many other things, and no one dares to compete with them," he said. "This is not privatization."
The Revolutionary Guards, which have sharply criticized Rouhani for the compromises his government made to cinch the nuclear agreement, was quick to answer, pointing to its military importance.
"We believe that the government, which does not possess guns, could be humiliated by the enemy and surrender," the commander of the group, Maj. Gen. Ali Jafari, responded.
After Rouhani's electoral victory in May, there were two high-level meetings with Revolutionary Guards commanders. As a result, and possibly after Khamenei threw his support to Rouhani, they seem to be falling in line.
Even the conservative news media has been muzzled. Two media figures affiliated with the Guards, Reza Golpour and Mohammad Hossein Rostami, were arrested and accused of cooperating with Israeli intelligence, the state newspaper Kayhan reported. Their arrest has marginalized the hard-line media network and research group they worked for the Ammar Strategic Base, that for nearly a decade made vicious attacks against opponents of hard-liners.
"There is a media war, too," Layaz said, adding that in recent months several administrators of pro-Rouhani channels on Telegram had also been arrested.
It would be wrong to assume the Revolutionary Guards will be forced entirely from the Iranian economy anytime soon, said Bahman Esghi, secretary-general of the Tehran Chamber of Commerce. Constitutionally, it is required to use its assets in peacetime to help with economic development, and practically speaking, since the private sector accounts for only 20 percent of the economy, the country needs its heft.
"The reality is that the Guards Corps is the locomotive of our economy," he said. "Our private sector simply is way too small to replace it."