New York Times
Admitting 'moral guilt', an SS volunteer tells court of Auschwitz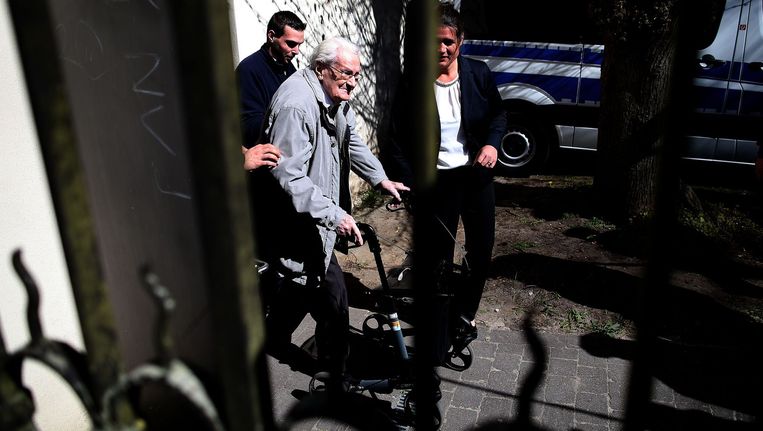 Seven decades after the liberation of Auschwitz, a 93-year-old former SS member at the Nazi death camp shuffled into a German court on Tuesday to answer charges of complicity in the murder of 300,000 mostly Hungarian Jews in two months during the summer of 1944.
With Holocaust survivors looking on, the former SS soldier, Oskar Groening, certainly one of the last Nazis called to account for his deeds, read a chilling but startlingly clear account of his life. It focused on the autumn of 1942 to the autumn of 1944, when he served in the SS at Auschwitz-Birkenau.
The tardiness of the case against Groening, a widower who lives in this small town in northern Germany, did nothing to reduce the tension in the makeshift courtroom, normally an assembly hall. He and his accusers can expect to spend much of the next three months here, measuring the march of 20th-century history through the lives of Nazis and their victims.
Unlike those tried decades ago, Groening does not deny that he was at Auschwitz and that he saw terrible things. The case turns on whether he is not only morally, but also criminally, responsible for what happened there.
After the state prosecutor, Jens Lehmann, read the charges, Groening spoke for an hour, then turned to Judge Franz Kompisch and said: "It is beyond question that I am morally complicit. This moral guilt I acknowledge here, before the victims, with regret and humility." He asked for forgiveness.
"As concerns guilt before the law," he told the judge, "you must decide."
His words riveted dozens of journalists, spectators, relatives of victims and some of the 65 plaintiffs who have joined state prosecutors in the case. After a break for lunch, the judge spent an hour questioning Groening, who took his listeners back through decades to the rise and fall of Adolf Hitler.
Groening said he was a bank accountant who was conscripted in the fall of 1940 and volunteered for the SS, because it seemed "always to be out front" and came back "covered in glory" from the swift Nazi successes in Poland and France, sealing Hitler's grip on Europe.
The defendant, who was lucid almost throughout, said his first doubts about Hitler arose with the invasion of the Soviet Union in the summer of 1941, which Groening said he considered unwise, given Russian tenacity and might.
He said that he was responsible for collecting cash belonging to arriving prisoners at Auschwitz, as state prosecutors have charged, but that he also witnessed atrocities.
He suggested that doubts grew almost immediately upon his arrival at Auschwitz, when drunken guards talked of "getting rid of" prisoners.
The atrocities he witnessed, he said, included one night in December 1942, when he was rousted from bed to help hunt down fleeing prisoners. In the process, he told the court, he saw prisoners herded into a farmhouse and an SS superior tip gas out of a can into an opening. The screams of the prisoners inside "grew louder and more desperate, and after a short time became quieter and then stopped completely," Groening said.
"That was the only time I saw a complete gassing," he said, emphasizing, "I did not take part."
Reading his account with occasional guidance from his two lawyers, Groening recalled minute details of his life in the SS, down to the imposing marble and wood carving in the hall where he and his comrades learned of their assignment to Auschwitz.
It was presented, he said, as "a duty that will demand more from you than the front" and that had to be kept secret, even from family, but was vital "to achieving the Final Solution" of eliminating Jews.
In November 1942, he recalled, a crying baby was found amid trash discarded by arriving prisoners. The baby had evidently been abandoned by its mother in hopes she would then be chosen for a work crew and not sent to the gas chamber. A fellow SS member, angered by the cries, beat the infant to death, Groening said, adding that he complained to a superior but that no action was taken.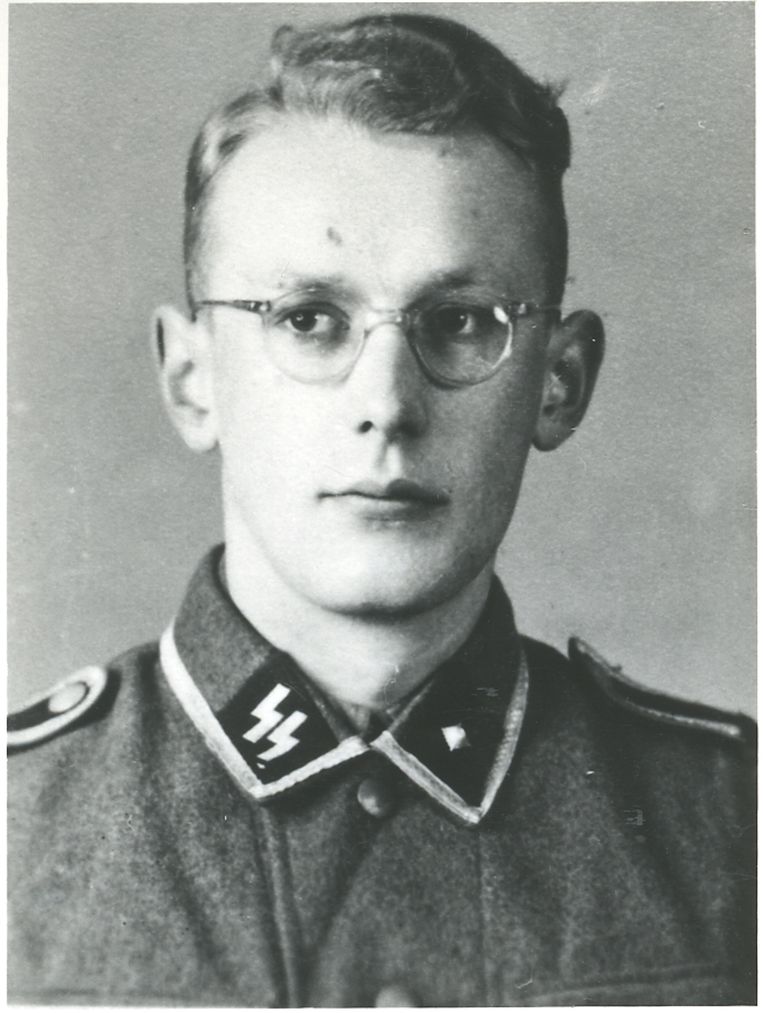 Both the recollection of the gassing and the dead baby figured prominently in two lengthy interviews Groening gave a decade ago to the BBC and the newsmagazine Der Spiegel. The events notably occurred outside the period in 1944 for which he is being prosecuted.
Groening's case not only revives searing questions about individual guilt for Nazi crimes but also highlights the decades of legal inaction over Auschwitz, where an estimated 1.1 million people were killed. About 6,500 members of the SS worked at the camp; only 49 have been convicted of war crimes.
Groening first started talking about Auschwitz with associates and his two sons after a fellow collector at his stamp club fiercely denied the Holocaust. His case also illustrates how perceptions of the Holocaust and Nazi crimes have shifted over the decades.
In 1945, Lueneburg, then in the British Allied sector of Germany, was the site of one of the first trials of former guards at the Bergen-Belsen and Auschwitz-Birkenau camps. Eleven of those on trial were executed in December of that year.
But retribution swiftly gave way to the need to rebuild Germany. The crimes committed at Auschwitz were at the heart of four big trials in Frankfurt in the 1960s. Then, for decades, little happened as German prosecutors insisted that evidence had to tie those accused of war crimes directly to atrocities.
Groening's prosecution became possible only through the trial of John Demjanjuk, a Ukrainian who immigrated to the United States after World War II. He was eventually sentenced in 2011 in Munich to five years in prison for his involvement in the killing of 28,000 Jews at the Sobibor camp in Nazi-occupied Poland. He died in 2012 before his appeal could be heard.
For decades before that ruling, prosecutors in Germany had declined to charge anyone with complicity in the Holocaust.
One of the people who helped pioneer the shift in German legal thinking was Thomas Walther, a former judge who went to work in 2006 for Germany's central office for tracking Nazi war crimes, based in Ludwigsburg.
He pursued the Demjanjuk case and is considered instrumental in the subsequent trial and sentencing of Demjanjuk, a former autoworker in Ohio.
In Lueneburg, Walther is the leading lawyer of 11 who are representing the 65 co-plaintiffs, some of whom arrived in recent days, ready to testify.
Among them is Eva Fahidi, 90, of Budapest, who lost 49 relatives in the Holocaust, including her mother and sister, who were dispatched to the gas chambers upon arrival at Auschwitz.
She was not satisfied with Groening's testimony and request for forgiveness. "After 70 years, he still behaves this way and is not capable of saying, 'I am a sinner,'" Fahidi said.
Another survivor, Eva Kor, 81, of Terre Haute, Indiana, was also adamant that "feeling guilty doesn't accomplish anything." While Fahidi said she longed for a formal judgment on Groening, Kor argued that he should go out to schools and show "how much Nazism destroyed everybody's lives."
Markus Goldbach, Kor's lawyer, said he thought that the accused had gone further than ever before with his plea for forgiveness. "It is a surprise," he said, and may throw a fresh light on Groening's claim that he made three requests to be transferred out of Auschwitz.
These perspectives will most likely be debated throughout the trial, which coincides with modern atrocities in the Middle East and the commemoration of the Armenian genocide 100 years ago.
"It is an important point in looking at genocidal acts which happen today - that perpetrators perhaps do get taken to court," Christoph Heubner, of the International Auschwitz Committee in Berlin, said in an interview before the trial. "Even when it is 70 years too late, it is a lingering, lasting signal."