The New York Times
A new challenge for Mayor Bill De Blasio: Paying for 2 children in college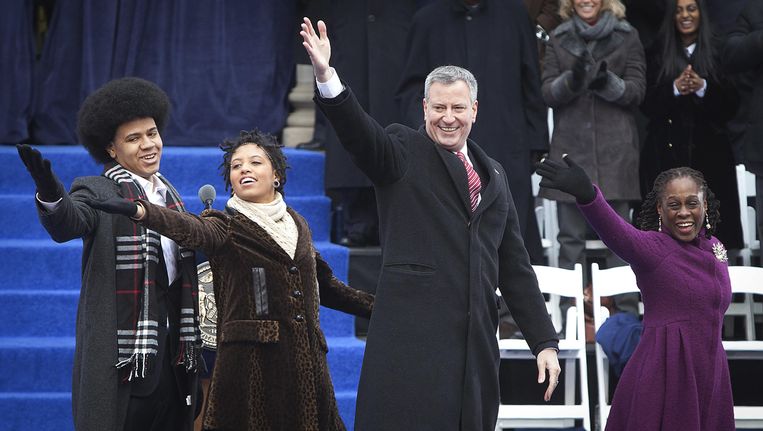 He lives rent-free in a Manhattan mansion, owns two homes in a prime Brooklyn neighborhood and earns a six-figure salary supervising hundreds of thousands of employees. But Mayor Bill de Blasio is now facing a hurdle familiar to many of his constituents: navigating the financial aid process to pay for his children's college educations.
De Blasio's son, Dante, a senior at Brooklyn Technical High School, is currently mulling offers from a short list of exclusive schools, with Yale and Brown among the front-runners, according to people familiar with his options.
And with de Blasio's daughter, Chiara, still attending college in California, not even the mayor of New York is immune, it seems, to seeking relief from the high cost of higher education.
"There's going to be a big challenge in figuring out financial aid and visits and all sorts of stuff," de Blasio said, when asked about Dante's plans at the end of an unrelated interview in his office last week.
De Blasio said he did not expect his son to decide on a college until later this month. Aides to the mayor declined to elaborate further on Dante's intentions or the family's financial considerations, saying they were private matters.
The soaring cost of college is often seized upon by de Blasio's fellow liberals, who call it both a symptom and a cause of the nation's rising inequality.
But the college process has cast the mayor as a curious test case: His family is now affluent by most standards. De Blasio is paid $225,000 as mayor and the family receives tens of thousands of dollars in rental income from two properties in Park Slope, Brooklyn.
Yet, the de Blasio family's argument for aid would not be unreasonable, according to financial aid experts - a striking testament to the increasingly extreme costs of higher education.
Chiara de Blasio, the mayor's daughter, attends Santa Clara University, a private Jesuit institution where tuition, room and board is roughly $55,000 a year. If Dante were to attend Yale, for example, tuition, room and board would come to about $60,000 a year.
Particularly with two children in college, the six-figure income "is not going to disqualify him from demonstrating need," said Kalman A. Chany, president of Campus Consultants, a firm based in Manhattan that advises families on financial aid.
And sky-high tuition has squeezed even upper middle-class families, said Mark Kantrowitz, the publisher of Edvisors.com, a financial aid website.
"When you have colleges that are charging 50, 60, $70,000 a year, everybody is going to struggle to pay for college," he said.
But, Kantrowitz added of the mayor, "We're still talking about someone whose income is pretty close to the top 1 percent."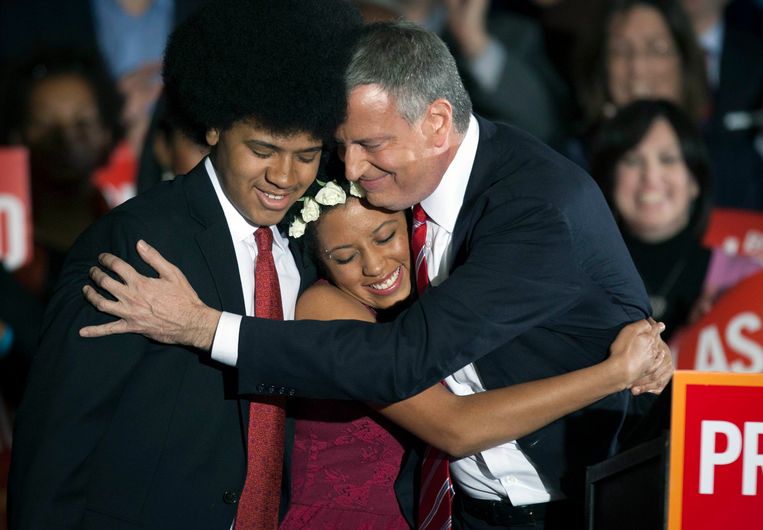 In 2013, the mayor and his wife, Chirlane McCray, earned $52,200 in rent from a modest duplex in Park Slope, a home once occupied by de Blasio's mother. And the family rowhouse down the street, which the de Blasios left for Gracie Mansion in Manhattan, was rented last year at $4,975 a month. The combined value of the homes will reach an estimated $2.8 million in the upcoming tax year, according to the New York City Department of Finance.
That additional income, however, might be offset: On his tax return last year, for instance, de Blasio declared a $6,493 loss on one house after accounting for mortgage costs, depreciation and other expenses. McCray draws no salary as chairwoman of the mayor's Fund to Advance New York City, a nonprofit entity that raises money privately to support a variety of city causes.
Whatever his parents' circumstances, Dante would appear an impressive applicant.
Dante, 17, a champion debater with a fondness for political philosophy, is by many accounts a dedicated student. During a family vacation in Rome last summer, he was spotted perusing a paperback by the contemporary Italian political theorist Giorgio Agamben.
If Dante decides on Brown, the mayor might find himself at visiting weekends with another notable New York politician.
Michaela Kennedy Cuomo, the 17-year-old daughter of Gov. Andrew M. Cuomo, plans to attend the Ivy League university this fall, joining her sister Mariah at the alma mater of their mother, Kerry Kennedy, and their cousin John F. Kennedy Jr.
They would be only the latest in a long line of political progency attracted to Brown. William H. Mondale took time off from classes there to help his father, Walter F. Mondale, campaign for president in 1984. Amy Carter, daughter of former President Jimmy Carter, was asked to leave Brown in 1987 for academic reasons; she later graduated from the Memphis College of Art.
President Barack Obama's daughter, Malia was seen visiting Brown last month, part of a tour that has also included Columbia, Harvard and Wesleyan University.
It remains unclear whether Dante will join their ranks. His father joked last week that he wanted "smoke, all sorts of stuff" to accompany the announcement of his son's choice.
"Let's get the staging going," de Blasio said in his office, smiling at a nearby aide. "I want heavy production values on this thing."
He likened the impending moment to LeBron James' famed television special, "The Decision," to announce his move from the Cleveland Cavaliers to the Miami Heat in 2010.
"Dante de Blasio wants to take his talents to ." the mayor said, paraphrasing James' punch line.
In fact, the mystery has resonated even in the upper ranks of the political world.
Hillary Rodham Clinton, after an event with McCray in Brooklyn last week, was preparing to say goodbye when she paused for a final query, according to a person who witnessed their exchange.
Where, Clinton asked, is Dante going to college?